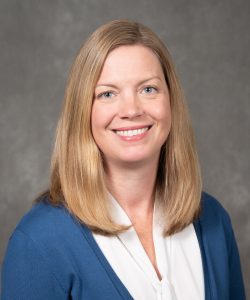 Dr. Megan Piper, UW-CTRI Associate Director of Research, took her place Sunday as SRNT President (release the SRNT-shirt canons!).
Before that, she participated in the Presidential Symposium, specifically as part of the Racial Equity Task Force. "Working towards racial equity is a goal that benefits all of the members, and society at large," Piper said. She thanked SRNT Executive Director Dr. Bruce Wheeler for his support.
They will conduct an environmental scan of the SRNT climate for racism. Then they will compile recommendations in a transparent and participatory process and submit them to the SRNT Board. UW-CTRI has a statement on racial justice on its website here and a new web section dedicated to tobacco disparities.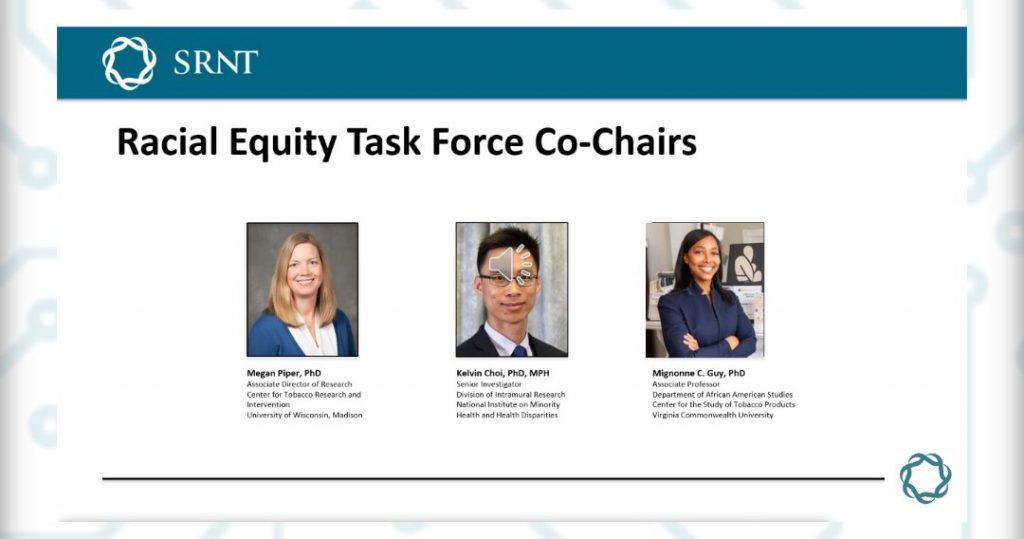 Here is a run-down of the sessions involving UW-CTRI personnel:
Symposia
1. Session Chairs: Suchitra Krishnan-Sarin (SRNT President 2020-2021), Erin McClure. Presenters: Monica Webb-Hooper, Valerie Yerger, Lourdes Baezconde-Garbanati, Andrew Waa, Megan Piper (SRNT President 2021-2022), Patricia Nez Henderson. Celebrating Interventions that Reduce Tobacco-Related Inequalities: Where Do We Go from Here? Presidential Symposium.
2. Li-Shiun Chen, Tim Baker, Michael Bray, Giang Pham, Laura Bierut. Predicting Smoking Cessation Treatment Outcomes with Genetic Risk Scores and Biomarkers. The researchers found the evidence suggests that genetic risk scores and biomarkers may be useful in predicting the treatment outcome or responses for tobacco use disorder. These findings strengthen the case for the development and use of different genetic or biomarker predictors in clinical care.
3. Li-Shiun Chen, Alex Ramsey, Tim Baker, Jingling Chen, Nina Smock, Laura Bierut. Point-Of-Care Tobacco Treatment and Cancer Patient Survival. Smoking often goes untreated at oncology centers. This study provides data on a point-of-care tobacco treatment program (ELEVATE) that has a low burden on staff at a large cancer center. It was associated with pre-post increases in treatment engagement and clinical outcomes. Current and former smoking among cancer outpatients was associated with increased mortality while tobacco treatment was associated with decreased mortality. The point-of-care treatment model shows promise in reducing smoking in cancer centers.
Presentations
1. Tanya Schlam, Megan Piper, Stevens Smith, Jessica Cook, Douglas Jorenby, Daniel Bolt, Linda Collins, Robin Mermelstein, Michael Fiore, Tim Baker. Relapse Recovery Rates in a Sequential, Multiple Assignment, Randomized Trial (SMART) of Chronic Care Interventions for Smoking. Encouragement to quit smoking again with study-provided cessation treatment as soon as possible after relapse increased long-term abstinence rates relative to encouragement to contact a quitline.
2. Jessica Cook, Jesse Kaye, Jean Beckham, Michael Messina, Tim Baker. Feasibility and Preliminary Efficacy of Behavioral Activation for Smoking Cessation in Veterans with PTSD. This study evaluated the feasibility and preliminary efficacy of Behavioral Activation (BA) as a part of treatment to help veterans with PTSD quit smoking. BA was feasible and may improve the likelihood vets with PTSD can quit. Larger trials are needed to detect clinically meaningful effects.
3. Megan Piper, Tim Baker, Deejay Zwaga, Dan Bolt, Kate Kobinsky, Douglas Jorenby. Understanding Contexts of Smoking Versus Vaping Among Dual Users – Analysis of Ecological Momentary Assessment Data. Among those who both smoke and vape with no intention to quit, there were no differences in the amount of time spent smoking or vaping—or the number of puffs taken—during vaping or smoking events based on e-cigarette dependence (ie, frequency of vaping first thing in the morning). Both internal and external context features influenced whether dual users chose to smoke or vape. Interestingly, the influence of some context factors varied based on the level of e-cigarette dependence. These findings suggest the importance of examining the interaction of person and context factors on dependence and continued use.
4. Philip Trapskin, Ann Sheehy, Paul Creswell, Danielle McCarthy, Amy Skora, Rob Adsit, Anne Rose, Candace Bishop, Jessica Bugg, Emily Iglar, Mark Zehner, Daniel Shirley, Brian Williams, Adam Hood, Krista McElray, Tim Baker, Michael Fiore. Development of a Pharmacist-Led Opt-Out Smoking Cessation Treatment Protocol in Inpatient Settings. Smokers are overrepresented in inpatient settings but are infrequently connected with smoking cessation treatment during hospitalization. UW Hospital implemented a pharmacist-led smoking cessation intervention. Hospital pharmacists were delegated authority to prescribe nicotine replacement therapy (NRT) and refer inpatients who smoked cigarettes to the Wisconsin Tobacco Quit Line. Refining implementation strategies across pilot phases increased the percentage of eligible smokers offered cessation support from 37 percent to 76 percent, the percentage prescribed NRT from 2 percent to 44 percent, and the percentage referred to the Quit Line from 3 percent to 32 percent.
5. Presenter: Linda M. Collins, Session Chair: Michael Fiore, who provided the introduction to Collins for her Clinical Plenary Theme Lecture, Beyond Intervention Effectiveness: What We Need to Achieve Greater Public Health Impact. They followed that with an online Q&A session with viewers.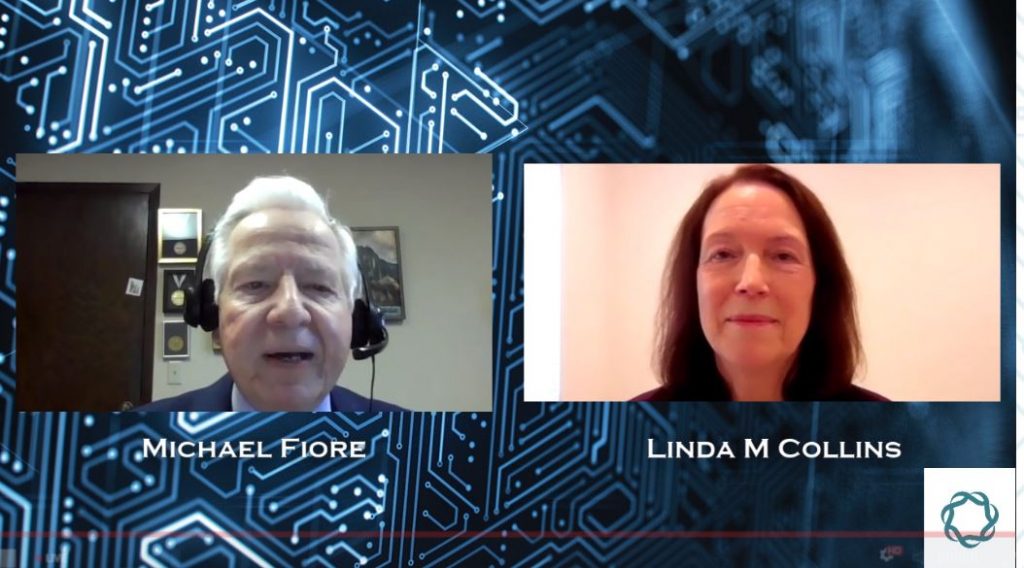 Posters
1. Ramzi Salloum, Alana Rojewski, Megan Piper, Janice Blalock, Belinda Borrelli, Lindsay Boyce, Jennifer Minnix, Omara Dogar, Rachel Tomko, Douglas Jorenby, Chris Kotsen, Jamie Ostroff. Treatment Fidelity in Behavioral Tobacco Cessation Trials – Scoping Review and Measurement Recommendations. Adoption of rigorous standards for reporting treatment fidelity is essential for advancing discovery and implementation of behavioral treatment. The Treatment Fidelity Workgroup of the NIH Health Behavior Change Consortium (BCC) identified treatment fidelity concepts for health behavior intervention research and developed an assessment tool to improve treatment fidelity across five key domains: treatment design, training, treatment delivery, treatment receipt and treatment enactment. The authors found inconsistences in fidelity reporting in tobacco cessation trials and offered recommendations.
2. Adrienne Johnson, Tanya Schlam, Tim Baker, Megan Piper. How Understanding Change Experience in Smoking Cessation Might Inform Treatment Development. While many smokers may not have a plan for quitting, they recognize the importance of triggers and report using instructed cessation methods. Incorporating identified triggers into a personalized cessation plan while increasing motivation for cessation medication may improve cessation treatment engagement and success.
3. Nayoung Kim, Michael Fiore, Mark Zehner, Katherine Coates, Hannah Wallenkamp, Margaret Steiner, Maggie Nolan, Christian Kastman, Tim Baker, Deejay Zwaga, Rob Adsit, Amy Skora, Danielle McCarthy. Evaluation of Maintenance of Proactive Telephone Outreach in Comprehensive Chronic Care System to Promote Smoking Cessation in Primary Care. Researchers evaluated an effort to proactively reach out to patients on a smoking registry to offer help to quit smoking. Rates of reaching patients ranged from 40 percent to 71 percent across months, and no significant reduction in rates of reach occurred over time.
4. Margaret Nolan, Mark Zehner, Danielle McCarthy, Deejay Zwaga, Michael Fiore. Systematic Smoking Cessation Outreach to Patients Who Do Not Engage in Primary Care. Patients who do not present for primary care at least annually are likely to be younger, male, and less frequent smokers, on average, than those seen annually. These patients are receptive to telephone outreach. Adopting proactive outreach has the potential to enhance the reach of smoking cessation treatment in a patient population that engages in primary care infrequently.
5. Bruce Christiansen, Stevens Smith, Michael Fiore. Validating a Measure of Therapeutic Alliance for Tobacco Cessation Counseling for Behavioral Health Clinicians. The Working Alliance Inventory for Tobacco (WAIT-3) may be a valid way to measure the ability of behavioral health counselors to address the tobacco use of their patients.
6. Li-Shiun Chen, Alex Ramsey, Tim Baker, Jingling Chen, Nina Smock, Laura Bierut. A Paradigm Shift: Point-of-Care Smoking Cessation Increases Reach, Effectiveness, and Sustainability with the COVID-19 Pandemic. Smoking has negative effects on cancer outcomes but is often unaddressed in cancer care. This study examines reach, effectiveness, and sustainability of Electronic Health Record-Enabled Evidence-Based Smoking Cessation Treatment (ELEVATE) at a large cancer center with two comparisons: a) pre-post comparison of ELEVATE, and b) ELEVATE versus usual care. A low-burden, point-of-care treatment model led to pre-post increases in reach and effectiveness. Further, both reach and effectiveness with this point-of-care model leveraging EHR functionalities and learning health-system strategies shows moderate-to-high sustainability over time, including during the COVID-19 pandemic, when medical encounters occur in person or virtually.
7. Alex Ramsey, Jessica Bourdon, Michael Bray, Amelia Dorsey, Maia Zalik, Amanda Pietka, Patricia Salyer, Li-Shiun Chen, Tim Baker, Marcus Munafo, Laura Bierut. Personalized Genetic Risk Tool to Promote Smoking Cessation Treatment. Genetic variation in nicotinic receptor subunits explains differences in smoking behaviors and risk of smoking-related diseases. Personalized genetic risk results specific to smoking may motivate engagement in smoking-cessation treatment, yet this is largely untested. The researchers examined the acceptability and potential behavior change associated with a personalized genetic risk communication tool (called 'RiskProfile') among current smokers. They found it to be highly acceptable—and associated with both increased treatment use and reduced smoking.
8. Matthew Olonoff, Christina Ciecierski, Megan Piper, Brian Hitsman. Understanding Sensory Dependence in Vapers: Exploring the Sensory E-Cigarette Expectancies Scale (SEES) with a New Sample of Diverse College Vapers. An online survey in April 2020 of students from Northeastern Illinois University who smoke or vape found that a model of sensory dependence may not differentiate sensory dependence across different substances used in vaping devices. It may reveal the importance of how much sensory dependence is based on sensations generated from the device separately from the substance used. It is vital that future research explore whether these sensory factors and limitations address all relevant features of vaping and whether these assessments can predict problematic vaping.
9. Heather D'Angelo, Betsy Rolland, Rob Adsit, Tim Baker, Michael Fiore, Danielle Pauk. The Impact of the COVID-19 Pandemic on the Delivery of Smoking Cessation Services at 36 NCI-Designated Cancer Centers in the Cancer Center Cessation Initiative. C3I Cancer Centers shifted to providing telephone counseling during the COVID-19 pandemic as in-person counseling services were disrupted. For half of the C3I cancer centers, the pandemic affected the provision of screening for smoking, medications, referrals, and training for clinicians.
10. Stevens Smith, Megan Piper, Dan Bolt, Jesse Kaye, Michael Fiore, Tim Baker. Measurement Invariance of the Revised Wisconsin Smoking Withdrawal Scale (WSWS2). Smith et al. (in press, Psychological Assessment) developed a revised version of the Wisconsin Smoking Withdrawal Scale (WSWS2) with 19 items and six subscales (Craving, Negative Affect, Hunger, Sleep, Restlessness, and Concentration) that demonstrated good reliability and validity. The current study examined measurement invariance of the WSWS2 across gender and race. The current results showed it's a good fit for the six-factor structure of the WSWS2 for females, males, and whites but fit indices for blacks suggest inadequate fit. Across gender, results supported fair to close equivalence of the WSWS2 for females and males but equivalence across race was unsupported.
11. Jesse Kaye, Megan Schultz, Jessica Cook. Offering Smoking Reduction Treatment in VA Primary Care: A Clinical Demonstration Project. This pilot clinical demonstration project suggests that offering both smoking reduction and smoking cessation treatment in primary care settings is feasible and may increase total tobacco treatment reach without decreasing smoking cessation treatment use. Future studies with comparison control groups are needed to draw stronger conclusions regarding the effect of offering smoking reduction on treatment reach and engagement.