Electronic Cigarettes (e-cigs) and other "vaping" devices (such as JUUL or Suorin) are battery-operated products designed to deliver nicotine, flavor and other chemicals. They turn chemicals, including highly addictive nicotine, into an aerosol that is inhaled by the user. Most e-cigs are manufactured to look like conventional cigarettes, cigars, or pipes. Some resemble everyday items such as pens and USB memory sticks, and are known as tanks, vape pens, vaporizers, and e-pipes.
Or text "DITCHJUUL" to 88709. This program offers youth and young adults encouragement and support to ditch JUUL and other e-cigarettes.


In the United States: As of October 22, 2019, 1,888 lung injury cases associated with use of e-cigarette, or vaping, products have been reported to CDC . Most of these deaths have reportedly involved vaping THC.
37 deaths have been confirmed in 24 states.
Illinois and Wisconsin: Hospitalizations from Vaping "Street" Products
Marquette University: Researchers at Marquette and reporters at the Milwaukee Journal Sentinel collaborated to test popular e-cig juices: Lab Tests of E-cigs Reveal Harmful Chemicals
According to the Monitoring Our Future survey, youth vaping more than doubled at every grade level from 2017 to 2019. Read more in the New England Journal of Medicine. 
Youth Vaping and Smoking
Among youth — who use e-cigarettes at higher rates than adults do — there is substantial evidence that e-cigarette use increases the risk of transitioning to smoking conventional cigarettes.
A study in the Journal of the American Medical Association found youth who vaped e-cigs were nearly 4 times more likely to smoke. Current use of electronic cigarettes increased among middle and high school students from 2011 to 2015. About 5 of every 100 middle school students (5.3%) reported in 2015 that they used electronic cigarettes in the past 30 days—an increase from 0.6% in 2011. 16 of every 100 high school students (16.0%) reported in 2015 that they used electronic cigarettes in the past 30 days—an increase from 1.5% in 2011.
In an article in the journal Pediatrics, researchers discuss carcinogens they detected in the urine of teens who vaped.
Schools: Find resources to ensure tobacco-free schools here.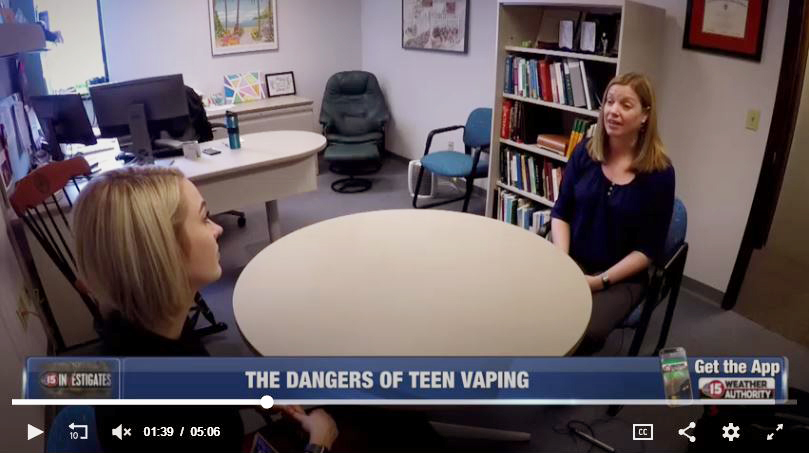 What is JUUL?
JUUL is a type of e-cigarette that has surged in popularity since its introduction in 2015.
It is known for its unique use of nicotine + benzoic acid + flavors that deliver a smoother experience than other vaping devices while mimicking combustible cigarettes in their delivery of nicotine.
JUUL is already the most widely purchased e-cigarette brand, representing nearly half of the market share in the last quarter of 2017.
According to the journal JAMA Pediatrics, half of Juul's Twitter followers are under the age to legally buy nicotine products.
Kids have referred to use of the product as "juuling."
Quitting Vaping
Does vaping lead to quitting smoking? 
How many vape? Prevalence of E-Cigarette Use
Big Business
According to the WHO 2014 E-Cigs Report, in 2014 there were 466 brands of e-cigs. In 2013, consumers spent $3 billion on e-cigs globally. Sales are forecasted to increase by a factor of 17 by 2030.1
Regulation
On May 5, 2016, the FDA asserted authority to regulate all tobacco products, including vaping devices. On August 8, 2016, those regulations took effect. However, those regulations are still under debate and could be changed.
To view a list of vaping regulations by state, click here.
Taxes on Vaping
Wisconsin recently joined other states in taxing vaping products.
Other Fact Sheets on E-cigs
Citations
1) WHO 2014 Report on E-Cigarettes. Conference of the Parties to the WHO Framework Convention on Tobacco Control, Sixth session, Moscow, Russian Federation, 13–18 October 2014.
2) National Health Interview Survey, 2015 data