Electronic Cigarettes (e-cigs) and other "vaping" devices (such as JUUL or Suorin) are battery-operated products designed to deliver nicotine, flavor and other chemicals. They turn chemicals, including highly addictive nicotine, into an aerosol that is inhaled by the user. Most e-cigs are manufactured to look like conventional cigarettes, cigars, or pipes. Some resemble everyday items such as pens and USB memory sticks, and are known as tanks, vape pens, vaporizers, and e-pipes.
Severe Lung Damage Among Teens Reported: The Wisconsin Department of Health Services is investigating cases of severe lung damage among teens and young adults who have reported vaping. There are 11 confirmed cases and seven other cases that are under investigation. To view the state's page updated with the latest information on reported cases, click here.
Since initially alerting the public on April 3 to reports of some e-cigarette users experiencing seizures, FDA has since received 118 new reports of similar incidents. In total, including those posted in April, the agency has received 127 reports of neurological events following e-cigarette use that occurred between 2010 and 2019. This does not necessarily indicate an increase in frequency or prevalence of such incidents.
At this time, the FDA reports it has not been able to identify any specific brand of tobacco product, or identifiable product problem, associated with these incidents. However, the agency remains concerned about the possibility of an association between e-cigarette use and seizures or other similar medical conditions and encourages the public, including e-cigarette users and medical professionals, to provide as much information as possible when reporting health or safety problems stemming from tobacco products through the online Safety Reporting Portal (SRP).
National Academies of Sciences: A congressionally mandated panel from the National Academies of Sciences, Engineering, and Medicine examined more than 800 peer-reviewed scientific studies. Read its report here.
Youth Vaping and Smoking
According to the CDC, current use of JUUL among 15–17 year olds in 2018 (6.1%) is more than threefold higher than adult current use estimates in this study (2.0%).
Among youth — who use e-cigarettes at higher rates than adults do — there is substantial evidence that e-cigarette use increases the risk of transitioning to smoking conventional cigarettes.
A study in the Journal of the American Medical Association found youth who vaped e-cigs were nearly 4 times more likely to smoke. Current use of electronic cigarettes increased among middle and high school students from 2011 to 2015. About 5 of every 100 middle school students (5.3%) reported in 2015 that they used electronic cigarettes in the past 30 days—an increase from 0.6% in 2011. 16 of every 100 high school students (16.0%) reported in 2015 that they used electronic cigarettes in the past 30 days—an increase from 1.5% in 2011.
In an article in the journal Pediatrics, researchers discuss carcinogens they detected in the urine of teens who vaped.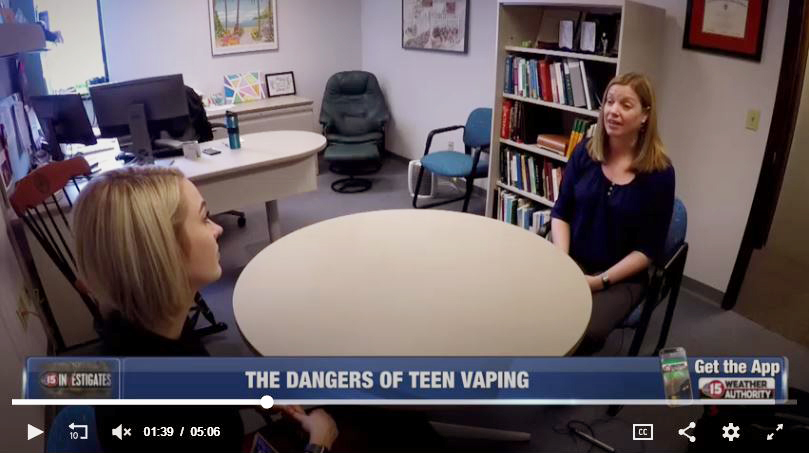 What is JUUL?
JUUL is a type of e-cigarette that has surged in popularity since its introduction in 2015.
It is known for its unique use of nicotine + benzoic acid + flavors that deliver a smoother experience than other vaping devices while mimicking combustible cigarettes in their delivery of nicotine.
JUUL is already the most widely purchased e-cigarette brand, representing nearly half of the market share in the last quarter of 2017.
According to the journal JAMA Pediatrics, half of Juul's Twitter followers are under the age to legally buy nicotine products.
Kids have referred to use of the product as "juuling."
Vaping Concerns
JAMA: E-cigs are associated with 2 factors of cardiovascular risk, according to a February 2017 paper in JAMA. Meanwhile, according to the FDA, combustible cigarettes contain more than 7,000 chemicals.
Marquette University: Researchers at Marquette and reporters at the Milwaukee Journal Sentinel collaborated to test popular e-cig juices: Lab Tests of E-cigs Reveal Harmful Chemicals
Poison Control: Meanwhile, poison centers are reporting an increase in calls about exposures to e-cigarette devices and liquid nicotine. In 2014, there were 3,783 exposures, according to the American Association of Poison Control Centers. In the first three months of 2015, there were 975 reported exposures. During January 2010 to October 2015, a total of 98 e-cigarette exposure calls were reported in Wisconsin, and annual exposure calls increased approximately 17-fold, from 2 to 35, according to the Wisconsin Medical Journal. The frequency of e-cigarette exposure calls to the Wisconsin Poison Center has increased and is highest among children aged ≤5 years and adults.
Video: How the Wisconsin Tobacco Quit Line and Other Services Help Teens Quit Smoking and Vaping (starts 39 minutes 45 seconds into the linked video)
Does vaping lead to quitting smoking? 
How many vape? According to the CDC, 3.5% of U.S. adults vape.
In 2015, 3.5% of U.S. adults were current e-cigarette users. Among adult e-cigarette users overall, 58.8% also were current cigarette smokers, 29.8% were former cigarette smokers, and 11.4% had never been cigarette smokers. Among current e-cigarette users aged ≥45 years, 98.7% were either current or former cigarette smokers, and 1.3% had never been cigarette smokers. In contrast, among current e-cigarette users aged 18–24 years, 40.0% had never been cigarette smokers.4
A survey from the Action on Smoking and Health released in May 2017 found that more than half of British vapers were former smokers. These results were reported by the individuals and not confirmed with tests that can biochemically check smoking status. In addition, 1.3 million British residents surveyed reported they both smoke and vape.
Research continues. UW-CTRI is conducting its second study on smoking and vaping. The first UW-CTRI study on smoking and vaping found no clear evidence that vaping e-cigs reduced smoking or lowered carbon monoxide levels in participants. The second study did find that dual users of e-cigs and regular cigarettes smoked fewer cigarettes per day, but were taking in the same amount of nicotine. UW is also conducting a study on the acute and long-term effects of vaping.
Big Business: According to the WHO 2014 E-Cigs Report, in 2014 there were 466 brands of e-cigs. In 2013, consumers spent $3 billion on e-cigs globally. Sales are forecasted to increase by a factor of 17 by 2030.1
Regulation: On May 5, 2016, the FDA asserted authority to regulate all tobacco products, including vaping devices. On August 8, 2016, those regulations took effect. However, those regulations are still under debate and could be changed.
To view a list of vaping regulations by state, click here.
Taxes: Wisconsin recently joined other states in taxing vaping products.
Other Fact Sheets on E-cigs
Citations
1) WHO 2014 Report on E-Cigarettes. Conference of the Parties to the WHO Framework Convention on Tobacco Control, Sixth session, Moscow, Russian Federation, 13–18 October 2014.
2) National Health Interview Survey, 2015 data