While smoking prevalence nationwide is less than 13%, approximately 20% of American adults with mental health conditions smoke. This site is dedicated to helping behavioral healthcare providers assist their clients with quitting smoking, chewing or vaping tobacco. The site is also focused on helping mental health and addiction recovery organizations establish tobacco-free policies at their facilities.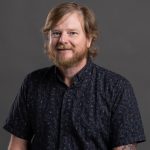 Jeremiah "Miah" Olson tells his students tobacco use should no longer be ignored. Olson is the department chair and an instructor at Fox Valley Technical College for pupils learning to counsel clients with substance use disorders.
"Probably more than half of the people who get sober under our treatment still die because they continue to smoke," Olson said. "My pitch is, 'why are we going to allow them to continue to smoke if that's going to kill them, too?' We need to stop making this an issue we avoid." Read more
Behavioral Health and Tobacco Links
The Wisconsin Nicotine Treatment Integration Project (WiNTiP)
HelpUsQuit.org is the official site of the Wisconsin Nicotine Treatment Integration Project (WiNTiP). Launched in 2008, WiNTiP advocates for the integration of tobacco treatment in Wisconsin behavioral health services.