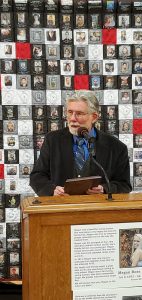 David "Mac" Macmaster co-founded the Wisconsin Nicotine Treatment Integration Project (WiNTiP) with Dr. Eric Heiligenstein in 2008. Ever since, WiNTiP has advocated for the integration of tobacco treatment in Wisconsin behavioral health services.
Below are resources from and about Mac:
PODCAST: Pioneers from New York and Wisconsin share best practices on how to integrate tobacco treatment into behavioral health care
VIDEOS:

View more videos featuring people who quit and other experts here.

WEBINARS: Webinar by Tony Klein, MPA, NCACII, Manager of Outpatient Services, Rochester Regional Health, Brighton, NY:
Posters & Essays:
The WiNTiP Decade: What the Wisconsin Nicotine Treatment Integration Project (WiNTiP) has accomplished since 2008, and what challenges remain to help behavioral health patients quit smoking, chewing, and vaping.
A TIME TO LEAD – Second Edition: The Case for Integrating the Treatment of Tobacco Use Disorder in the Treatment of Other Substance Use and Mental Health Disorders. The purpose of this document is to bring to light the urgent need to integrate evidence-based treatment of Tobacco Use Disorder (TUD) into the protocols for treating substance use and mental health disorders in the United States.