If you're a teen who wants to quit vaping, smoking, or chewing nicotine, here are some proven programs that can help.
Wisconsin Tobacco Quit Line. Quit Line Coaches will help you develop a plan to quit. It's totally free and confidential! The quit line has helped more than 200,000 callers, with a satisfaction rate of 92%. It's available to anyone in Wisconsin age 13 and up. To read more about how the Quit Line helps teens, click here. To get started, do one of these: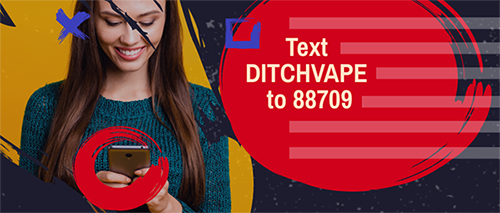 This is Quitting. This texting program helps teens quit vaping. To get started, text DITCHVAPE to 88709.
More than 20,000 people have used this service. A three-month test showed 25% said they had not vaped in the past seven days and 16 percent said they had not vaped in the past 30 days.
Smokefree Teens. This texting program also has had success helping teens to quit. It offers tools, tips, and a free app. To get started, click here or text QUIT to 47848.
The Real Cost. Media campaigns have been shown to help teens to quit smoking, vaping, and chewing. Check out this ad:
Evidence on What Works
Want a deep dive into research?