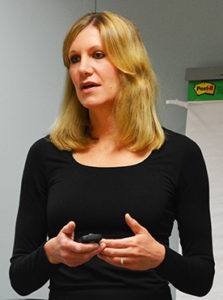 UW Associate Professor and Division Head, Hospital Medicine Dr. Ann Sheehy (top right) spoke during the annual spring UW-CTRI staff meeting about a promising new tobacco-treatment protocol. Sheehy said UW Hospital will soon implement an Electronic Health Record (EHR)-based tobacco treatment intervention that allows pharmacists to meet with every inpatient who uses tobacco, and offer nicotine-replacement medications and brief coaching regardless of insurance.
"It's pretty simple but extremely beautiful to have this resource available to quit smoking," Sheehy said. She described the project to about 45 UW-CTRI employees at the annual staff meeting held this year held at American Family Insurance Headquarters in Madison, Wisconsin.
Pharmacists already go to the bedside of each inpatient, so this is a seamless opportunity to intervene on the leading cause of preventable disease and death: Tobacco use.
Sheehy said she was compelled by research showing how effective brief bedside interventions can be. And while inpatient visits can be complex and clinicians often have various priorities, Sheehy believes they can do more. Now, they'll be prompted to do so by EHR.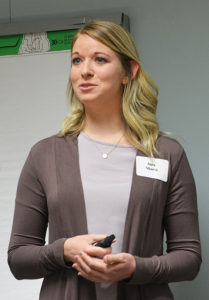 It's an opt-out protocol, meaning all patients who smoke will be automatically offered help. UW-CTRI Director Dr. Michael Fiore said it made sense to do it that way. "We would never ignore high blood pressure and make the patient opt in to care for it; we treat high blood pressure. So we're doing the same with tobacco use."
UW-CTRI Regional Outreach Specialist Amy Skora (lower right) said she was impressed by how UW's hospitalist and pharmacy teams are working hard to address tobacco use in every patient.
UW Hospital will be the first in Wisconsin to implement this fully EHR-based workflow, which meets Joint Commission Tobacco Treatment Measures and includes an electronic referral to the Wisconsin Tobacco Quit Line.
"This has truly been a wonderful collaboration," Sheehy said.