During Wisconsin Recovery Alignment Day at the Wisconsin State Capitol on May 3, David "Mac" Macmaster was presented with the Hope of Recovery Community Advocate Award, sponsored by national pharmacy benefit solutions provider Serve You Rx.
US Senator Tammy Baldwin pays tribute to David "Mac" Macmaster and others.
During the event, Wisconsin Senator Tammy Baldwin paid tribute to Mac for his more than 50 years in recovery from alcohol and tobacco use, and for his work since then to advocate for people in recovery to have access to help to quit tobacco dependence.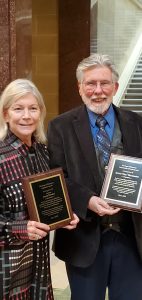 Mac co-founded the Wisconsin Nicotine Treatment Integration Project (WiNTiP) in 2008. WiNTiP advocates for the integration of tobacco treatment in Wisconsin behavioral health services. Mac serves on a plethora of recovery committees and advocates tirelessly for those who have mental health issues or have been in and out of treatment centers.
"On behalf of UW-CTRI, I want to congratulate Mac on this well-deserved award for his tireless work to help people access resources to quit tobacco use," said UW-CTRI Director Dr. Michael Fiore. "Surely, his work has saved many lives."
"I am grateful that the WiNTiP name and our public health mission became recognizable both in our tobacco program disparity population work and in our policy campaigns in the Governors State Conference on Alcohol and Drug Use advocacy," Mac said.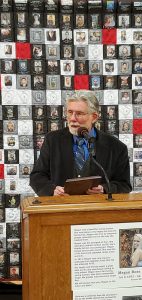 WiNTiP bestows a separate award bearing Mac's name to organizations that help behavioral health patients to quit tobacco use in a systematic way. The Mac Award is an ongoing tribute to Macmaster, who is retiring this month at 87 years young.
Wisconsin Alignment Day featured resource tables, opportunities to meet with state representatives and senators to advocate for recovery, and networking with recovery advocates from Wisconsin. Posters and quilts paid tribute to loved ones who have been lost to overdose, suicide, and other negative outcomes resulting from drug addiction.
Attendees heard from local activist Tom Farley (brother of comedian and Wisconsin native Chris Farley), bestselling author Ryan Hampton, Wisconsin Senator Janet Bewley, and Rep. Lee Snodgrass, Rep. Supreme Moore Omokunde, Rep. Jesse James, and Rep. Jill Billings. Senator Bewley received the Hope of Recovery Legislator Award for her outstanding commitment to recovery values and the constituents she serves.
"It was an honor to see Mac accept the Hope of Recovery Community Advocate Award," said WiNTiP Manager Karen Conner. "He has dedicated his career to ensuring that the treatment of tobacco use disorder is integrated into substance use dependence treatment. His diligence is a large reason the DHS 75 revision requires substance use providers to address tobacco use. Mac should feel very proud."
"I accept this award gratefully," Mac said. "I am proud. The Wisconsin Tobacco Prevention and Control Program were the first to understand the importance of the tobacco integration for the behavioral health disparity population we were advocating. I share my award honor with all the stakeholders that made this 20-year struggle to provide the due care those with tobacco use disorders have deserved. As the singer Freddie Mercury sang in one of his concert songs, 'I thank you all.'"