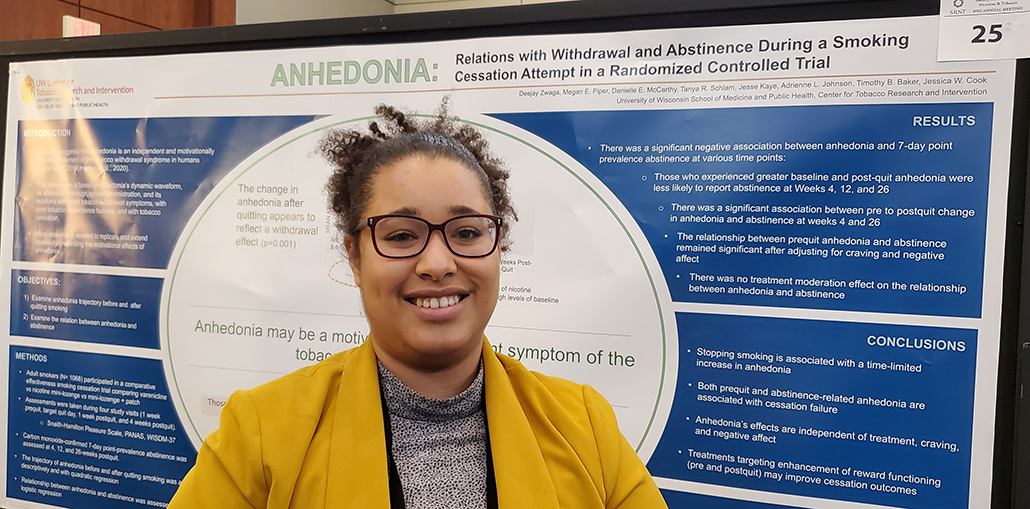 Researchers representing UW-CTRI and the Center Cessation Initiative (C3I) presented findings at the Annual Conference of the Society for Research on Nicotine and Tobacco (SRNT) in Baltimore April 14-18. Here is a summary:
UW-CTRI Co-Research Director Dr. Danielle McCarthy offered two oral presentations plus a poster.

In one presentation, "Can Inpatient Pharmacists Move the Needle on Smoking Cessation? Evaluation Reach & Representativeness of a Pharmacist-Led Opt-Out Smoking Cessation Intervention Protocol for Hospital Settings," McCarthy said an EHR-facilitated, opt-out program developed at UW appeared to increase reach; both pharmacotherapy orders and quitline referrals increased after hospital units implemented the program. Pharmacists accounted for a greater share of pharmacotherapy orders. Disparities decreased. Pharmacists documented addressing tobacco with 62.5% of eligible patients.
In her second presentation, "Evaluation of an Opt-out Chronic Care Program to Treat Smoking in Adult Primary Care," McCarthy discussed a UW-CTRI partnership with the Group Health Cooperative-South Central Wisconsin healthcare system that leveraged the Epic EHR system to facilitate outreach to every adult patient who smokes to offer smoking cessation support. Tools designed to help both clinicians and Tobacco Care Managers (TCMs) treat smoking are now available to all Epic users. Implementing the program increased the rates at which patients who smoke used treatment, as tracked in the EHR. TCM outreach had a marked and equitable effect on treatment reach—helping to reduce disparities in treatment access by race and ethnicity. The TCMs reached more than half eligible patients; 10 percent made quit plans. This increase in reach was accompanied by steep increases in the rates of quitting smoking among all patients who smoked.
McCarthy presented a poster on behalf of co-author Dr. Julie Kirsch—a postdoctoral fellow at UW-CTRI. The poster was called, "Electronic Health Record Closed-loop Referral (eReferral) to a State Tobacco Quitline: Primary Care Implementation Challenges and Adaptations." The poster shared findings from a case study examining challenges of eReferral implementation to help people quit tobacco use, and how 11 clinics in two health systems adapted eReferral to meet their needs. Health system stakeholders indicated they appreciated the efficiency of using the EHR to refer patients to tobacco treatment resources.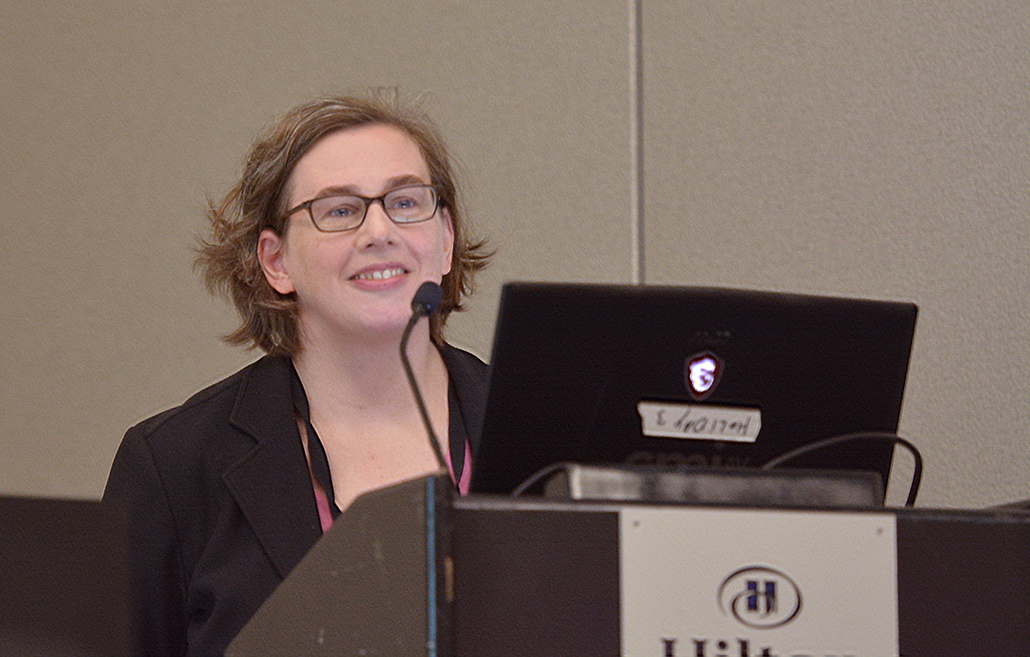 UW-CTRI Co-Research Director and SRNT President Dr. Megan Piper presented the SRNT presidential address at the presidential symposium. In her state of SRNT address, she announced the founding of the SRNT Racial Equity Committee, which will report to the SRNT Board of Directors and participate in ongoing projects. There is now a health equity track at SRNT. She noted many members have benefited from SRNT University online and noted that SRNT no longer permits tobacco employees to attend the annual conference. Finally, she noted that SRNT will proceed in San Antonio, despite concerns noted by members, due to contractual obligations as well as the financial penalties if SRNT were to withdraw. The organization will work to support nonprofit groups in Texas that work toward social justice. Piper also introduced Dr. Mignonne Guy, Associate Professor and Chair, Department of African American Studies, Virginia Commonwealth University and bestowed the presidential award on Dr. Pebbles Fagan, Professor, Director, Center for the Study of Tobacco, Department of Health Behavior and Health Education, University of Arkansas for Medical Sciences.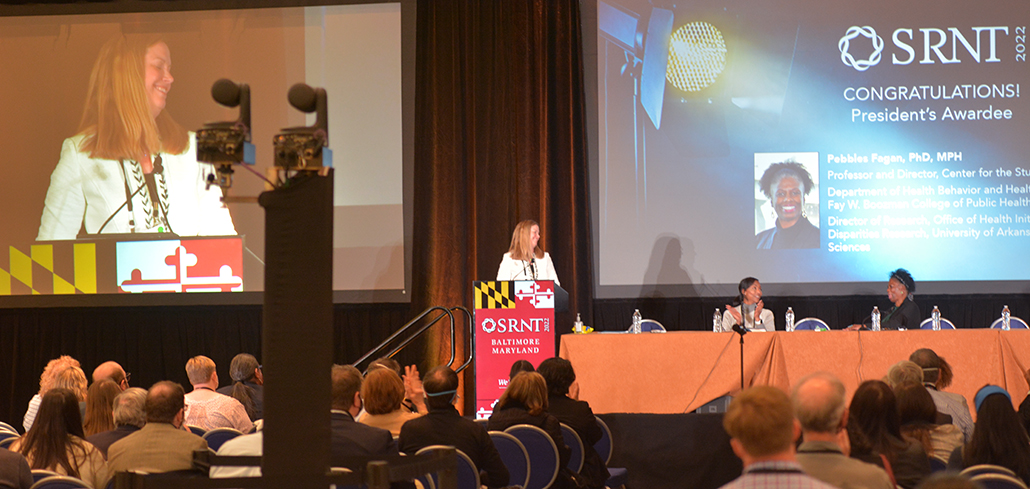 UW-CTRI Researcher Deejay Zwaga presented two posters.

The first poster, presented on behalf of UW-CTRI Director of Veterans Research Dr. Jess Cook, was "Anhedonia: Relations with Withdrawal and Abstinence During a Smoking Cessation Attempt in a Randomized Controlled Trial." Zwaga reported that both prequit and abstinence-related anhedonia were associated with cessation failure. Anhedonia's effects are independent of treatment, craving, and negative emotions, Zwaga said. Treatments targeting enhancement of reward functioning (pre- and post-quit) may improve cessation outcomes.
With her second poster, "Clinicians Who Provide More Chronic and Frequent Primary Care to Adult Patients Adopt and Implement Comprehensive Chronic Tobacco Treatment at Higher Rates," Zwaga reported that chronic tobacco treatment may be more readily integrated into the practice of primary-care providers who see patients consistently and frequently over time, and whose patients are active users of the EHR patient portal.

UW-CTRI Researcher Dr. Adrienne Johnson presented her poster on findings from a qualitative analysis of 24 people aged 50-75 who smoke. Participants reported seeing quit-smoking ad campaigns, but most were not affected by them. Some thought about quitting but didn't follow through, while others felt bad about themselves following ad exposure. However, through the interview, they did feel motivated by learning that their smoking raised their risks for dementia, especially since it could impact their ability to remain living independently. In Johnson's ongoing research, she plans to test motivational messages of fear vs. hope related to dementia risk and smoking. Those interviewed were aware of medications to help them quit, and despite some previous difficult experiences, were willing to try different cessation medications in future quit attempts. Many were unaware of quit-smoking counseling options and did not know where to access it, but many were willing to use it.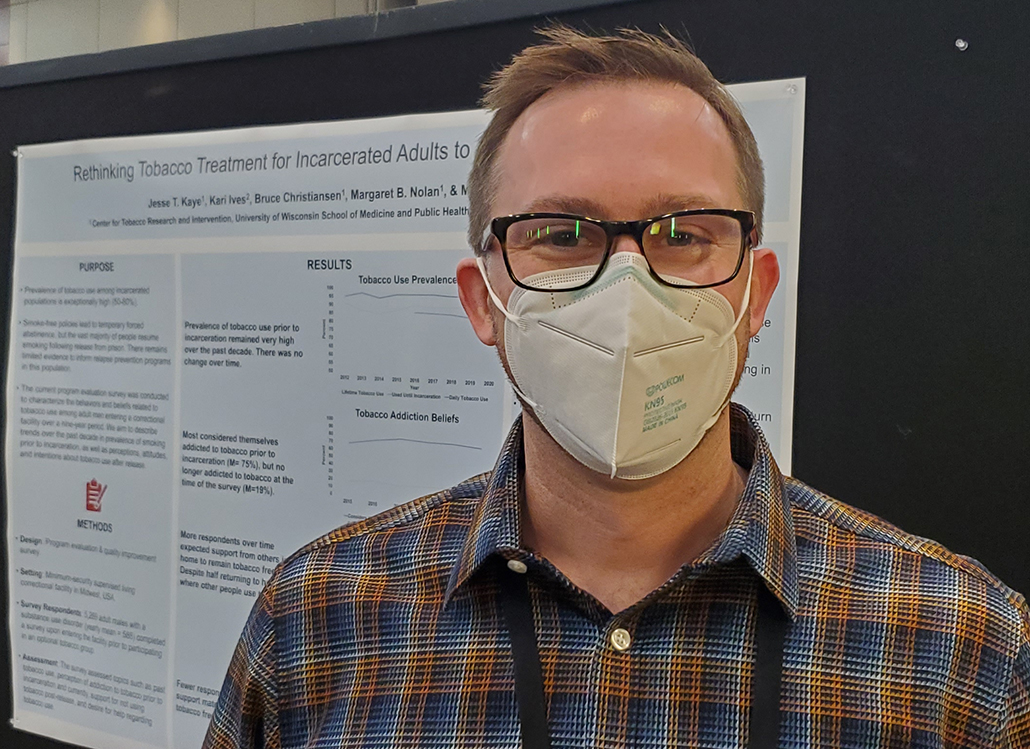 UW-CTRI Researcher Dr. Jesse Kaye presented his poster, "Rethinking Tobacco Treatment for Incarcerated Adults to Achieve Health Equity." He shared that prevalence of tobacco use among incarcerated populations is exceptionally high. While smoke-free prisons lead to temporary forced abstinence, the vast majority of people resume smoking following release from prison. Researchers surveyed 5,289 adult men with a substance use disorder who entered a minimum-security correctional facility. Over the past decade, there was no change in rates of tobacco use prior to incarceration (~85%), representing a growing disparity as overall adult smoking prevalence in the U.S. declined 22% over this same period. Kaye said the survey revealed consistently low perceptions of being addicted to tobacco currently, no change in expectation of returning to tobacco-free homes, yet decreasing interest in help to remain tobacco-free. Developing programs for people who are incarcerated to help them avoid returning to tobacco use is one essential component of achieving health equity for this vulnerable population who continue to smoke at a high rate, Kaye said.
UW-CTRI Researcher Dr. Tanya Schlam presented her poster, "Next Steps Following Unsuccessful Smoking Cessation Treatment: The Value of Chronic Care." She found that people who relapse back to smoking are more likely to achieve abstinence if they are offered (and accept) more intense (versus less intense) retreatment. Even when more intense smoking treatment is offered to those who relapse, long-term abstinence rates remain modest. More research is needed to improve chronic care to help people quit smoking post-relapse.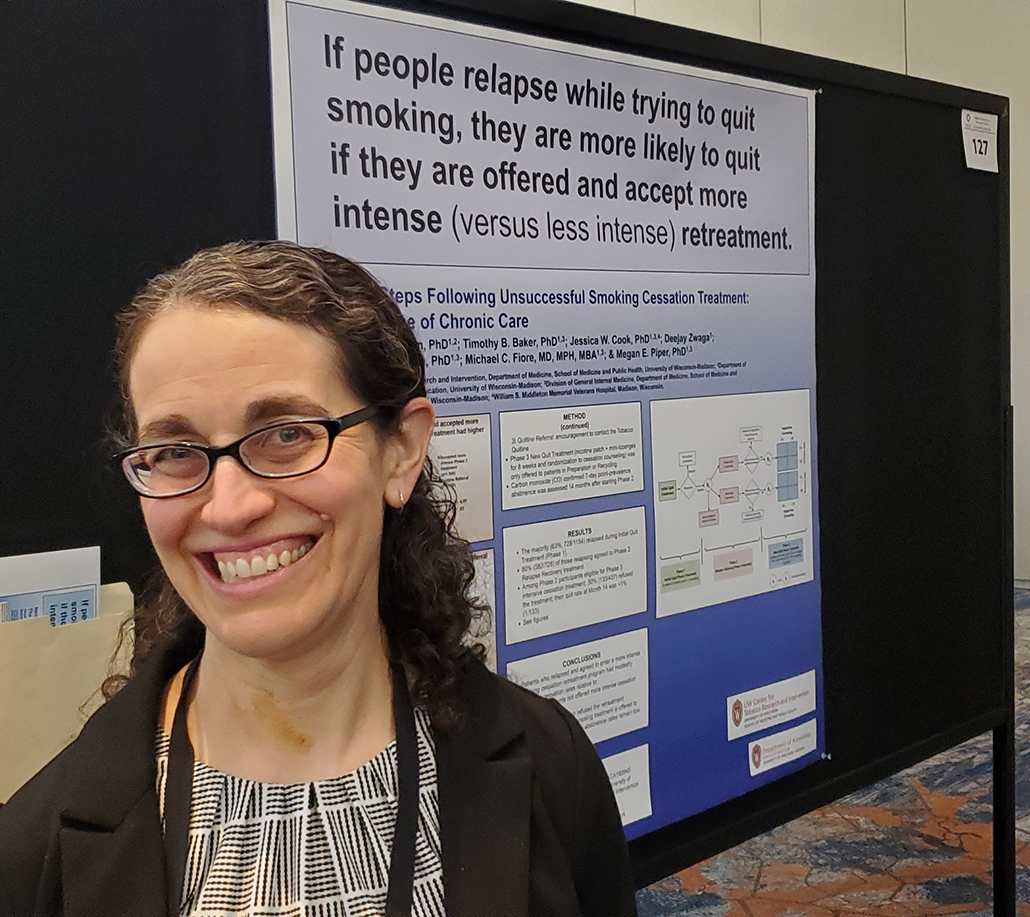 UW-CTRI Researcher Dr. Marlon Mundt presented his poster, "Cost-Effectiveness of a Chronic Care Smoking Treatment Program in Primary Care." At six primary care clinics, he found that cessation treatment rates increased from 12.9% of individuals on the smoking registry pre-implementation to 24.0% post-implementation. Quit rates increased from 2.1% pre-intervention to 10.5% post-intervention. Total post-implementation costs were $4.31 per patient per month for individuals on the smoking registry. The incremental cost-effectiveness ratio (ICER) was $27.92 per person contacted, $86.19 per person treated, and $127.43 per additional person who quit smoking. Acute healthcare costs decreased from pre- to post-implementation by an average $42.65 per patient per month, Mundt said.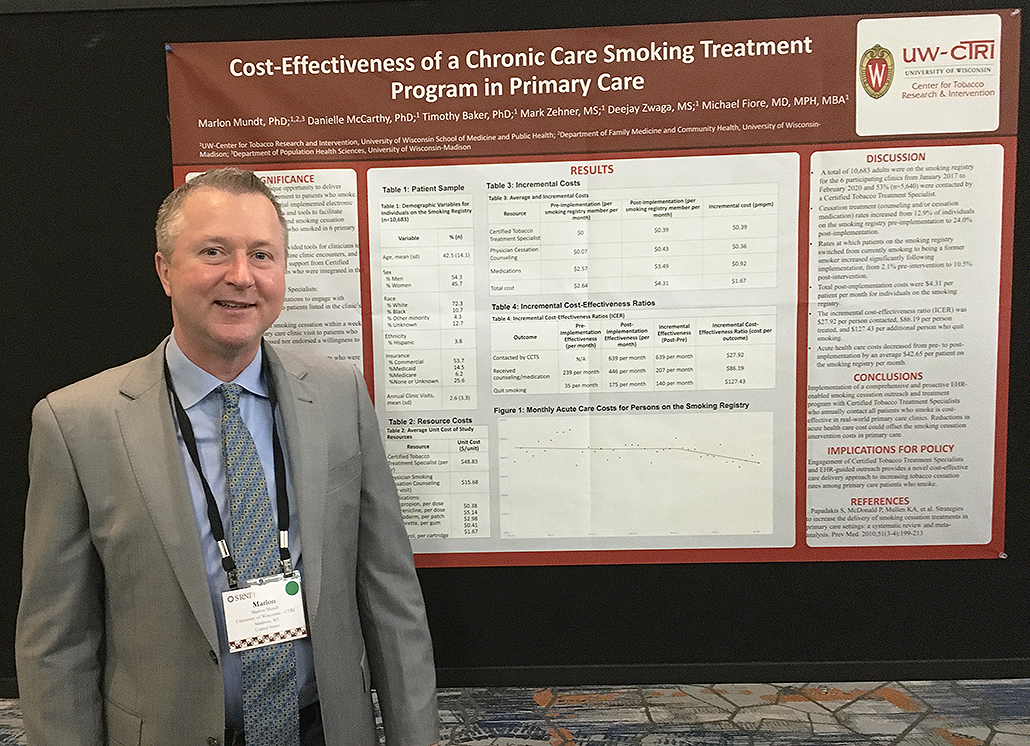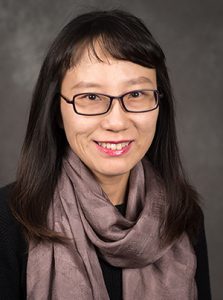 Dr. Nayoung Kim was the lead author on a virtual presentation in partnership with several UW-CTRI researchers. In her presentation, "Time-Varying Mediators of Pre- and Post-Quit Nicotine Patch Therapy in Adults Attempting to Quit Smoking with Varenicline," Kim shared that adding nicotine patches to varenicline in the peri-cessation period appears to enhance positive emotions and quitting confidence—though the effect on positive emotions may only last four to eight days into a quit attempt.
UW-CTRI Communications Director Chris Hollenback presented a poster on the use of Instagram to reach teens to encourage them to quit nicotine products. NCI requested and funded the campaign, offering money to states to assist with promotion of the website teen.smokefree.gov and the SmokeFreeTXT program. UW-CTRI staff set out to discern how best to reach teens. More teens say they use social media daily (63%) than watch TV (56%), often without commercials, (Common Sense Survey, 2019 data). After YouTube, Instagram is the platform most used by American teenagers (72%), according to the Pew Institute (2018). Teens are 2.5 times more likely to click through Instagram ads than on other social platforms (Fortune survey). Therefore, on behalf of NCI and the Wisconsin Tobacco Control and Prevention Program, UW-CTRI placed ads on Instagram. Within a week, 1,800 teens clicked on the ads and visited teen.smokefree.gov. The cost per click was $6 so, while not inexpensive, the campaign appeared to be a reasonably efficient way to reach teens—who otherwise can be difficult to reach, to get them to engage with an intervention.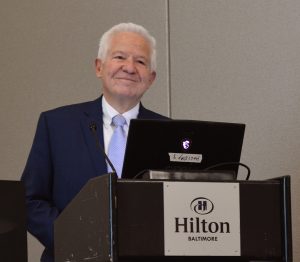 UW-CTRI Director Dr. Michael Fiore presented on the Cancer Center Cessation Initiative (C3I) Coordinating Center. Fiore noted that, at baseline five years ago, a survey found that only a quarter of cancer centers felt treating patients for tobacco use was a priority. "We had smoking causing cancer, smoking causing worse cancer outcomes, and low rates of treatment at coordinated comprehensive cancer centers," Fiore said. Fiore and colleagues noted in the New England Journal of Medicine the importance of leveraging the variability of EHR and processes among cancer centers. Closed-loop eReferral and tobacco treatment specialists both helped participating cancer centers reach and treat more patients to help them quit tobacco use. After five years, C3I centers have treated nearly 100,000 cancer patients to help them quit tobacco use.