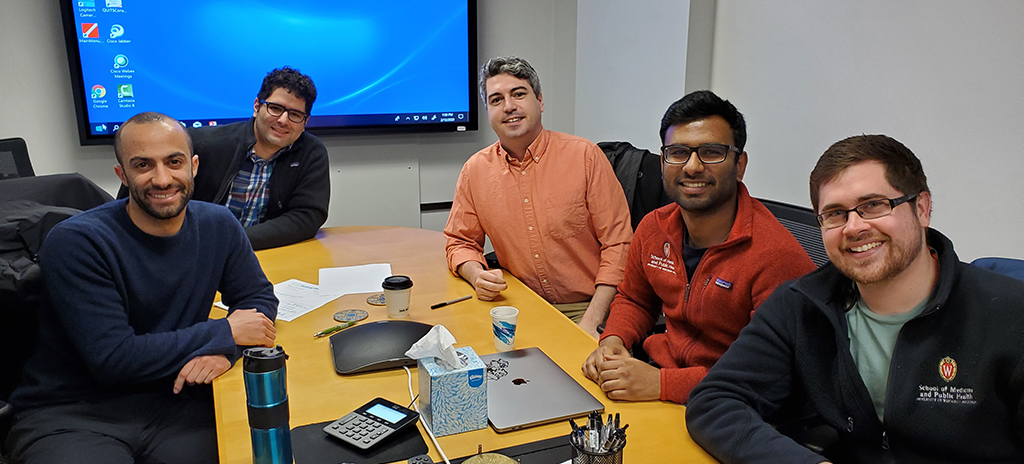 Five UW medical students recently finished their public-health elective class on tobacco treatment led by UW-CTRI Researchers Drs. Jessica Cook and Megan Piper.
The course includes an overview of tobacco treatment and electronic medical records by UW-CTRI Director Dr. Michael Fiore as well as an intro to evidence-based treatment and counseling by Piper and Cook. It is offered once a year for two weeks. It has instructed approximately 30 medical students during the last six years, who have helped their relatives and patients to quit smoking.
"This was a super useful class," said student Andrew Velic.
Students also get to shadow Dr. Douglas Jorenby at the UW-CTRI Clinic and discuss such topics as special populations and smoking with Dr. Adrienne Johnson, tobacco-related health disparities with Dr. Stevens Smith, understanding withdrawal with Dr. Danielle McCarthy, dealing with smoking relapse with Dr. Tanya Schlam, cessation role play with Health Counselor Chris Ripley, alternative tobacco products with Jorenby, motivating smokers to quit with Cook, the Wisconsin Tobacco Quit Line with Coordinator Kate Kobinsky, medical systems and electronic medical records with Outreach Director Rob Adsit, clinical evaluations with Piper and Cook, and behavioral health with Dr. Bruce Christiansen.
The 2020 students, fourth-year medical students Xavier Al-Mateen, Reza Zarinshenas, Patrick O'Donnell, Prashanth Prabakaran and Velic, said they especially valued learning about evidence-based treatment and the "5 A's," which encourage clinicians to ask about tobacco use, advise patients to quit, assess willingness, assist with quitting and then arrange for follow-up.
They appreciated the role-playing practice for interacting with patients who smoke and encouraged UW-CTRI to work with more students.
The students examined existing research on tobacco treatment and presented on some of what they learned to UW-CTRI staff:
Velic said bupropion helped pregnant women (45% on bupropion quit vs. 14% on placebo), though risks were not entirely clear. Research suggests it is safe to use after the first trimester.
Prabakaran underscored the importance of offering culturally-appropriate assistance to smokers from Asian cultures, and shared the Asian Smokers Quit Line.
Al-Mateen reported that African Americans are more likely to die from smoking, but also more likely to want to quit and try if offered assistance. He, too, said culturally sensitive interventions show promise.
O'Donnell said research shows pregnant women are 9.6 times more likely to try to quit smoking if advised to by a clinician, and tend to have more frequent healthcare visits.
Zarinshenas shared that varenicline appears to be quite effective and safe for patients with bipolar disorder who want to quit smoking.