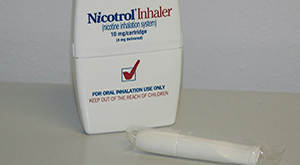 What is Nicotine Inhaler?
The inhaler is a quit-smoking aid. Users puff on it and get hits of nicotine vapor.
How to Get Started
You can only get the inhaler with a prescription. Some health plans may cover the cost. Talk with your doctor before using the inhaler, especially if you are pregnant, breastfeeding, or have:
Heart problems
Drug allergies
Diabetes
Stomach ulcers
Kidney or liver disease
Thyroid issues
Asthma
Dose and Schedule
Use the inhaler on a schedule, not just when you have a craving.
Each cartridge has 10 mg of nicotine, but only about 2 mg goes into the body.
Sample schedule for a pack-a-day smoker:

In weeks 1-4 >> use 10 cartridges per day (one every 1.5 hours)
In weeks 5-8 >> use 7 cartridges per day (one every 2 hours)
In weeks 10-12 >> use 4 cartridges per day (one every 4 hours)
Tips for Use
Puff for 20 minutes at a time.
Do not breathe into the lungs.
Take short puffs into the mouth or deep puffs into the back of the throat.
Clean the mouthpiece with soap and water often.
Do not use more than 16 cartridges per day, or for more than 6 months.
Keep new and used cartridges away from kids and pets.
Side Effects
The most common side effect is upset stomach. Others may include:
You CAN Afford to Quit