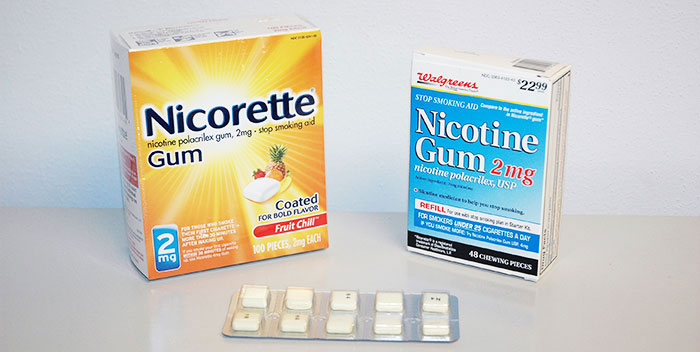 What is Nicotine Gum
Nicotine gum is an aid to quit smoking.
Chew and "park" it between your cheek and gums.
This delivers nicotine to the body through the lining of the mouth.
How to Get Started
Talk with your doctor before using the gum, especially if you are pregnant or breastfeeding, or have heart issues.
The gum is available over-the-counter.
Some health plans may cover the cost.
Dose and Schedule
The gum comes in two does: 4 mg and 2mg.
If you smoke your first cigarette within 30 minutes of wake-up, start with 4 mg.
If you smoke your first cigarette more than 30 minutes after wake-up, start with 2 mg.
Use gum on a schedule, not just when you have a craving. Here is an example:

Weeks 1-6 >> every 1-2 hours
Weeks 7-9 >> every 2-4 hours
Weeks 10-12 >> every 4-8 hours
Side Effects
If you use the gum, you may get:
Mouth sores
Nausea
Hiccups
Jaw pain
Tips for Use
Do not chew like bubble gum.

Chew it until you can taste the nicotine or feel a tingle in your mouth
Park it between your cheeks and gums
After about a minute, when the tingling is almost gone, chew it again
Repeat this process until the tingle is all gone (about 30 minutes)

Do not use more than 24 pieces per day
Do not eat or drink 15 minutes before and during use

Avoid acidic foods and drinks
(like oranges, coffee, and soda)
These can make the gum less effective
See Your Doctor
There's no magic medication to cure addiction to nicotine. However, these medications can increase your chances of quitting two- or three-fold. It's important to discuss any medication with your doctor to be sure you're using it safely, at the correct dosage and for the appropriate duration.
You CAN Afford to Quit