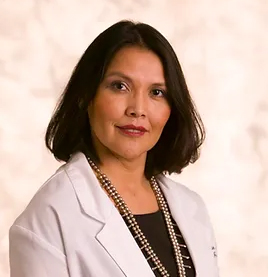 Before Dr. Patricia Nez Henderson was the first Indigenous President of the Society for Research on Nicotine or Tobacco (SRNT), she was a little Diné girl in Teesto, Arizona—a small community on the Navajo Reservation.
Her grandfather, a medicine man, would wake Patricia and her brother by pouring water on their heads.
"He would yell, 'Go run, go run, go beat the rising sun,' ask the holy people for strength," Nez Henderson said. "My grandfather was an incredible individual, his knowledge and wisdom were grounded in our Navajo culture and traditions."
She would witness him interacting with his patients. "The patients seemed so calm and at ease while they were around him," she said. Yet some of these patients, who suffered from chronic diseases, would hesitate to seek modern medical treatment until it was too late.
So she blazed a trail. She went to Yale, earning her master's degree in public health then becoming the first American Indian woman to graduate from the Yale School of Medicine.
As she spoke out at Yale—about her culture, about colonialism in the United States, about the history of how the federal government exploited tribes—she would get pushback from those around her. During tough times, she has leaned on her grandfather's teachings.
"It has been a tough road," she said, "but when I think back to what he taught me, I know it's going to be okay."
At Yale, she had her doubts if she could finish. Fortunately, the late Chief Wilma Mankiller (Cherokee) encouraged her to keep going.
"She said, 'if you can't do it for yourself, do it for all the Patricias who will come after you. Do it for the future Indigenous doctors, scientists, researchers. It won't be easy but, if you align yourself with people you can lean on, trust and feel safe, that will be the important thing.' She was an incredible woman. She came into my life at a time where I needed her."
Now, Nez Henderson is trying to be that person for Indigenous youth, to talk about tobacco history, inspire them to work in the medical research field, and support their careers in a safe environment.
Yale now gives an annual award called the Patricia Nez Award.
In 2020, she served on the SRNT Equity Committee with colleagues such as UW-CTRI Co-Director of Research Dr. Megan Piper. She also co-founded the SRNT Indigenous Circle, where Indigenous scientists offer each other support and discuss ceremonial use as well as commercial tobacco interventions.
As the Vice President of the Black Hills Center for American Indian Health, Nez Henderson conducts research and works to blend Indigenous epidemiology with modern medicine, and to offer it in a way that is culturally appropriate. That involves conversations with the community, particularly elder leadership.
While it's true that commercial tobacco use rates are high among tribal communities—including the highest rates of youth use, according to the latest National Youth Tobacco Survey, at about 13 percent—Nez Henderson said that's only part of the story.
"We have to go back to the beginning," she said, when from 1883 to 1978, the US government banned Indigenous peoples from practicing their ceremonies, including use of ceremonial tobacco, leaving American Indians to use commercial tobacco. "Tobacco companies targeted our communities for many years. For example, JUUL targeted our communities just recently. We need to talk about the history. We can't talk about the high rates of smoking without acknowledging that history."
She has worked on several projects to reach out to American Indian people to help them quit tobacco use, including with a website developed with the University of Washington for Indigenous teens. Locally, she has led several community-based interventions in Navajo Nation.
Nationally, she was a panelist for the Clinical Practice Guideline: Treating Tobacco Use and Dependence, offering her unique perspective. She has served on the Federal Drug Administration Tobacco Products Scientific Advisory Committee and the US Interagency Committee on Smoking and Health with UW-CTRI Director Dr. Michael Fiore.
And, after 13 years of advocacy by Nez Henderson and coalitions, Navajo Nation enacted the Niłch' éí Bee Ííńá–Air is Life Act on Nov. 6, 2021, prohibiting the use of all commercial tobacco products in workplaces and public places. A year later, it still brings a big smile to Nez Henderson's face.
Now, she has an NIH grant to conduct a smoking cessation pilot project exploring the feasibility of using Indigenous mindfulness. Specifically, she is working with women who have suffered trauma to help them quit commercial tobacco use in a safe space.
"It's the first of its kind and we're really excited about it," she said.
To recruit for the study, she begins with community partners and advisors. They settle on messages and put them on websites and speak about the project at powwows and other events. For this study, they go to shelters and invite women to participate.
When she's not conducting ground-breaking research, she's speaking on tribal and government history at SRNT, and how ceremonial tobacco is sacred to Indigenous people.
"We must acknowledge the use of ceremonial tobacco first," she said. "It is a plant that is sacred to many Indigenous communities but was exploited by the industry. The acknowledgement of this history, not only by Indigenous peoples, but by others, is a part of our healing."