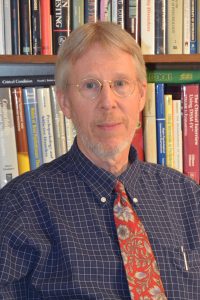 UW-CTRI Director of Biostatistical Operations Dr. Stevens Smith will retire January 1, 2023, after 30 years of service at the Center.
"I've been incredibly fortunate to do very meaningful work with great colleagues at UW-CTRI," said Smith, a professor in the UW Department of Medicine. "In addition to contributing to UW-CTRI's team science, I had opportunities to lead a few studies such as the Wisconsin Tobacco Survey, a quitline study, and a cessation study with the Menominee Indian Tribe."
After earning his Ph.D. in psychology in 1990 at UW, Smith completed a postdoctoral fellowship at the National Institute on Drug Abuse (NIDA) Addiction Research Center in Baltimore, Maryland. Upon finishing his NIDA fellowship, Smith returned to UW in 1992 to pursue postdoctoral training in clinical psychology and preventive oncology. Smith expressed deep gratitude for three decades of unwavering support from Dr. Tim Baker, who was his postdoctoral advisor and mentor (along with UW-CTRI Director Dr. Michael Fiore) when Smith became a faculty member.
"What a wonderful colleague Stevens has been," Baker said. "He has brought very rare expertise, very high-level skills in terms of data analysis and database preparation, tremendous knowledge and a very high level of conscientiousness. When working with Stevens on various projects through the years, it always gave me great solace to know Stevens was there to make sure things were done right."
"UW-CTRI, Tim and I are all grateful to Stevens for his terrific data analysis work for three decades," said Fiore. "Most recently, Stevens has worked tirelessly to make sure our project examining data on COVID-19 and tobacco gets done with excellence. Thank you, Stevens."
A Fateful Meeting
In the summer of 1992, Smith met with Tim Baker at the Ovens of Brittany bakery on Monroe Street to discuss various opportunities and enjoy an Ovens "to-die-for and famous" morning bun. (Smith confessed that he once ate two morning buns the morning of a statistics exam—and, while he finished the test expeditiously, his stomach gave his choice of breakfast an F.) At the meeting with Tim, Smith heard about a possible job opening as an assistant researcher with Baker and Fiore at a new center that would come to be known as UW-CTRI.
Smith joined the center in October 1992.
"I had no idea what was ahead for me," Smith said, now 30 years later.
That decision to join UW-CTRI would dramatically alter his career and personal life. That's because Dr. Jane Anderson, a former employee at UW-CTRI (and now a physician in Janesville), introduced Smith to his wife, Mary Lamon-Smith. Married in May of 1996, Stevens and Mary now have two adult kids (Will and Sager), two dogs, three cats, and a great life in Madison.
"Without question, I wouldn't have the life I have had without UW-CTRI," Smith said.
Smith is humble, hardworking, and quick to credit and thank his colleagues, particularly Baker and Fiore.
"Mike and Tim have been incredibly generous mentors for me," Smith said. "Plus they have a special knack for bringing in very talented faculty and staff with a variety of expertise. As a result, the working environment at UW-CTRI is highly collaborative and synergistic, which has contributed to the amazing success story of the center."
Smith thanked all of his colleagues for their teamwork and dedication, particularly Dr. Dan Bolt and Dr. Wei-Yin Loh, for their contributions to UW-CTRI research and their support of Smith's role as a data analyst at the center. He also gave special shouts out to UW-CTRI Director of Clinical Services Dr. Doug Jorenby for his friendship and his expert clinical consulting on difficult cases when Smith was in practice as a clinical psychologist for 20 years at UW Health West Clinic. Smith also expressed gratitude for three decades of support and friendship from UW-CTRI Finance Director Lisa Rogers.
A Legacy of Deft Data Analysis
Smith is a senior clinical investigator at UW-CTRI and has collaborated on numerous studies, investigating behavioral and pharmacotherapy treatments for nicotine dependence, as well as the nature and measurement of nicotine withdrawal and dependence. Smith has helped develop questionnaires such as the Brief WISDM and the revised Wisconsin Smoking Withdrawal Scale (WSWS2). In addition, he has studied the effectiveness of quitline-based delivery of tobacco treatments. He collaborated with the Menominee Indian Tribe to develop culturally-tailored cessation treatments to help tribal members quit smoking commercial tobacco.
Perhaps Smith's greatest contribution to research at UW-CTRI has been as a data analyst. In fact, Smith was originally hired in 1992 to work part-time managing and analyzing the Center's data while he was doing his postdoctoral training in the UW psychology department. As a graduate student and postdoc, Smith taught courses for the psychology department, including statistics for psychology majors as well as courses in abnormal psychology and the genetics of psychiatric disorders. Smith is quick to note that he does not have a formal degree in statistics, but he has had a keen interest in statistics and methodology dating back to his undergraduate training (when he took his first stats courses). He also completed numerous stats courses in graduate school as well as many workshops and other trainings. Smith credits Drs. Bolt and Loh for helping him over the decades with challenging statistical issues.
Over his career, Smith has published more than 120 articles in peer-reviewed journals, including studies on psychopathy (the topic of his dissertation), molecular genetics of addiction and, of course, tobacco-related studies of many kinds after he joined UW-CTRI. He expressed gratitude for the opportunity to conduct analyses for numerous Center studies during the past 30 years that were published in JAMA, the New England Journal of Medicine, Addiction, and other notable journals. For articles where he served as first author, Smith said that a few stand out for him. These include articles on the effectiveness of combination nicotine-replacement treatment relative to nicotine patch alone, as well as articles on the psychometric development of smoking-related questionnaires (Brief WISDM and WSWS2). Smith also mentioned his paper in Addiction on menthol flavoring in cigarettes, co-authored in 2014 with Fiore and Baker. They found that smoking menthol cigarettes appeared to be associated with reduced cessation success compared with non-menthol smoking, especially in African American females. While Mitch Zeller, director of the FDA Center for Tobacco Products, asserts that the FDA relies on a robust research evidence base to make its rules, including the recent proposed rule to ban menthol in tobacco products, Smith said he'd be delighted if the paper in Addiction contributed to it.
Handing the Baton
In 2016, Smith became UW-CTRI's first Director of Biostatistical Operations. In this role, he conducted data analyses for center scientists, provided consultation on statistical and methodological issues, and oversaw the center's data management operation. Between now and January, Smith will prepare colleague Dr. Tom Piasecki to take over the role.
"I have full confidence in Tom," Smith said. "He's an incredibly talented scientist with expertise in advanced statistical analyses of many kinds."
In terms of overseeing data management at the center, Smith said he feels fortunate to have worked with very talented data professionals, including Todd Hayes-Birchler, whom he credits with developing UW-CTRI's data management system that supports most center studies. Smith expressed great confidence in Todd's expertise and his 10 years of experience in data operations at the Center (which will be critical after Smith retires). He also noted the important roles of UW-CTRI Director of Information Technology Jonah Stankovsky and colleagues who manage the REDCap database system (Hayes-Birchler, Adam Nunez, and Julia Matthews) that is so crucial to the success of center studies.
Feeling Fortunate
Smith said he often interacts with colleagues and friends from outside UW-CTRI who tell him how fortunate he is to have found a place to work for three decades, with a talented team of colleagues, five consecutive center grants, and the opportunity to contribute to improving public health.
He wholeheartedly agrees.
"What an amazing place this is. I am deeply grateful for being a part of this incredible organization for 30 years."