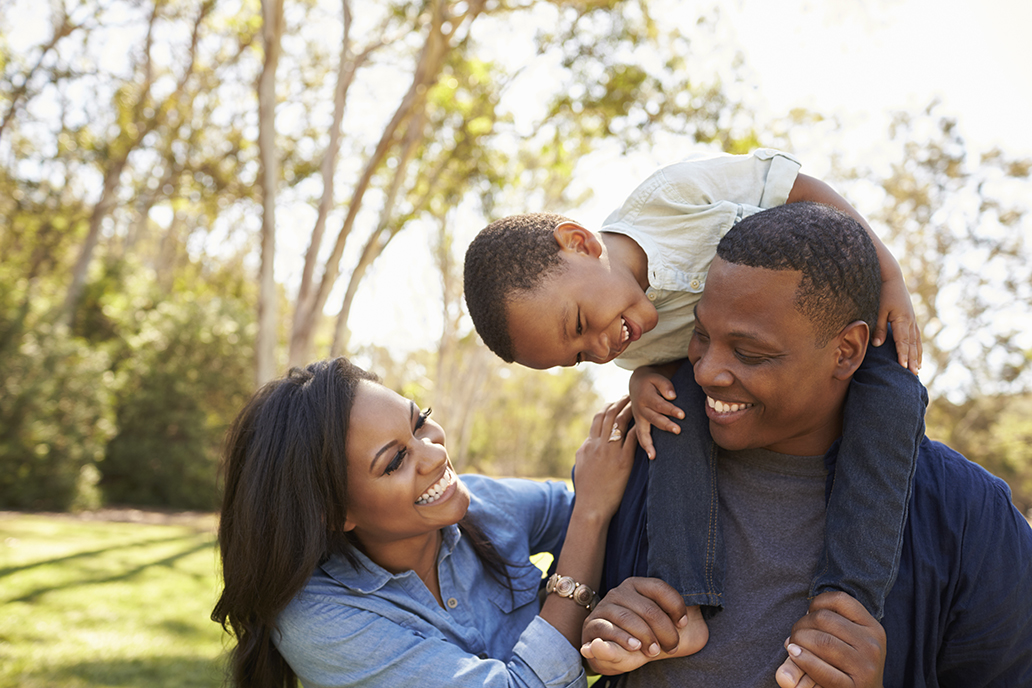 The FDA is banning menthol cigarettes and flavored cigars. This historic point begins a process that includes public comment and likely lawsuits from tobacco companies to delay or stop the ban.
UPDATE: FDA's Mitch Zeller Discusses Timelines on Menthols, Synthetic Nicotine, New Media Campaign
"Banning menthol—the last allowable flavor—in cigarettes and banning all flavors in cigars will help save lives, particularly among those disproportionately affected by these deadly products," said Acting FDA Commissioner Dr. Janet Woodcock. "With these actions, the FDA will help significantly reduce youth initiation, increase the chances of smoking cessation among current smokers, and address health disparities experienced by communities of color, low-income populations, and LGBTQ+ individuals, all of whom are far more likely to use these tobacco products. Together, these actions represent powerful, science-based approaches that will have an extraordinary public health impact."
"While this is just a first step, it's a momentous one toward health equity for our society," said UW-CTRI Director Dr. Michael Fiore. "For too long, mentholated tobacco products have been allowed to addict and kill Americans, particularly African Americans. UW-CTRI fully supports this ban and will work to help see it to fruition."
Days before that promising FDA announcement, the Wisconsin African American Tobacco Prevention Network, guided by Lorraine Lathen, held a virtual kickoff event for the 2021 No Menthol Sunday campaign featuring Wisconsin Lt. Gov. Mandela Barnes, Wisconsin Secretary of Health Designee Karen Timberlake, the mayors of Milwaukee and Madison and other dignitaries. More than 3,000 people watched the event online.
To hear Lathen and UW-CTRI Associate Director of Research and SRNT President Dr. Megan Piper on Wisconsin Public Radio, click here.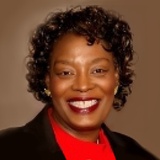 "The Biden Administration and FDA took a major action to address historic injustices related to menthol and other flavored tobacco," Lathen said. "We applaud the Biden Administration, along with the African American Tobacco Control Leadership Council, The Center for Black Health and Equity, the Public Health Law Center, and the many other tobacco advocates that have championed this issue for many years."
Carol McGruder, co-chair of an organization that filed a complaint against the FDA for not taking action to ban menthol, participated in the kickoff event. McGruder discussed recent deaths of African Americans at the hands of the police that involved tobacco products, and debunked myths presented by the tobacco industry that removing menthols will increase such officer-involved deaths of black residents.
To McGruder's last point, state and local law enforcement would not enforce use of menthol products, said FDA Director of the Center for Tobacco Products Mitch Zeller. The FDA only regulates the manufacturing and sale of these products, he said, and the ban is meant to foster a more just society. He said the FDA is committed to publishing the rule within a year and seeing it through.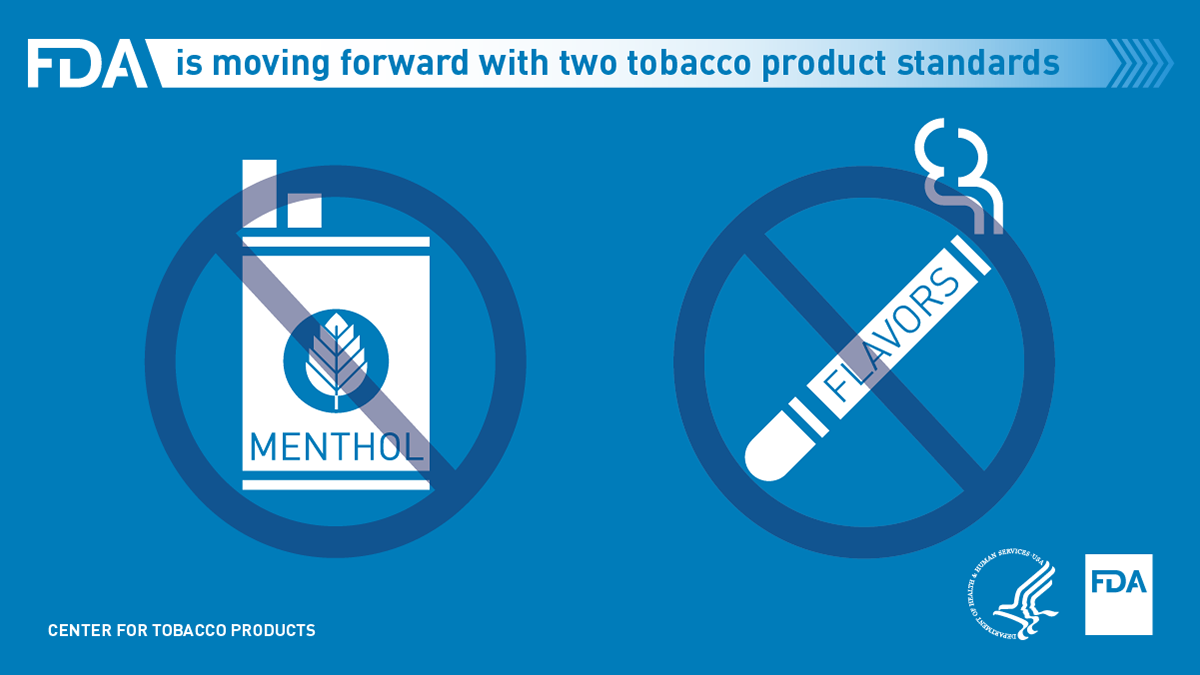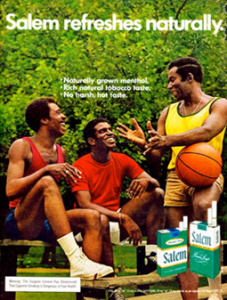 No Menthol Sunday, which this year takes place on May 16, is an annual event to raise awareness of the impact of mentholated tobacco products on the health of the Black community, and to partner with organizations in those communities to educate adults and kids. The event is led nationally by The Center for Black Health and Equity and locally by the Wisconsin African American Tobacco Prevention Network.
Tobacco companies add menthol, a mint-flavored anesthetic, to their products to try to reduce the harsh experience. The menthol additive makes it easier for some people to become addicted. Nine out of 10 Black people who smoke in Wisconsin smoke menthol cigarettes, compared to eight in 10 nationally. Tobacco companies have used it in their marketing.
Lt. Gov. Barnes, who has served for eight years on the Tobacco Prevention Network, said he fully supports No Menthol Sunday and wants everyone to spread the word that big tobacco is targeting people of color with menthol flavors and it needs to stop.
"We look forward to partnering on this work." He said he feels momentum building but knows there is much more to be done.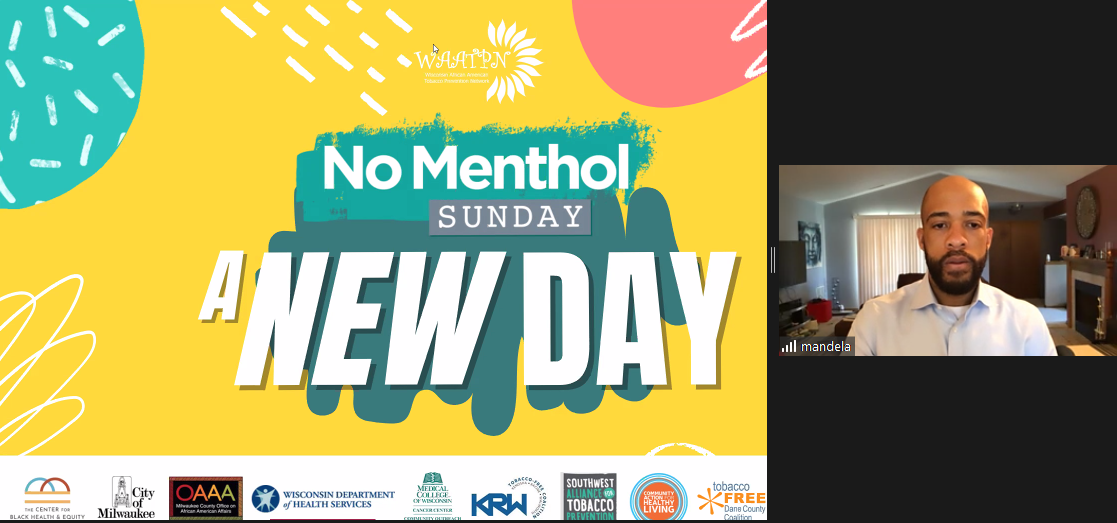 Timberlake agreed. "I bring you our full support and commitment. We haven't yet won the battle against the creativity and innovation of the tobacco industry." She said the state must keep kids safe against tobacco companies' dangerous and deceptive practices. "We are taking this opportunity to re-energize for the fight ahead of us."
"Racism is directly related to public health crises because racism is a public health crisis," said Rep. Sheila Stubbs, who represents Madison, including UW campus. Stubbs is the first African American woman to represent a Dane County district in the state legislature. Stubbs was speaking on behalf of the nine-member Wisconsin Legislative Black Caucus, seven of whom attended the kickoff event, and all nine support the tireless efforts of the Wisconsin African American Tobacco Prevention Network to counter the marketing practices of Big Tobacco. "Now is the time to act," Stubbs said. "Join us on No Menthol Sunday. Move away from smoking menthol cigarettes."
"This makes all the sense in the world," said Milwaukee Mayor Tom Barrett. "Menthol, for too long, has harmed people who are more vulnerable. We can bring about a new day where menthol is a thing of the past."
UW-CTRI is among the many organizations statewide that support No Menthol Sunday. UW-CTRI Associate Director of Research and SRNT President Dr. Megan Piper publicized the effort to all SRNT members nationwide. UW-CTRI Distinguished Director of Communications Chris Hollenback recruited organizations in Madison to attend the kickoff event, has served on the event planning committee and sent the kickoff news release written by Edgar Mendez to more than 2,700 journalists statewide, supporting efforts led by Mendez.
Piper and Lathen will be guests on Wisconsin Public Radio on Thursday, May 6, at 4:30 pm as part of the show "Central Time." WTMJ in Milwaukee streamed the kickoff event live. Other UW-CTRI staff have attended No Menthol Sunday online meetings and events.
African American youth will lead a statewide summit of their peers on May 16. Menthol makes it easier for some youth to become addicted and research has shown it can also make it more difficult to quit smoking.
Shy McElroy read a poem during the kickoff event. McElroy is a parent of three who began her tobacco quit journey a few months ago in an effort to improve her family's quality of life. "Today is a new day and all things are possible," she said. "Inhale and exhale, rise like the sun."