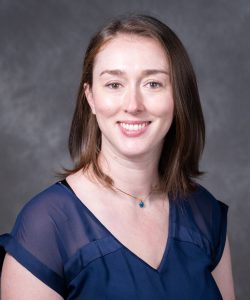 UW-CTRI Researcher Dr. Adrienne Johnson is on a roll. Not only did she pass her licensure exam to practice psychology independently, but she also earned her NIH 23 award as well as a second grant. She even had two papers recently published.
The K23 award funds her salary, specialized training, and a research study beginning this spring for five years. She will obtain additional training in Dissemination and Implementation Science and Alzheimer's Disease and Related Dementias. The goal of her study is to increase smoking cessation in adults age 50 and older. While these adults smoke at lower rates (8.2%) than the general population (13%), their cessation rates are also lower.
"They are less likely to be advised to quit or offered help by providers," Johnson said. She said a common misperception is that mature adults can't or won't quit and, if they do, they won't benefit from it. But the research reflects the contrary.
"When they do try to quit, they're generally more successful than younger people, especially when they use evidenced-based treatments (which double their success)," Johnson said. The study will run qualitative interviews to look at what might motivate older adults to quit. One potential incentive is pointing out that quitting smoking can reduce risk for cognitive decline—commonly cited as the greatest fear among mature adults, but one yet to be used for motivation with smoking cessation.
This is the first step in a line of research aimed to develop and test a motivational message to increase smoking-cessation attempts in older adults, and promote access to (and use of) evidence-based treatments for smoking cessation. Johnson will be be tuned into any behavioral health symptoms and the socioeconomic status of the participants to better analyze and interpret results.
Her primary mentors on the K23 award are UW-CTRI Associate Director of Research and President of the Society for Research on Nicotine and Tobacco Dr. Megan Piper, Dr. Carey Gleason, Associate Professor in the UW Division of Geriatrics and Gerontology and Leader of the Alzheimer's Disease Research Center (ADRC) Inclusion of Under-Represented Groups Core, Dr. Jessica Cook, UW-CTRI Director of Veterans Research, and Dr. Jane Mahoney, Professor of the UW Division of Geriatrics and Gerontology and Director of the UW ICTR Dissemination and Implementation Launchpad .
"Adrienne is making great progress in her research career," said UW-CTRI Director of Research Dr. Tim Baker. "This is exactly the sort of accomplishment that we love to see our postdoctoral scholars achieve. Congratulations Adrienne! Also, congratulations go to Megan for being such a supportive and helpful advisor."
"Adrienne has been a fabulous addition to UW-CTRI," Piper said. "Her intellectual curiosity and her drive has led her to identify new, important questions about the effects of smoking and smoking cessation on Alzheimer's disease and other dementias and obtain funding for this work. I have enjoyed working with her on a variety of papers during her two years as a post-doc and I consider myself fortunate that she and I will be able to continue to collaborate here at UW-CTRI."
Johnson's other grant is from the ADRC Developmental Research Project for $150,000 in funding over 2 years. This project aims to develop a tailored intervention for African Americans age 50 and older to motivate them to quit smoking. African Americans are disproportionately more likely than white adults to develop dementia and suffer health effects of smoking. Piper and Gleason are co-principal investigators.
"We're really excited to collaborate more with the ADRC," Johnson said. "It's a really big deal with the growing importance of dementia and the number of older adults increasing with the aging of Baby Boomers. Tackling tobacco and dementia is a crucial topic. It's a passion of mine."
One of Johnson's two published papers focuses on smoking and epilepsy while the other centers on smoking and dementia:
1. Johnson AL, McLeish AC, Shear PK, Privitera M, Luberto CM. (2021) Smokers with and without Epilepsy Show Similar Smoking Rate, Dependence Level, Cessation Attempts, and Motives. Translational Behavioral Medicine. Online February 5, 2021.
Summary: People with epilepsy who smoke do not appear to differ significantly from people without epilepsy who smoke in terms of smoking-related behaviors and cognitions—and may therefore benefit from current evidence-based treatments for smoking cessation that are not contraindicated for epilepsy (i.e., bupropion, varenicline).
2. Johnson AL, Nystrom NC, Piper ME, Cook J, Norton DL, Zuelsdorff M, Wyman MF, Benton SF, Lambrou NH, O'Hara J, Chin NA, Asthana S, Carlsson C, Gleason CE. (2021) Cigarette Smoking Status, Cigarette Exposure, and Duration of Abstinence Predicting Incident Dementia and Death: A Multistate Model Approach. Journal of Alzheimer's Disease. Online February 19, 2021.
Summary: Current smoking increases the risk for dementia and death, but dementia is better attributed to smoking recency than lifetime exposure. Smoking cessation at any age might reduce these risks for cognitively healthy individuals.