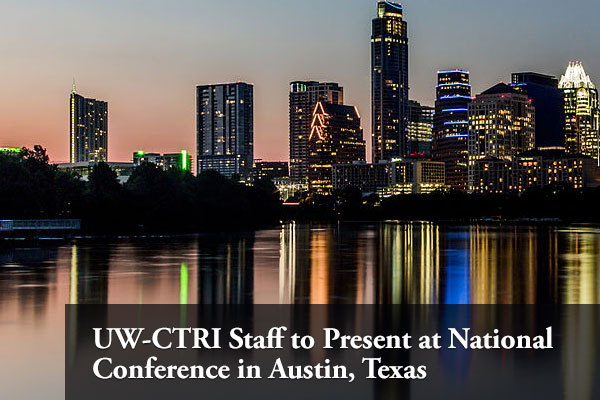 UW-CTRI staff will present results from various projects pertaining to tobacco research and outreach at the 2017 National Conference on Tobacco or Health in Austin, Texas March 22-24. Here's a rundown:
Panel presentation, Using the Electronic Health Record to Drive the Delivery of Innovative Tobacco Cessation Interventions in Health Care Settings – Lessons Learned from New Advances. UW-CTRI Director Dr. Michael Fiore will moderate. UW-CTRI Outreach Director Rob Adsit will present on the Center's collaboration with Epic and healthcare systems to integrate tobacco treatment into electronic health records.
Panel presentation, Making the Case for Intensive Tobacco Dependence Treatment Services. UW-CTRI Associate Director of Research Dr. Megan Piper will present research employing the Multiphase Optimization Strategy (MOST) to engineer a more intensive smoking-cessation treatment that is appropriate for use in primary care settings, noting superior outcomes relative to an intervention involving medication and quitline referral.
Poster, Building Enthusiasm among Providers and Patients in Wisconsin's Successful Medicaid Smoking Cessation Study. UW-CTRI Outreach Specialists Roger Dier and Amy Skora will demonstrate recruitment techniques for Striving to Quit, a research study designed to test the effects of incentives on engaging Medicaid members to reduce or quit smoking.
Poster, A Tailored Tobacco Dependence Treatment for Those with Severe and Persistent Mental Illness. UW-CTRI Researcher Dr. Bruce Christiansen will present on a partnership between NAMI Wisconsin, Community Treatment Alternatives (a Community Support Program [CSP]) and UW-CTRI to develop a clinic-wide tobacco-dependence intervention for those with persistent mental illness. Co-authors are Julianne Carbin (NAMI Wisconsin), Mary Jo Olsen and Liza Haroldson (Journey Mental Health).
For a preview of UW-CTRI presentations at the annual conference of the Society for Research on Nicotine and Tobacco (SRNT), click here.