Nancy is a long-time smoker seeking cancer treatment—however, her oncology clinicians don't screen her for her smoking, and don't offer her help to quit tobacco use.
Researchers from the University of Florida, University of Wisconsin, and colleagues have found that results generated by an analysis method commonly used in economics and engineering can help cancer centers address tobacco use among their patients in the most efficient and sustainable ways.
The team published the results in Implementation Science Communications, sharing how cancer centers that were most efficient tended to:
Offer help at the point of care—either in-person or via telehealth.
Be larger organizations with more patients who smoke.
Have more experience offering help to quit smoking.
Smoking is not only the leading preventable cause of cancer, but research shows quitting smoking improves cancer outcomes and reduces the likelihood of the disease returning later. Smoking also taxes cancer centers by an estimated additional $10,678 annual cost per patient.
Researchers used data envelopment analysis (DEA) to analyze the efficiency of the cancer centers participating in the Cancer Center Cessation Initiative (C3I), which is coordinated at UW and funded by the National Cancer Institute (NCI).
"DEA is a useful tool for assessing the relative efficiency of organizations that implement evidence-based programs in a way that is not possible with other analytic methods," said Dr. Kathryn Pluta, University of Florida researcher and lead author. "In the case of C3I, identifying factors associated with high reach and effectiveness, while maintaining low operating costs, is important for the sustainability of tobacco treatment programs. Decision makers can use findings from DEA to improve efficiency of existing tobacco treatment programs within oncology settings and evaluate how cancer centers could most effectively support implementation of tobacco treatment programs."
UW sent surveys every six months to all C3I cancer centers. The survey assessed center characteristics (such as center size, staffing, and treatments offered) as well as program outcomes (such as reach and effectiveness).
Researchers assessed reach as the proportion of cancer patients who received at least one tobacco treatment, relative to the total number of patients who smoked at each C3I center. They assessed effectiveness as the proportion of patients currently using tobacco who engaged in tobacco treatment and quit for a minimum of seven days at six months follow-up.
They found that more research is needed to identify the ideal staffing-to-patient ratios to help people quit smoking during their cancer treatment, including the use of Tobacco Treatment Specialists (TTS).
"Given our results, it would be valuable to assess whether reducing TTS and personnel is associated with greater efficiency among C3I centers in general, or whether centers with particular characteristics may benefit from an increase in TTS and other personnel (e.g., large centers and/or those with particularly high smoking prevalence and less program staff)," Pluta said. "It would be beneficial to identify the most efficient TTS staff-to-patient ratio, as well as the contexts in which TTS and other personnel are essential for program efficiency."
C3I is guided by the reach, effectiveness, adoption, implementation, and maintenance (RE-AIM) framework developed by UW-CTRI collaborator Dr. Russ Glasgow.
C3I centers that implemented tobacco treatment programs center-wide had similar effectiveness and higher reach than centers that engaged in partial implementation.
"A barrier to implementation is often cost," said Dr. Ramzi Salloum, a University of Florida professor and senior author on the study who is leading an NCI-funded project to investigate the sustainability of C3I programs. "Being able to get a sense of which program components lead to better efficiency among centers with similar characteristics can act as a guide for how to approach implementation at a new center," Salloum said.
As C3I gathers and publishes findings, it's also sharing them through an innovative Oncology Roadmap—a website to help oncology teams incorporate tobacco treatment into their standard care. UW-CTRI Director of Research Dr. Danielle McCarthy is leading the team developing that site, along with UW-CTRI colleagues Mark Zehner, Mara Minion and Chris Hollenback.
Minion was a co-author on the paper, along with UW-CTRI founders Dr. Mike Fiore and Dr. Tim Baker.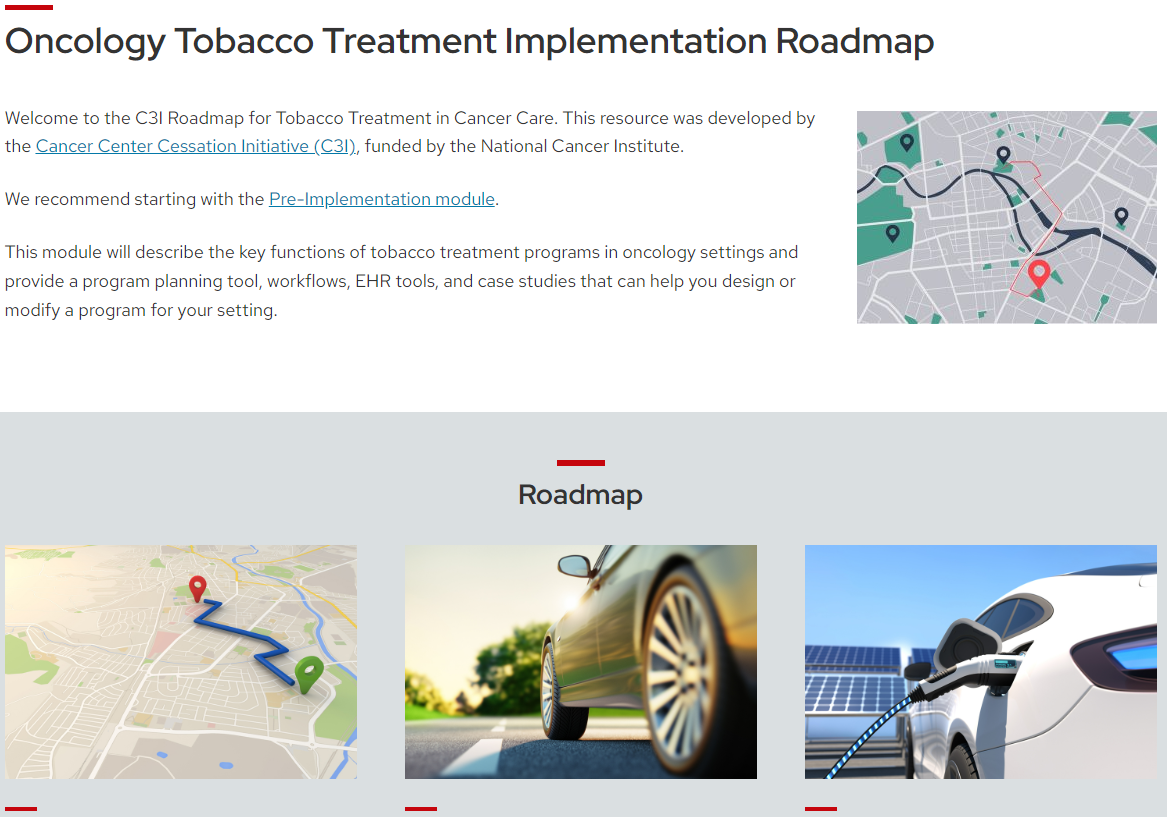 Now, with a little help, perhaps oncology teams will have an easier time systematically helping patients like Nancy to quit smoking and improve their chances to live cancer-free.
Pluta K, Hohl SD, D'Angelo H, Ostroff JS, Shelley D, Asvat Y, Chen L-S, Cummings KM, Dahl N, Day AT, Fleisher L, Goldstein AO, Hayes R, Hitsman B, Buckles DH, King AC, Lam CY, Lenhoff K, Levinson AH, Minion M, Presant C, Prochaska JJ, Shoenbill K, Simmons V, Taylor K, Tindle H, Tong E, White JS, Wiseman KP, Warren GW, Baker TB, Rolland B, Fiore MC, Salloum RG. (2023) Data Envelopment Analysis to Evaluate the Efficiency of Tobacco Treatment Programs in the NCI Moonshot Cancer Center Cessation Initiative. Implementation Science Communications. 4, 50. Online May 11, 2023.