Jackie from Green Bay had tried to quit smoking "a million times," she said. "I'd say, 'this is the last cigarette for sure.' Then, I'd go to the gas station and the cashier would know me and say, 'Smokes?' Sometimes, he'd have a pack of my brand ready at the register."
Jackie had tried quitting cold turkey, she tried Chantix, she tried nicotine gum—all to no avail. Then she saw an ad for the Wisconsin Tobacco Quit Line.
"Many TV ads are cheesy, but this one resonated with me," she said. In the ad, the narrator acknowledges how hard it is to quit smoking, and that the Quit Line is available at 800-QUIT-NOW with no judgment, just free help.
A Quit Line coach walked her through setting up a plan to quit, and sent free nicotine patches.
"That helped," she said. "I would just try to go a half-hour without smoking. Then another half-hour. Just try to go longer and longer." Research indicates these "practice quit attempts" can lead to quitting for good.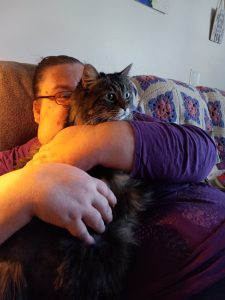 While she has had a few slips, she is elated to now be living smoke-free. "I can breathe easier, food tastes better. My bank account isn't drying up as fast, that's nice, too. I used to wake up in the morning and have coughing jags for 15 minutes. My sense of smell is better, which is great—except for the cats' litter boxes."
Her cats, Majesty and Skipper, now live in healthier smoke-free air, too. That's something to purr about.
She'd recommend people call the Quit Line. "You get a packet and free medication in the mail, and the coaches help you. They'll hook you up. Definitely call."