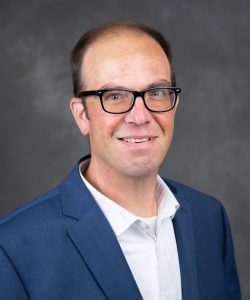 UW-CTRI Researcher Dr. Tom Piasecki is now a Professor of Medicine with Tenure in the Department of Medicine.
"This represents a substantial honor and reflects his incredibly impressive history as an accomplished scientist," said UW-CTRI Director Dr. Michael Fiore. "And, coming full circle, he is back at the site where he obtained his PhD."
Piasecki received his bachelor's degree in psychology from the University of Wisconsin-Madison in 1992 and his doctoral degree in experimental psychopathology research from the University of Wisconsin-Madison in 1999.
He was a postdoctoral fellow at UW-CTRI and the UW Comprehensive Cancer Center from 1999-2000. Piasecki was a faculty member in the Department of Psychological Sciences at the University of Missouri from 2000 to 2021, attaining the rank of professor in 2012.
"I want to give my personal thanks to Tom for joining us again," Fiore said. "His is an important returning member of the UW-CTRI scientific team."
"It is an honor to hold a faculty position at this outstanding university," Piasecki said. "This is particularly special for me because Wisconsin is my alma mater. I am very thankful to the Department of Medicine for providing me an academic home. I am thrilled to be a part of a department that features so many outstanding scholars, including many of my close colleagues here at UW-CTRI."
Piasecki is a Fellow of the American Psychological Association and the Association for Psychological Science. He is the recipient of research awards from the American Psychological Association, the Society for Nicotine and Tobacco Research, and the Academy of Behavioral Medicine Research. He is currently Associate Editor of Alcoholism: Clinical and Experimental Research, a past Associate Editor of Psychology of Addictive Behaviors, and a member of the editorial board for the Journal of Abnormal Psychology.
UW-CTRI Co-Founder and Co-Director of Research Dr. Tim Baker has known Piasecki since he was Piasecki's mentor in grad school.
"He's a great colleague," said Baker. "He's thoughtful and analytically sophisticated and I find his perspective to be invaluable. He deserves his tenure, has a wonderful record of scholarship. I am so happy he is here at UW-CTRI. He has already made valuable contributions."
Piasecki will take over in January as UW-CTRI Director of Biostatistical Operations when Dr. Stevens Smith retires.