The Wisconsin Department of Health Services, ad firm KW2 and UW-CTRI are partnering to run advertisements to promote the Wisconsin Tobacco Quit Line across the state. The ads began February 21 and will run through March 14.
Tactics include TV ads in Milwaukee, Green Bay, LaCrosse/Eau Claire, and Wausau markets, paid social media posts, online videos, and print ads in newspapers read predominantly by people who are African American.
Prior to those ads, UW-CTRI ran TV ads in Green Bay on WLUK Fox 11 to promote the Quit Line Disparities study, including spots around the Daytona 500 NASCAR race. The rationale was to promote callers to the Quit Line to help study enrollment before that window closes.
The US Office of Smoking and Health will also be running fresh ads as part of the Tips From Former Smokers campaign from April through September. In addition to promoting the 1-800-QUIT-NOW, Tips ads will now also promote text messaging services, available in English and Spanish, designed to connect people with text support to help them quit smoking. The National Texting Portal, developed in collaboration with the National Cancer Institute, will connect people to state resources or route them to NCI's SmokefreeTXT if text messaging services are not available in their state. CDC will promote the portal on YouTube during the Tips media buy. The ads will encourage people to text QUITNOW to 333888 for free help in English or text DÉJELO YA to 333888 for free help in Spanish.
Live Vape Free
The Wisconsin Tobacco Prevention and Control Program is also running ads on social media to promote the new Quit Line program designed to help teens quit vaping, known as Live Vape Free.
Teens who want to quit vaping can get free help through the Live Vape Free program by texting "VAPEFREE" to 873373. When they text Live Vape Free, they'll get text support to help them leave e-cigarettes behind for good.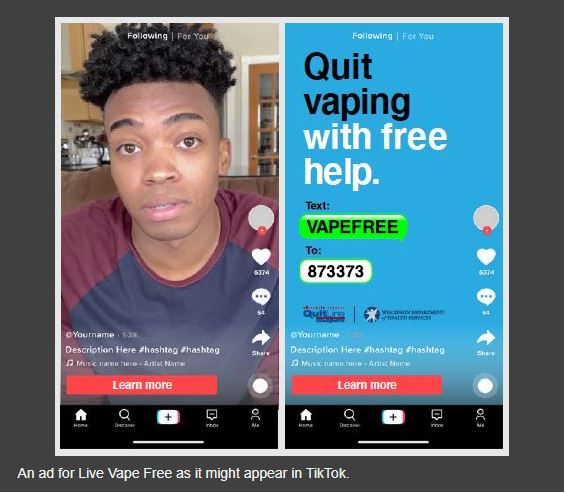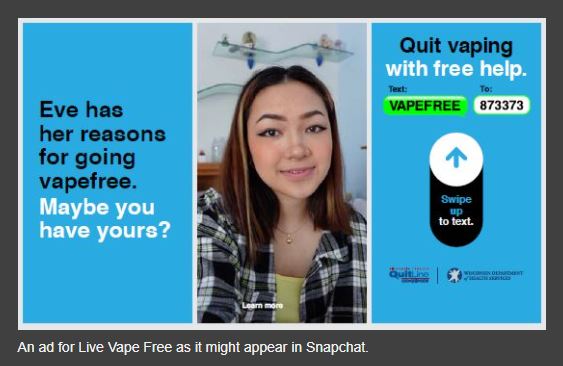 American Indian Program
DHS, KW2, the Great Lakes Inter-Tribal Council (GLITC) and the Wisconsin Native American Tobacco Network (WNATN) collaborated to create an ad campaign to promote the Wisconsin Tobacco Quit Line's American Indian Program.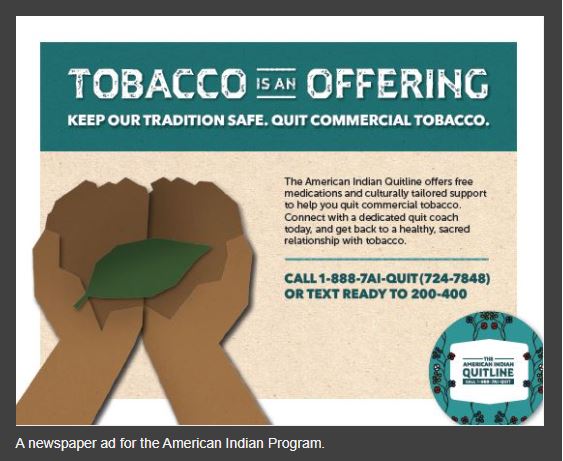 Through the program, those who identify as American Indians and want to quit commercial tobacco use can get free help. This includes seven free phone calls with a dedicated American Indian Quit Coach or a Non-American Indian Quit Coach. All Quit Line Coaches have been trained to provide culturally tailored interventions. They understand the social context regarding culture and commercial tobacco cessation. Participants also get 12 weeks of free medicine.
Melissa Doud, program director for GLITC and WNATN, and Spencer Straub, Media & Communications Coordinator for the Wisconsin Tobacco Prevention and Control Program, led the creation of the ad campaign that includes newspaper ads, billboards, website ads and social media posts. Doud has also done creative things like printing the Quit Line logo on match books and asking tribal businesses to include them in checkout bags. GLITC and WNATN representatives provided input into the creation of the campaign.