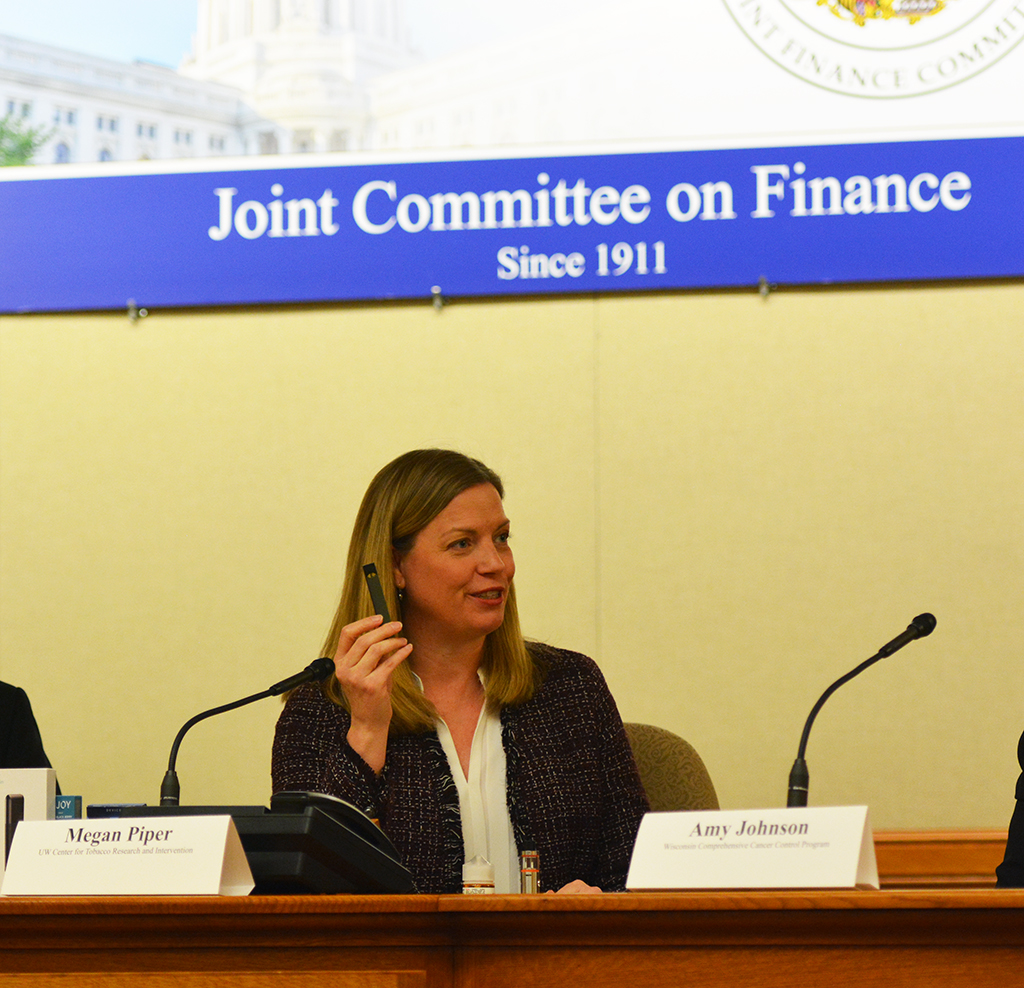 UW-CTRI Associate Director of Research Dr. Megan Piper and UW-CTRI Director Dr. Michael Fiore both offered insight on the research pertaining to two important current issues: Vaping and the legal age to purchase nicotine products.
Piper participated in an Evidence-Based Health Policy Project, a briefing hosted by UW Population Health Institute, the Wisconsin Legislative Council and the Robert M. La Follette School of Public Affairs. Piper showed samples of vape products and warned that nicotine alters and harms adolescent brains.
"This is something kids need to understand because nicotine rewires their brain," Piper said. "It's going to increase your risk for impulsivity, which is the last thing adolescents need. It's also going to increase their risk for mood disorders. It's going to cause problems with learning and memory. And this one tends to get them a little more: It's going to make all the other stuff you like in your life less enjoyable."
She discussed a British study that showed a modest amount of adults quit smoking by switching to vaping (18% versus 9.9% on nicotine-replacement medications), but that most of those participants continued vaping after quitting smoking, and we don't yet know the long-term effects of vaping. Also, there are no studies on vaping as a cessation device in America because the manufacturers refuse to submit their products as such. To watch the briefing, click here.
Piper presented the following chart on youth smoking and vaping and said, "This is the concern: Youth use of e-cigarettes is skyrocketing. You'll notice in 2015 we sort of peaked and in 2016 it went down. Guess what was introduced in 2017? Juul."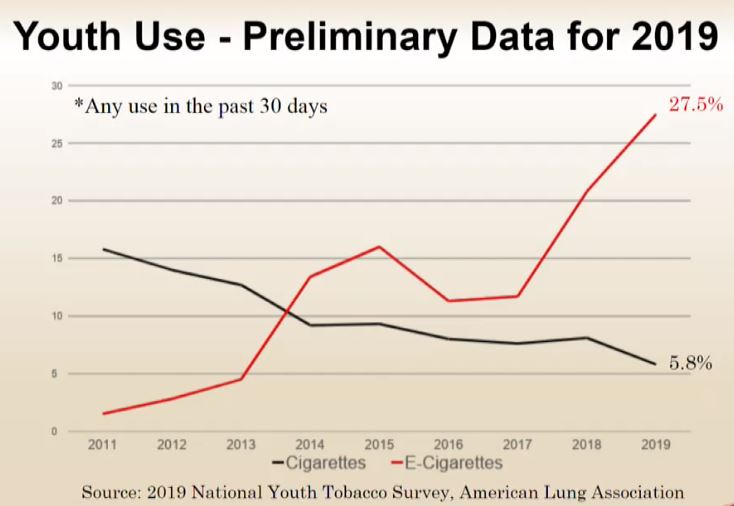 "It's important to balance this ability to help smokers quit with the fact that adolescent e-cigarette use is a significant public health concern," Piper said.
Fiore spoke before the Wisconsin Committee on Substance Abuse and Prevention, describing the health effects of smoking and vaping, and warning of a public health crisis with nearly 30 percent of youth vaping, according to preliminary results of the National Youth Tobacco Survey.
Fiore said no youth should smoke or vape. While he did not advocate for or against Assembly Bill 422, which would raise the legal age to buy tobacco products in Wisconsin to 21, he did point out that such a move has reduced tobacco use in other states. "Ninty-five percent of kids become addicted by age 21," Fiore said. To watch this briefing, click here.