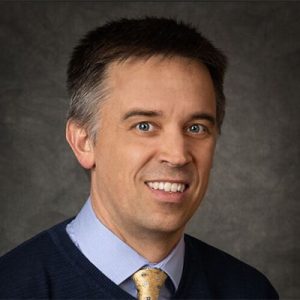 UW-CTRI Collaborator Dr. Dan Bolt (left) has won a 2019 Kellett Mid-Career award. He was one of 11 recipients at UW. The five-year, $75,000 award was created to provide needed support and encouragement to faculty at a critical stage of their careers. For nearly 20 years, Bolt has made invaluable statistical and methodological contributions to UW-CTRI studies.
"Dan also has played important mentoring and consultant roles for many of us at UW-CTRI around complex statistical issues, study design, and interpretation of complicated analysis results," said Dr. Stevens Smith, UW-CTRI Director of Biostatistical Operations and a senior clinical investigator.
"We also appreciate Dan as a valued colleague who is incredibly respectful and supportive of others and who brings a positive, 'can-do' mindset to our collaborations. Kudos to Dan for receiving a Kellett Mid-Career Award which he richly deserves!"
Bolt, a professor of educational psychology, develops and studies applications of statistical methods in education and the social sciences, especially as related to the measurement of educational and psychological constructs. His research focuses on statistical tools relevant to computer-based measurement, including the administration and scoring of novel computer-based items, as well as methods for evaluation of their validity and equity across student populations.
His skills are much appreciated by UW-CTRI Director of Research Dr. Tim Baker.
"Dan not only possesses impressive analytic expertise, but he has a deep knowledge of the fundamental, mathematical bases of the analytic tools that we use in our work," Baker said. "Time and time again, he has used his analytic expertise to improve our understanding of the nature of the phenomena we are studying. There is no doubt that Dan's contributions have made our work not only conceptually richer, but fundamentally more correct and accurate. Besides his sophistication and sheer intellectual firepower, we value him because he is so generous in sharing his time and knowledge. Finally, he is a natural-born teacher and can explain the most difficult concepts with remarkable clarity."