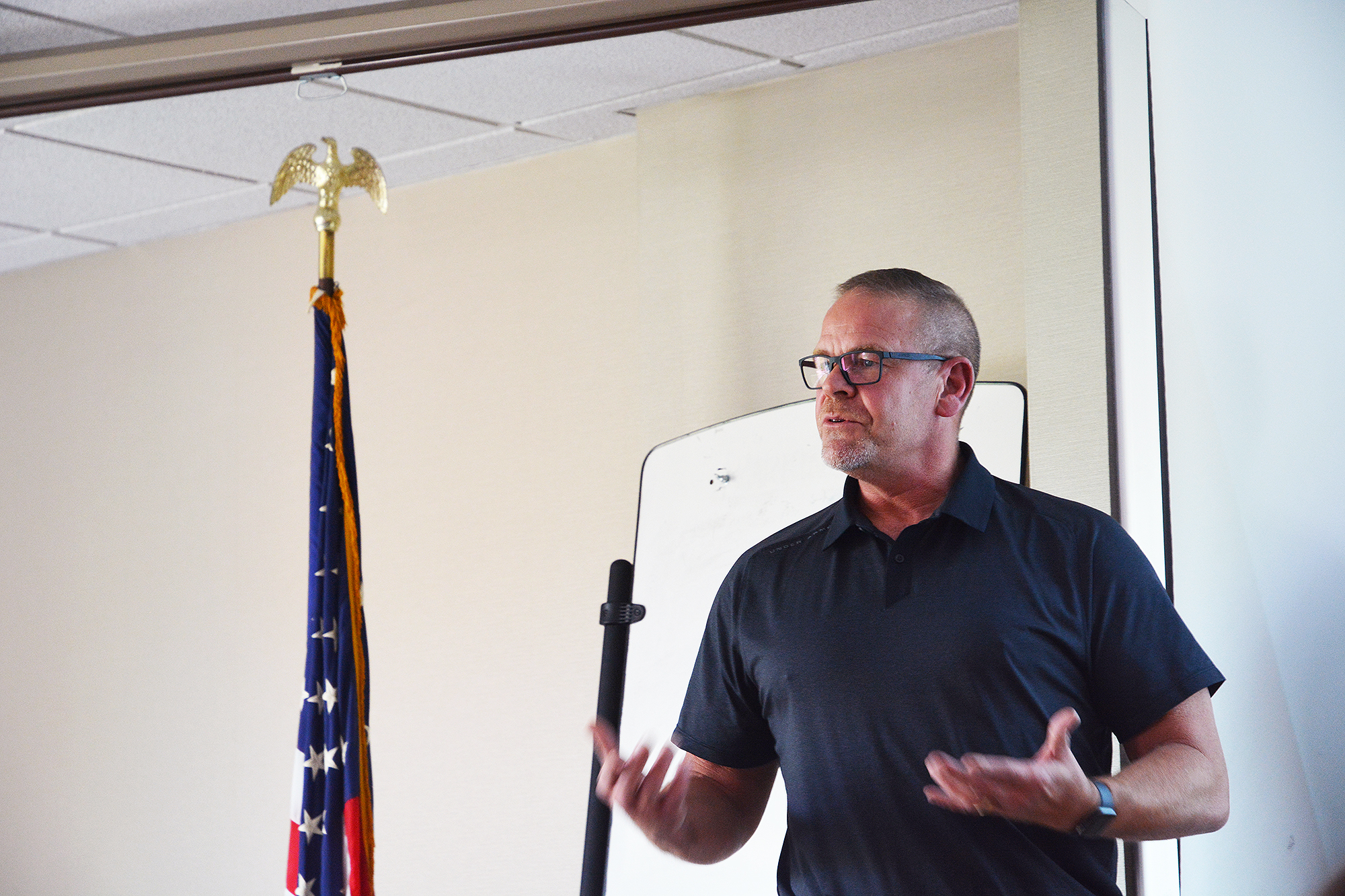 Veterans who served in combat often are desensitized to danger, and may have a harder time viewing smoking as an imminent threat, Master Sergeant Jeff Johnson told UW-CTRI staff during the UW-CTRI All Staff Meeting at the William S. Middleton Memorial Veterans Hospital (VA) in Madison on June 3. Johnson is a veteran who now serves as a patient advocate, helping fellow veterans of war transition back to civilian life.
He noted a 2016 survey by the Department of Defense (DOD) that revealed 38 percent of veterans started smoking after joining the military, in part due to culture, stress, and easy access to cheap tobacco products. In 2016, DOD raised the prices of tobacco.
Johnson recommended using a holistic approach to helping veterans quit smoking. For example, given that many veterans who served in Afghanistan and Iraq were exposed to hazardous chemicals or other injuries from their war duties, Johnson recommended counseling these veterans by first acknowledging their service and then discussing potential damage inflicted on their bodies as a result of that service.
He then suggested encouraging veterans to think about whether they want to continue harming their bodies by smoking, as well as to help them realize that they still have a future and they can make the most of it. (Many combat veterans have a hard time believing that they can have a positive future.) When veterans start imagining their future, perhaps they will consider making healthy choices going forward, he said. The more healthcare providers can understand how service men and women are affected by their experiences in the military, the better they can help them, he said.
Other presentations at the All Staff Meeting included one by Thor Ringler, a VA writer and therapist, who discussed the "My Life, My Story" program, which invites veterans to share their experiences in and out of the military so they can be recorded in their medical record and help care providers at the VA better understand their needs.
VA Staff Elana Brubaker and Kirsten Webster discussed their experiences working on research studies to help veterans quit smoking. Pharmacist Andrew Cannon spoke about the Madison VA Tobacco Treatment Clinic and the clinic's approach to helping veterans quit tobacco use. Dr. Nasia Safdar discussed research at the VA, including several innovations—such as developing and testing effective therapies for tuberculosis following World War II in 1947 and pioneering the CAT scan in 1961.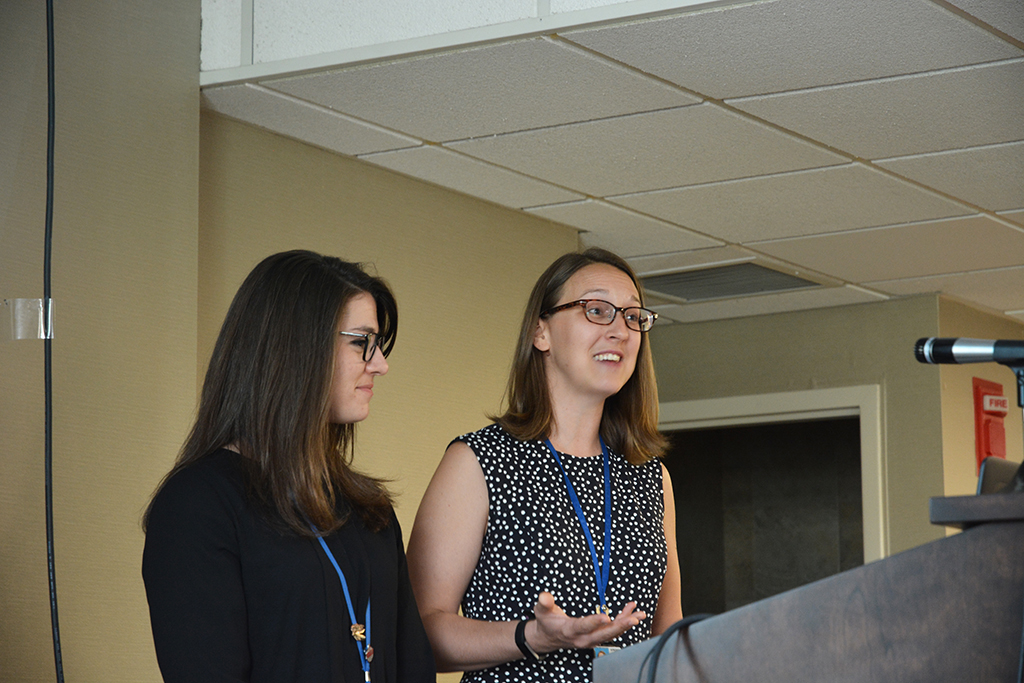 UW-CTRI Researcher Dr. Jess Cook described her research projects at the VA, including a pilot project, a merit award project that has completed enrollment, and a second merit award grant that will begin this fall. The new grant will recruit 500 patients at the VA who have noted in the past that they use tobacco—and use interventions, both in person and via technology, to help them quit. Watch for more announcements about this research when the project begins recruitment this fall.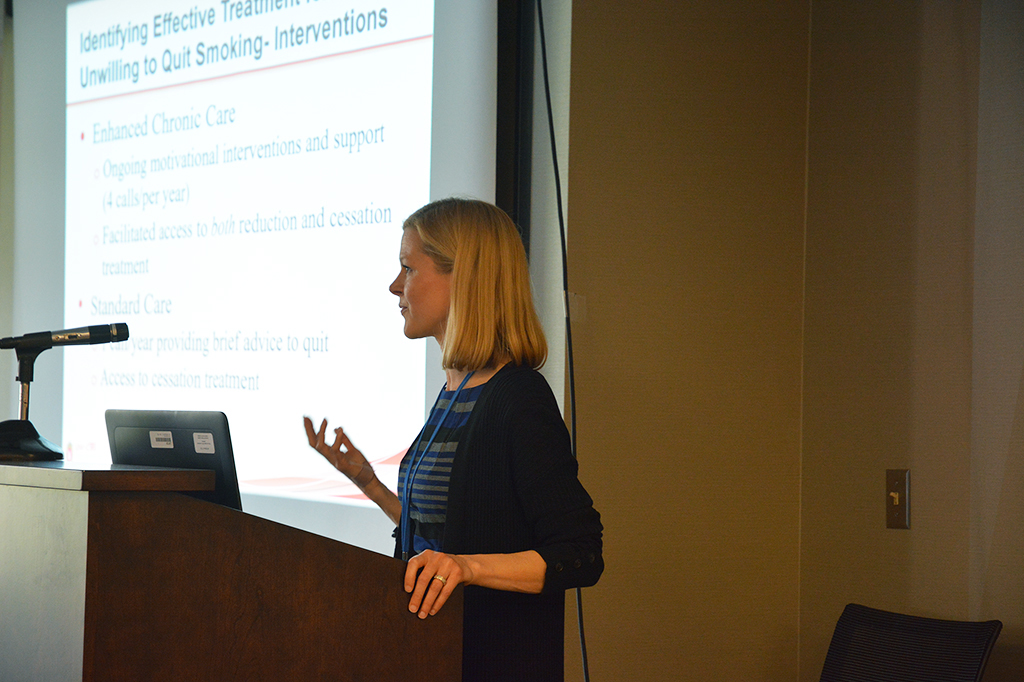 Cook thanked Brubaker and Webster for their contributions to her research. "I could not do it without them," Cook said.
UW-CTRI Director Dr. Michael Fiore gave an overview of the state of UW-CTRI, discussing three upcoming research grants and a strong overall financial portfolio. UW-CTRI Outreach Director Rob Adsit introduced the regional outreach specialists and highlighted their work.