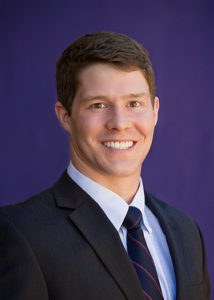 Dr. Will Bringgold, a second-year resident with the UW Internal Medicine Department, is working with UW-CTRI Drs. Kristin Berg, Stevens Smith, and other colleagues to analyze baseline pulmonary data from the Exhale Study.
The Exhale Study, led by principal investigators Drs. Megan Piper and Doug Jorenby and study manager Kate Kobinsky, wrapped up recruitment recently, allowing Bringgold and Berg to dive into the data.
They'll examine whether there are any differences between the two groups in pulmonary-function test results and respiratory-symptom scores.
"Does dual use lower or raise those risks?" Bringgold said.
Bringgold will partner with Piper and Jorenby to also examine baseline survey data, including why Exhale participants started using these products, where they can legally use the products, whether their spouses or social network also smoke or vape, and their perceptions of the harm the products do. This will give researchers a picture of why people use them.
Then, as Research Specialists Sarah Bonello and Amy Rodriguez and colleagues follow these participants for two years, they'll track how these variables may or may not change.
Bringgold previously went to Emory University, majoring in chemistry and neurological science. He earned a master's degree in forensic science at Drexel University in Philadelphia, but discovered it's not as exciting as the TV show CSI: Crime Scene Investigation. "I stayed in the lab all day," he said with a laugh. He completed medical school at the University of Washington before matching with the University of Wisconsin.
He plans to pursue a fellowship in pulmonary and critical care.
"So this is right in my area of interest," he said. "It's very helpful to get all the support from folks at UW-CTRI."