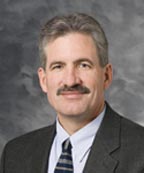 UW Chancellor Rebecca Blank recently bestowed the honor of emeritus status on Dr. McBride, recognizing his distinguished career with the Department of Medicine's cardiovascular medicine section.
"I'm really looking forward to helping further the mission of UW-CTRI and the health of the state of Wisconsin and beyond, which was always the focus of my career," said McBride, who for years directed the UW Hospital and Clinics' Preventive Cardiology program.
Now retired, why has he continued to work part time when he could be using all that time to hike, fish, and play with his dogs? "It would be great to be a small part of eradicating tobacco use," McBride said. "That would be a terrific legacy."
Also, he has known UW-CTRI Founder and Director Dr. Michael Fiore for years. "Mike and I go back to the very beginning of UW-CTRI. He came to me and said, 'I know you do preventive cardiology and you do tobacco cessation as part of that." Fiore asked if it was okay to take over the leadership role on tobacco treatment at UW. "He told me about his background with the CDC and the surgeon general's report and I thought, 'This is the guy to do this.' The rest is history. We've had a 25-year partnership to help patients quit tobacco use."
McBride will meet with potential donors to the endowment to discuss the need to help smokers quit and to provide a stable system of resources to give UW-CTRI flexibility to act quickly with innovative solutions.
The endowment would help make five key priorities a reality:
Strategic Priority 1: Reduce tobacco use and its impact among our most vulnerable Wisconsin residents, such as the poor, those with mental illness, and veterans.
Strategic Priority 2: Develop innovative tobacco treatments that are responsive to rapid changes and needs (e.g., veterans who have both PTSD and smoke).
Strategic Priority 3: Disseminate tobacco-dependence treatment throughout Wisconsin by working with clinics, health care systems, and employers across the state while continuing to serve as a national model in disseminating tobacco-treatment science.
Strategic Priority 4: Use technology to enhance tobacco-treatment engagement and effectiveness.
Strategic Priority 5: Train the next generation of tobacco scientists and clinicians who will help to eliminate tobacco dependence in Wisconsin and beyond.
McBride said that, when he's not helping to raise money to help patients quit tobacco use, he will take time in his semi-retirement to write books and relax with family and friends.
To make a gift to UW-CTRI, click here.