The University of Wisconsin Transdisciplinary Tobacco Use Research Center
In September 1999, UW-CTRI was selected as one of only seven Transdisciplinary Tobacco Use Research Centers (TTURC) in 1999. As a TTURC, UW-CTRI conducted three major research efforts focusing on the understanding and prevention of smoking relapse.
In 2004, UW-TTURC was selected to receive a second round of TTURC funding, this time concentrating on tobacco-dependence treatments and their outcomes. TTURC 2 aimed to examine each smoker as a "whole person," taking into account diet, nutrition, exercise and numerous other factors.            
Sponsored by: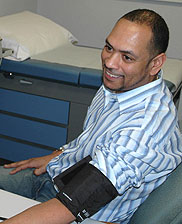 Moe Bird quit smoking thanks to coaching and medication from
UW-CTRI