Health Center Helps American Indians Quit Smoking
Jolene Paredes is ready to start a family now that she's smokefree. The 31-year old Milwaukee resident said she couldn't have done it without the help of the Gerald L. Ignace Indian Health Center in Milwaukee. Paredes is one of many American Indians the center has helped to quit using recommendations from the Clinical Practice Guideline.
Paredes, a member of the Menominee Nation, said Nurse Practitioner Marni Kopenski was a big help. "Marni got me to stop smoking to help with my asthma," Paredes said. "Going up and down the stairs was so hard, and now it's easier. Quitting has also whitened my teeth."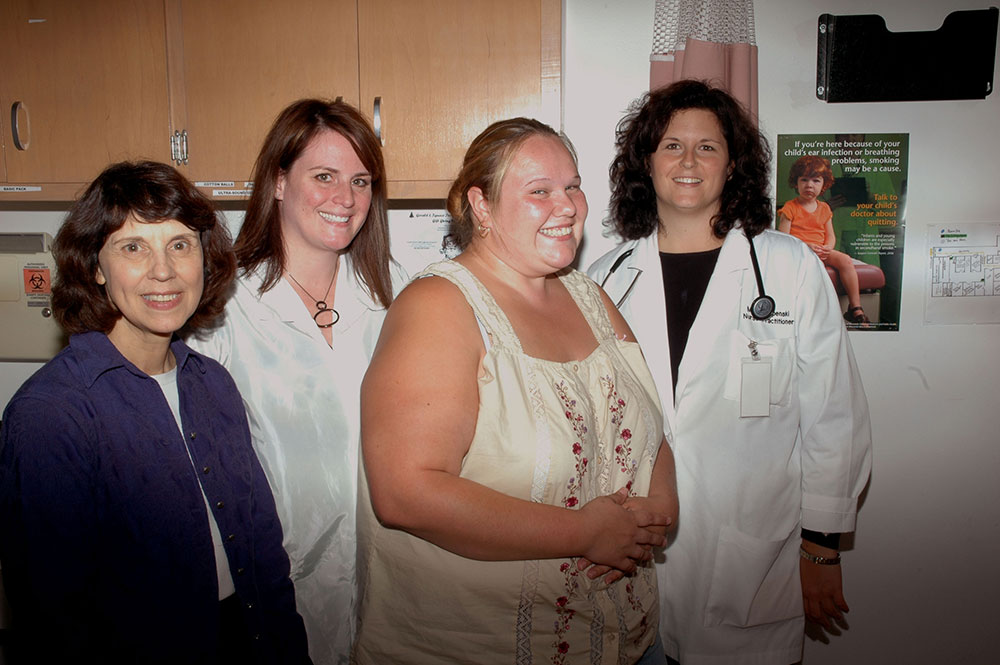 From Left: Mary Balistreri, former UW-CTRI outreach specialist for Milwaukee County; Jessica Zuercher, clinic manager; Jolene Paredes, former smoker; and Marni Kopenski, nurse practitioner. Paredes said she couldn't have quit without the others' help.
The clinic serves American Indians and their families, and clinic staff realize burning tobacco has sacred meaning to tribes throughout Wisconsin. They ask patients to distinguish between commercial tobacco abuse and ceremonial use, and they track it accordingly. Tribal leaders have drawn a clear line between sacred use versus commercial use. "They don't buy that argument anymore," said clinic manager Jessica Zuercher, BSN, RN, who is an enrolled member of the Stockbridge-Munsee Community.
So for the clinic, it's full steam ahead on helping people quit. Zuercher said they've started a support group and are considering extending appointments to 20 minutes to accommodate tobacco-cessation counseling.
Kopenski and others at the clinic ask every patient about tobacco use at every visit, a key recommendation of the Guideline.
"If you can get staff to ask about tobacco use, it's not as hard as it may seem," Zuercher said. "Sometimes these things seem more taboo or invasive than they really are. We ask everyone about tobacco use now, so we're not singling anyone out. It doesn't take that long. And we figure, if their provider doesn't ask, who will?"
Clinic staff approach each patient as a "whole person." In other words, instead of just asking about tobacco use, they also discuss exposure to second-hand smoke from cigarettes, especially if the patient is a child. They coach parents of patients to quit and refer smokers to the clinic's All Nations Wellness Center on the second floor of the Indian Health Center or to the Wisconsin Tobacco Quit Line. They post Healthy Air for Kids in patient rooms to encourage parents to quit smoking for the health of their children.
"We're trying to integrate behavioral health into standard patient care," Zuercher said. The wellness center offers a spectrum of services—such as counseling for alcoholism, help with basic food and clothing needs, career assistance and exercise programs—to help each patient reach optimum health. Sometimes, treating smoking in a vacuum doesn't get the job done because a big reason the patient smokes is due to stress, anxiety or self-image resulting from other issues.
Zuercher said clinic nurses ask about tobacco use and coach patients on how to quit. Then doctors and physician assistants prescribe medications and refer to tobacco-treatment programs or suggest follow-up appointments.
Zuercher coordinates, organizes and promotes standardized tobacco treatment throughout the center—and gives full credit to her team for making it happen. She recommends other clinics find a tobacco-treatment coordinator. And she said the assistance she had received from (now-retired) UW-CTRI Outreach Specialist Mary Balistreri had been invaluable.
"Mary kept us on track with our tobacco-treatment efforts," Zuercher said. "She (kept) us informed on the first-line treatments." Since many of the clinic's patients have low income, two big keys to quitting include insurance coverage and access to free medications. Once in awhile, Balistreri is able to provide a limited supply of donated medications. "The free patches and lozenges Mary (brought were) great because our patients are willing to use treatments, but may not be as likely to seek them."