UW-CTRI Co-Founder and Director Dr. Michael Fiore was one of three presenters and the moderator for a national webinar sponsored by the National Cancer Institute as part of the Cancer Moonshot Seminar Series. Fiore, Dr. Betsy Rolland and Dr. Jessica Burris discussed how the Cancer Center Cessation Initiative (C3I) and its Coordinating Center, the latter led by UW, has helped more than 97,000 cancer patients receive treatment to quit tobacco use.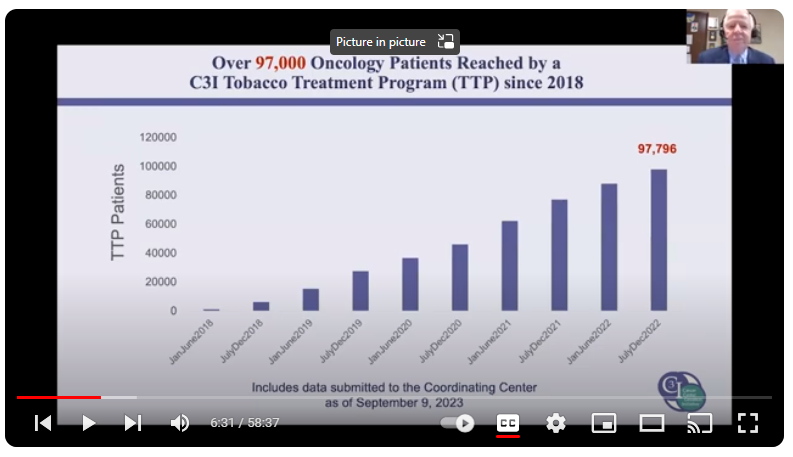 President Joe Biden recently announced a continuation of the Cancer Moonshot initiative he founded in honor of his late son Beau who died from the disease. Included in that announcement was a commitment to help people quit tobacco use, and a shout out to the work in that regard being done at the VA—including that of UW-CTRI Researcher Dr. Jessica Cook.
Fiore said that, given that smoking causes 30 percent of cancer cases, "We commend the President and the Moonshot initiative for highlighting cessation and making it part of the Moonshot."
Fiore said he's proud that the 52 C3I centers have individually adapted tobacco treatment that works for their health system, and shared best practices to help cancer patients to quit smoking.
"These are 97,000 patients who would not have received this treatment without this initiative."
C3I has been effective. While the United States Preventive Services Task force expects 15 percent success rates for quitting smoking, C3I has surpassed that, with 22-plus percent quit rates, Fiore said. They've also succeeded by fostering health equity.
C3I has also sparked change in community cancer centers, with the American College of Surgeons initiating two quality improvement projects focused on tobacco use assessment and cessation assistance. The Just Ask program of the Commission on Cancer (CoC) has increased the rate of identifying patients who smoke and, with Beyond Ask, the number of oncologists who assist those patients with quitting smoking. This program has the potential to reach 700,000 cancer patients, as community cancer centers treat 80 percent of all cancer cases in the US. The program has already reached a 97-percent ask rate and has improved rates of treatment. "It shows we can change the standard of care," Fiore said.
Rolland—the Associate Director for Team Science at Sage Bionetworks, former Director of Team Science at the UW Carbone Cancer Center and Principal Investigator of the C3I Coordinating Center at UW, discussed how C3I created this success, including building community between the 52 centers, with a culture of openness, inclusivity and trust. They shared information and best practices through meetings and webinars. This created a cooperative environment, she said. Participation included not just leadership at the centers, but from front-line staff and early-career researchers from diverse backgrounds.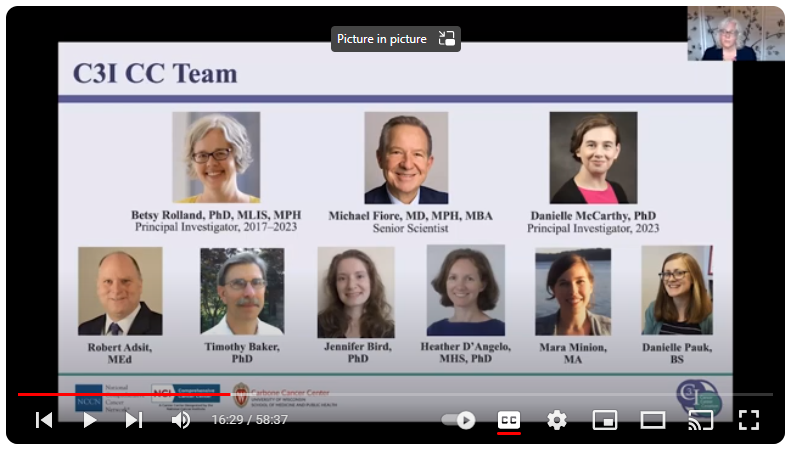 She added that current C3I leader UW-CTRI Director of Research Dr. Danielle McCarthy "has created this incredible resource for the oncology tobacco treatment community called the C3I Roadmap for tobacco treatment in cancer care. This web-based implementation guide provides pragmatic tools, EHR screenshots, and build guides, case studies, and tips to help cancer programs plan, implement, and sustain tobacco screening and treatment programs." It's free at OncologyTobaccoTreatment.org any time.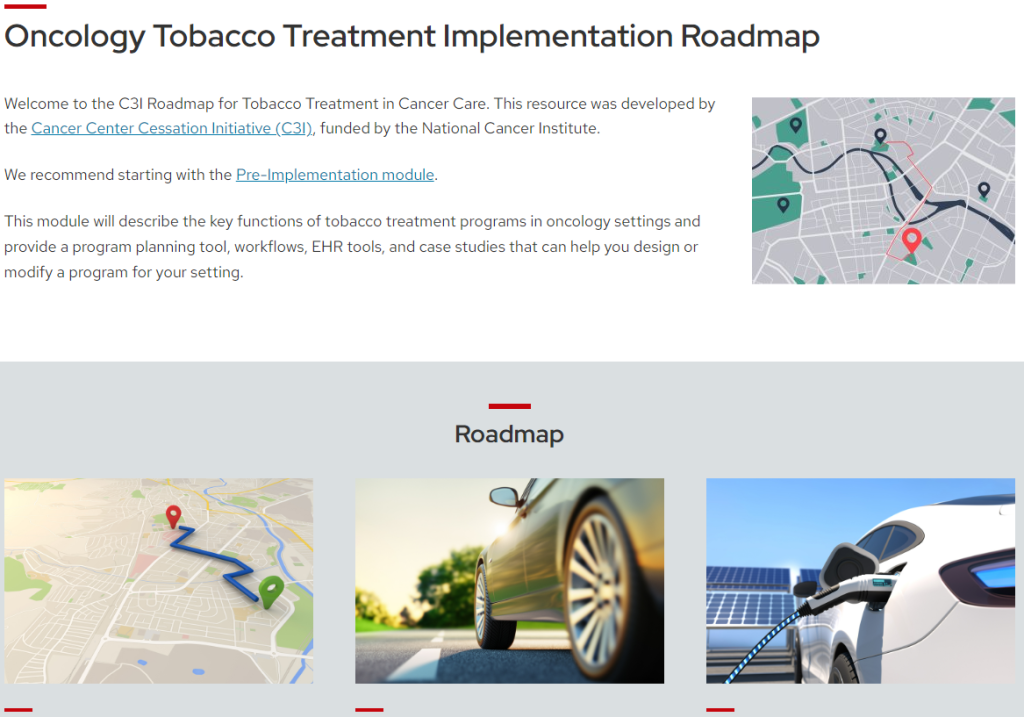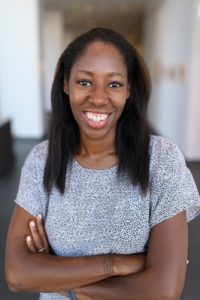 Burris (right), a C3I leader from the University of Kentucky, said that, at the Markey Cancer Center, prior to C3I, Markey had no systematic screening or clear referral program in place within the cancer center, though they did have two quit-smoking specialists. According to the CDC, Kentucky has one of the highest rates of smoking, cancer rates and cancer deaths in the nation. Because of C3I, Markey now has a sustainable and efficient means of screening its patients for tobacco use and referring patients who smoke to evidence-based treatment.
Fiore said that making tobacco treatment in cancer care a focus of Moonshot and funding the C3I initiative created the added benefit of motivating all cancer centers to take actions to help their patients who smoke.
Fiore said that UW-CTRI and C3I thank NCI for all its support. To watch the webinar recording, click here.