Chrysalis, a behavioral health recovery center in Madison, has made their campus tobacco-free. They also systematically help consumers quit tobacco use. These efforts have been supported during the past year by a grant from UW-CTRI known as the Bucket Approach Integration Awards.
Chrysalis promotes mental health and substance use recovery by supporting work opportunities that encourage hope, healing and wellness. The grants, created by UW-CTRI Researcher Dr. Bruce Christiansen, are an extension of the online Bucket Approach Training for behavioral health providers, all supported by the Wisconsin Department of Health Services.

Chrysalis envisions a community where everyone belongs, free from stigma, rooted in racial and social justice, where:
Wellness and recovery from addictions—including tobacco addiction—are possible.
Work, education, and purpose are recognized as integral to recovery from addictions.
Everyone has access to peer support and holistic, equitable mental health and substance use services.
Diverse experiences and strengths are celebrated.
Recovery is a process.
Everyone has dignity.
Everyone is a learner, everyone is a teacher.
Chrysalis staff understand how smoking can affect nearly every part of a person's health and can also trigger other addictions. For this grant award, Chrysalis formed a committee of staff (including certified peer specialists) and consumers to address tobacco use. Two thirds of this committee are current or former tobacco users.
The project is known as the Chrysalis Wellness Initiative: Tobacco Tackle.
"Through this project, we aimed to support the Chrysalis community as we increase the number of conversations surrounding tobacco use," said Hilleary Reinhardt, Comprehensive Community Services Service Facilitator.
Reinhardt said the Tobacco Tackle Committee has worked to educate the entire staff on how to have conversations with consumers about their tobacco use, reduce stigma, and promote the tobacco-free campus. In the past year, with support from Christiansen and UW-CTRI Regional Outreach Specialist Amy Skora, Chrysalis has: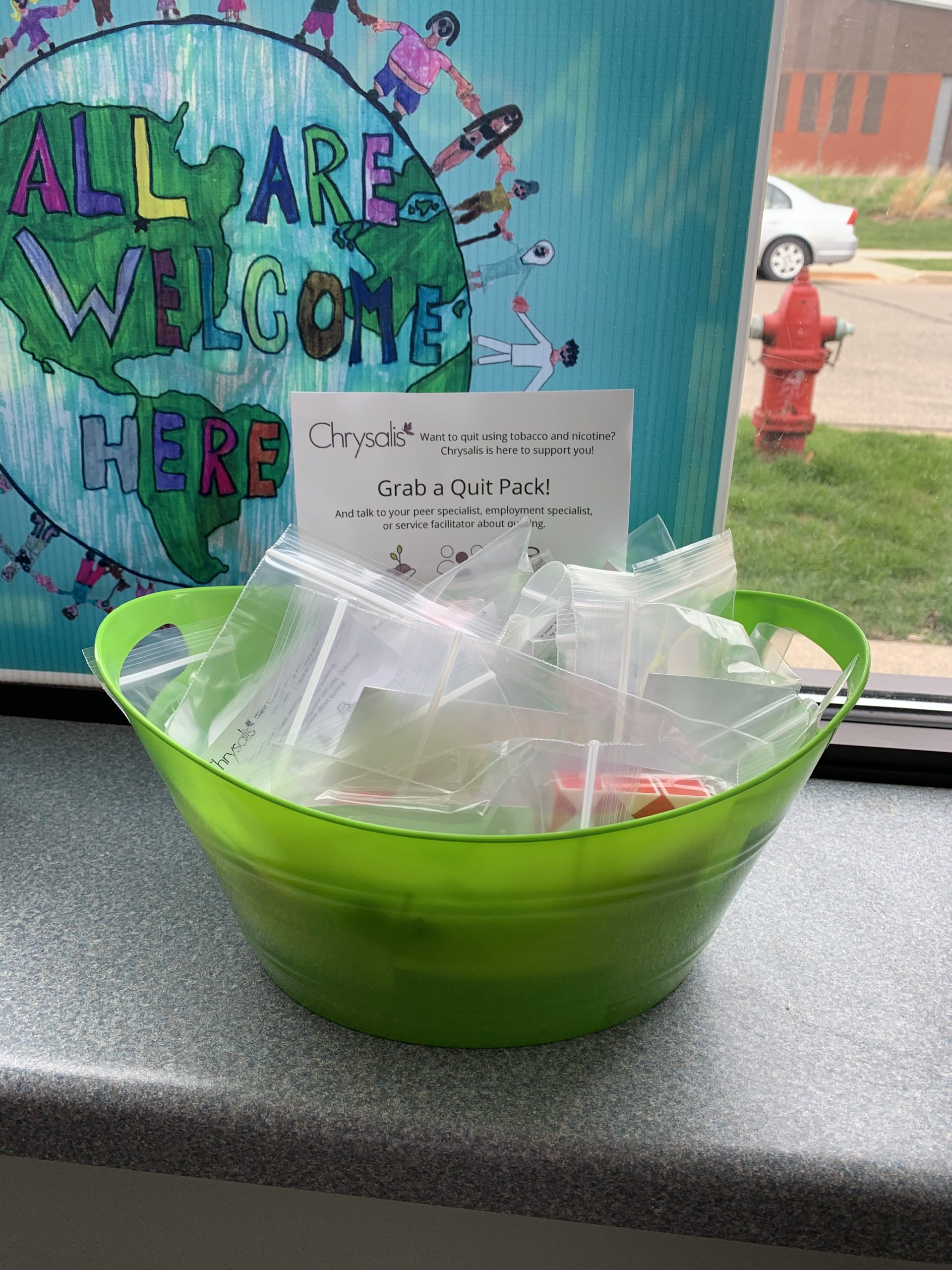 Trained their entire staff on the Bucket Approach.
Created a tobacco-free campus, following clear policies.
Posted signs around the office to encourage staff and consumers to quit smoking, chewing, and vaping nicotine.
Offered consumers quit kits that include tips and fidgets (above).
Integrated tobacco treatment into individual Chrysalis programs.
"The tobacco and smoke-free campus initiative promotes the holistic approach Chrysalis takes in supporting mental health and substance-use recovery," said Dani Rischall, Chrysalis Executive Director. "It was very important to us that this initiative come from a place of wellness and respect. With the support of UW-CTRI and our internal Tobacco Tackle Committee, we were able to embed these values into the process and the ongoing implementation plan."
"We would like to give a special thanks to UW-CTRI for their support through the last year," said Reinhardt. "We would not have been able to do it without your guidance and financial support."