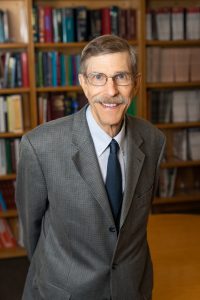 Dr. Tim Baker has been reappointed as UW Chair for Tobacco Research and Intervention Research Professor. The position, which began on January 1, 2021 and lasts through December of 2025, grants Baker funding to continue his research into the treatment and prevention of tobacco dependence.
"Working with Mike Fiore and all of my colleagues at UW-CTRI has been the most rewarding and meaningful experience in my professional life," Baker said.
Baker received this appointment not only for his storied history in the field of research (illustrated most recently by his innovations with the phase-based model of smoking cessation), but for his leadership, his scholarship, and his dedication.
"Stated simply," said UW-CTRI Director Dr. Michael Fiore, "UW-CTRI would not exist without Dr. Tim Baker.
"His keen mind, incredible work ethic, extraordinary generosity, unwavering humility, and limitless kindness epitomize the man and his unique productivity. Virtually every intellectual product of our Center—every grant, every manuscript, every policy—bears his stamp, whether his name is on it or not.
"On a personal note, in addition to being my teacher and mentor, he has been my closest friend. For over 30 years, he has been there for me personally, in ways large and small, beyond anything a friend could hope for.
"For all of these gifts, I am so thankful for all that encompasses Tim Baker."
Dr. Baker has served as the Director of Research at the UW-CTRI since 1992, when the Center first opened its doors. Since then, he has been integral to its continued success. Under his direction, UW-CTRI has secured more than $150 million in grant funding during the past two decades; his research has appeared in such journals as Addiction, Journal of the American Medical Association, The New England Journal of Medicine, and many others; he has received accolades and awards for groundbreaking research in his field, including the five-year Career Scientist Award from the National Cancer Institute; and he has served as senior scientist on the panel that produced the United States Public Health Service Clinical Practice Guideline: Treating Tobacco Use and Dependence, the gold standard for healthcare providers regarding tobacco dependence treatments.
"I cannot imagine a better group of colleagues," said Dr. Baker, after 29 years and more than 100 research papers with UW-CTRI. "Looking back now on my rather long career, my greatest source of pride is that I can say, 'I was one of them.'"