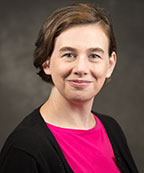 UW-CTRI Associate Director of Research Dr. Danielle McCarthy has been promoted to Professor of Medicine.
"I am deeply honored to have received this recognition from my colleagues," McCarthy said. "Support I received from UW-CTRI has been instrumental in my career. I am profoundly grateful for this, and for (UW-CTRI Research Director Dr.) Tim Baker, who took me on as a cheeky graduate student 20 years ago, and has been a valued mentor since then."
McCarthy leads a program of research focused on the development and refinement of treatments to help people stop smoking cigarettes.
As part of this research program, she studies the psychological changes that people experience leading up to and during an attempt to quit smoking and ways in which treatments do (or do not) affect these experiences. With funding from the National Institute on Drug Abuse, she has led research examining the effects of intensive assessment, impulsivity, and treatments on smoking cessation success.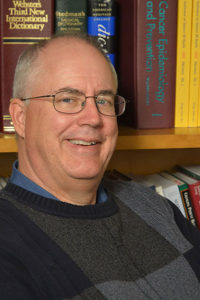 UW-CTRI Researcher Dr. Bruce Christiansen was also promoted to Distinguished Scientist. His tobacco research interests include addressing tobacco use among people with low incomes and those with mental illness. He manages the Wisconsin Nicotine Treatment Integration Project (WiNTiP), which collaborates with the Wisconsin Department of Health Services to help behavioral health patients to quit tobacco use. Find more information on this project at www.HelpUsQuit.org.
"The support and guidance I have gotten from staff of all sorts makes it easy to succeed at UW-CTRI," Christiansen said. "(And yes, part of the support is the late-afternoon sugar rush provided by Chris Hollenback's chocolate jar.)"
"Danielle and Bruce are terrific leaders at UW-CTRI," said UW-CTRI Director Dr. Michael Fiore. "They contribute so much to the success of the Center and to public health. I'm elated they are getting due credit."
"It gives me great pleasure to see the recognition that Danielle McCarthy and Bruce Christiansen have received," said Baker. "In both cases, their promotions reflect a record of impressive research and service achievement.
"Bruce has been extraordinarily successful in attaining that difficult goal of translating research findings into real world applications, and then demonstrating their public health value," Baker said. "Bruce has done so in truly innovative ways—for instance, using social service agencies and staff to deliver smoking interventions to agency visitors; individuals who have little access to treatment resources. This is just one of the many ways that Bruce has developed effective and novel strategies to aid those most in need. He has not only been successful at creating public health benefit for so many individuals in Wisconsin and beyond, but he has embedded such work in a sound well executed program of research; one that has earned him multiple research grants and publications. In sum, Bruce's notable contributions to UW-CTRI and Wisconsin span the domains of research, service, and intervention. His work reflects his dedication, his creativity, and his desire to help others. And, he is an incredibly nice person.
"Since Danielle accepted our offer to rejoin us and leave her tenured faculty position at Rutgers University, she has made herself invaluable to UW-CTRI in numerous ways. She has taken a leading role as the scientific adviser to the National Cancer Institute R35 program that is designed to develop and demonstrate powerful strategies for using the EHR to intervene with smoking in healthcare systems. She is leading two of the major projects in our P01 center grant. Both of these are incredibly ambitious projects that require someone with her great organizational skills, her attention to a welter of mind-numbing details, and her methodologic sophistication. How did we function without her? In addition, she is leading her own major research grant—a project that uses a very innovative strategy to help those in greatest need receive effective smoking treatment. Like Bruce's work, it simultaneously advances both public health and scientific knowledge. Danielle has been incredibly generous with her time and knowledge—her ideas, intellect, and critical feedback have benefited so many facets of our work. The combination of a generous nature and a keen intellect is hard to beat. For this we are very grateful, and this makes her success and recognition especially gratifying.
"Bruce and Danielle—well deserved," Baker said, "congratulations and with great appreciation."