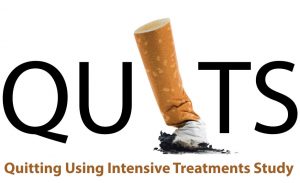 UW-CTRI is ahead of schedule enrolling patients in the Quitting Using Intensive Treatments Study (QUITS). More than 580 smokers have enrolled with the goal set at 1000. Experienced health counselors are helping these patients to quit smoking. UW-CTRI Research Director Dr. Tim Baker and UW Cardiologist Dr. Jim Stein serve as Principal Investigators of the study.
"While the study was planned for up to two years of enrollment, we are considerably ahead of that schedule and will achieve total enrollment within 18 months from when the first person started in Milwaukee in November 2017," said Dave Fraser, Associate Director for Research Administration. "This has been a fantastic achievement for our QUITS team members, including the communications team that leads recruitment."
Two news conferences in January generated substantial initial interest in the study, and since then recruitment efforts such as Facebook ads, shopper ads, and flyers have kept the momentum going.
The study has enrolled about 220 people in Madison and 360 in Milwaukee, and provided pre-cessation counseling at both an in-person visit and a phone call, with instructions for how to use medication, advice for setting clear smoking-reduction goals, and behavioral training to facilitate it.
"This builds on counseling work before the quit date we've done successfully in previous studies," said Dr. Doug Jorenby, UW-CTRI Director of Clinical Services.
Health counselors have continued cessation coaching during two additional in-person visits and calls at 4 and 8 weeks after the quit date. This entails offering support, teaching coping skills, bolstering motivation, and guiding proper use of medication.
QUITS participants can be in one of three situations following their planned quit date—fully abstinent, lapsed/slipped, or never quit/fully lapsed. Jorenby said several participants quit smoking but then smoked during the July 4 holiday. QUITS counselors adroitly recognized this was a slip, not a full lapse.
"They were able to coach the participants back to being fully quit, reassure them, and help them to learn from the slip," Jorenby said. "That's something we couldn't do without the health counselors' experience."
QUITS counselors include Chris Ripley, Kathleen Cantu, and Sarah Bonello in Madison and Cassandra Astemborski, Renae Borkowski, T.Jay Christenson, Sara Kaebisch, Tess Kuba, Mari Marquez and Sally Steward-Townsend in Milwaukee. Meg Feyen leads the Milwaukee team of counselors while Holly Prince leads the Madison team.
All QUITS participants get three months of varenicline (Chantix) pills and coaching. Some participants also get active nicotine patches and extended varenicline. It's designed to answer two key questions:
Whether combining varenicline and the nicotine patch can boost quit rates.
Whether extending these medications for six months can boost quit rates.
Researchers are also maximizing the delivery of counseling after the quit date: After setting the date, the participant schedules their study appointment within 1-3 days of the quit date. This is followed by one more visit and two counseling calls.
Jorenby said this gives patients the ability to experience the quit attempt, prepare questions and then meet with health counselors. It allows the counselors to intervene more quickly than in past studies, when participants would come in to meet at the very beginning of the quit attempt, then not see the counselors for awhile. In QUITS, they can get help quickly.
Health counselors are reporting anecdotally that participants appreciate the help and have been able to quit smoking.
"We're spoiled in that the health counselors are doing such a good job across our studies," Jorenby said. "Their experience shows in QUITS."