UW-CTRI Researcher Dr. Bruce Christiansen is taking a tailored approach to reach out to healthcare providers who treat patients with severe mental illness in an effort to get those providers to engage in interventions to help patients quit smoking. Called the "Bucket Approach," the idea is that patients with severe mental illness, who smoke at higher rates than the general public and struggle more to quit, can be sorted by inclination to quit into "buckets," as shown in the flow chart below.  Each bucket leads to specific interventions tailored to the bucket.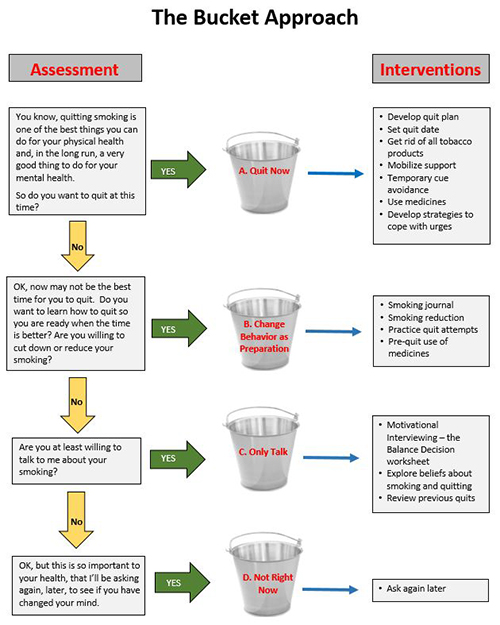 Christiansen brought the Bucket Approach into the field in September, presenting to providers in Manitowoc, along with Northeastern Region Outreach Specialist Roger Dier. The presentation followed five listening sessions conducted throughout Wisconsin.
"Our presentations were well received by members of the audience," said Dier, "who were largely made up of Manitowoc County social services employees. We had a good room for our audience size (18 people), and they were responsive to all of our presentations. There were several questions at the end of our six hours of training, which is always a good sign of audience involvement and motivation."
"I left feeling pretty upbeat," Christiansen said after the presentation. "My feeling is, if they do something, they are so well trained in counseling they'll take the next logical step with tobacco. I had one attendee say they had been motivated to help patients quit tobacco but didn't have the tools until now."
In the spirit of the Wisconsin Idea, UW-CTRI's goal is to train all of the community support clinics (CSP) and comprehensive community services (CCS) across the state so the "Bucket Approach" becomes a routine element of providing care. UW-CTRI is seeking funding for regional outreach specialists to take it to their local regions via:
Day-long "train the champion" sessions.
On-site training and technical assistance.
Monthly conference calls.
State-wide peer support.
"Research shows that, for this population, interventions work best when delivered by a trusted person who has a strong relationship with the tobacco user," Christiansen said. "But that person needs support because of time burdens. That's where these trainings come in."
For more on helping people with mental illness to quit tobacco use, visit www.HelpUsQuit.org.