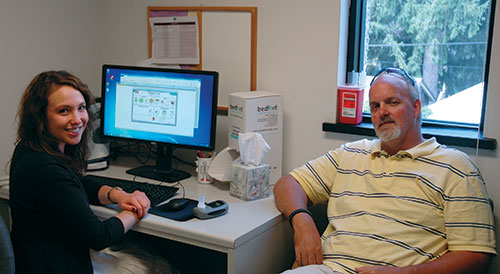 Back in 2013, former UW-CTRI Clinic Manager Sophie Rodrigues-Pereira interviewed participant Jeffrey Grise as part of the Dual Use Study.
Vaping electronic cigarettes (e-cigs) didn't affect the level of smoking or carbon monoxide levels in study participants, according to findings to be published by UW-CTRI researchers in the journal Drug and Alcohol Dependence.
UW-CTRI, led by Director of Clinical Services Dr. Doug Jorenby, evaluated 74 participants who smoked and vaped, as well as another 74 who only smoked. Participants in this "Dual Use Study" were asked to:
use their preferred products as normal.
then reduce use by two thirds.
then use their products as normal.
then completely abstain from smoking.
Results were biochemically confirmed, and participants also provided feedback through smart phones. While dual users didn't reduce their smoking any more than the smoke-only group, they did quadruple their vaping during the no-smoking period. Dual users were significantly more likely to completely suspend their smoking during the abstinence part of the study (97.1% vs. 81.2%), but the difference in carbon monoxide levels between the groups was negligible.
Amongst women, those who vaped and smoked had higher nicotine levels but also less withdrawal.
UW-CTRI is running a follow-up study, known as the Exhale Study, again examining the experiences of those who vape and smoke versus those who just smoke. This study is seeing patients and wrapping up recruitment.