Adolescent Care Providers: If you have an upcoming appointment with an adolescent who vapes or smokes, here's your site to quickly brush up on how to treat tobacco use.
A.C.T. to Promote Adolescent Cessation 
Ask: Screen for tobacco use with all adolescents, during every clinical encounter.

 

Counsel: Advise all adolescents who use tobacco to quit and have them set a quit date within two weeks.
Treat: Have your patient:
Deeper Dive - More Information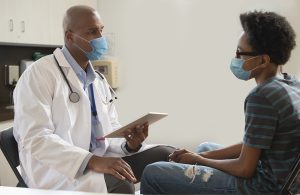 Here's what the evidence says:
American Academy of Pediatrics' (AAP) Youth Tobacco Cessation: Considerations for Clinicians. This brief, free, practical guide is designed to support pediatric health clinicians in screening patients for tobacco use and providing behavioral and pharmacological support to help adolescents quit smoking, vaping or chewing tobacco.

The resource uses an easy, 3-step model, "Ask-Counsel-Treat (ACT)," to guide clinical interactions around cessation.

Check out the U.S. Preventive Services Task Force Recommendations on helping adolescents quit tobacco use, or that of the American College of Preventive Medicine
Visit UW-CTRI's page designed for adolescents.