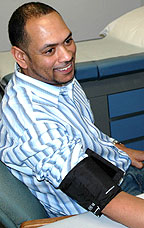 Mo Bird of Waterloo, Wisconsin used to be an Indy car crew chief who smoked like a muffler. But ever since he enrolled in the Wisconsin Smokers' Health Study (WSHS) he has left tobacco use in his dust. Now his friends and fiancé respect him for quitting and a few friends have even followed his lead.
Mo said he was skeptical the WSHS counseling and medication would work, but his withdrawal symptoms and cravings have been minimal. It has been three months and Mo hasn't had a single puff. "The study is wonderful," Mo said. "The support is what I like the best. I want to thank the study staff for basically saving my life."
He had tried to quit for 20 years. "This time, I'm going to do it. My grandfather died of lung cancer; I don't want to go out like that."
Mo's primary physician recently tested his blood pressure, cholesterol and metabolism—they have all improved. A Saturn mechanic, he occasionally pushes cars in or out of the garage.
"Before, I'd get done and I'd be dying," he said, "but now I feel so much better. It's the best thing I've ever done. I feel strong and I sleep better." At first he had nightmares that he relapsed and then was really hard on himself. But those dreams quickly dissipated. Mo is now featured in an ongoing series about quitting on the local CBS TV news in Madison.