Researchers have found that, as age and requirement for intubation increases in patients hospitalized with COVID-19, so too does overall mortality. The study, published in CHEST, drew from data collected by the COVID EHR Cohort at the University of Wisconsin Study (CEC-UW), looking for patients who were over 20, had tested positive for COVID-19, and who had been admitted during one of three hospitalization surges—those related to the alpha, delta, and omicron-variants of COVID.
The COVID-19 pandemic has forced many people to make difficult end-of-life decisions. However, families had questions that clinicians just didn't know how to answer. Once on a ventilator, what is the likelihood my loved one will ever come off? What are the chances they make it through? There was no body of work to guide caregivers through these trying times.
That is where this research began.
"Matt Nolan, a pulmonary/critical care doctor at UW/Meriter and my husband, approached me about a difficulty he was having in the midst of the COVID-19 pandemic," said Dr. Margaret Nolan, UW-CTRI researcher and lead author on this project. "He was putting many patients on ventilators and treating the critical sequelae of the disease, but spent much of his time trying to counsel and inform families and caregivers who had so many questions about what would happen to their loved one.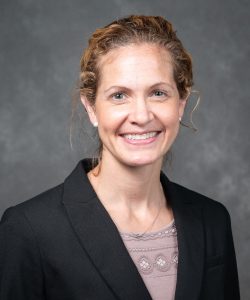 "This is always a big part of practicing critical care, but during the pandemic there was so much uncertainty that he did not feel equipped to give these families the information they wanted. Many critical care docs were so busy saving individual lives that stepping back to analyze the bigger picture about what was happening to patients in general in ICUs around the country was difficult.
"Matt asked if I knew of some data that he could use to get a general idea of what happens to patients who are put on a ventilator for COVID-19-related lung disease. He wanted just a few numbers to guide his conversation with families and give them a sense of what might happen based on what has been happening under the current conditions. I couldn't find data on this, though it seemed a very important and useful benchmark for clinicians in the thick of this pandemic, so I asked Stevens Smith at UW-CTRI if this might be something we could find using the COVID EHR Cohort at the University of Wisconsin (CEC-UW).
"Thanks to the efforts of many at UW-CTRI and Mike's belief in the importance of this project, we were able to move it forward."
Of the 62,848 patients who fit those criteria, Nolan and her team found that peak overall mortality occurred in patients 90-plus during the alpha wave. This group also had the highest mortality among non-intubated patients during all three waves, sitting at 16 percent. Seventy to 79-year-old vaccinated patients during the delta wave had the highest mortality rate among intubated patients at just more than 60 percent.
"Making choices about withdrawing care will be different for each individual patient, but noticing patterns of risk across the population and across pandemic waves can be helpful for health systems and health care workers to anticipate needs for future pandemic waves," said Nolan. "I also think it's important to note that vaccination was found to be consistently protective for overall mortality.
"Hopefully, this work serves as a more general reminder of the value in providing front-line health care workers with data benchmarks to guide discussions with families and loved ones, especially during times of strain on hospitals and staff."