The UW Department of Medicine has promoted UW-CTRI Researcher Dr. Jessica Cook to full professor with tenure.
"This promotion reflects her incredible scholarship and accomplishments," said UW-CTRI Founder and Director Dr. Michael Fiore.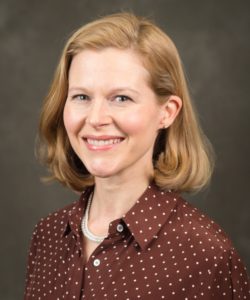 Cook is a Psychologist Investigator at the William S. Middleton Memorial VA, where she directs the Veterans Tobacco Research Group,  co-directs the VA Interprofessional Advanced Fellowship in Addictions Treatment, and provides treatment for veterans with PTSD.
Cook's research program focuses on evaluating innovative smoking treatments, increasing the reach of evidence-based smoking treatment, and exploring the nature of tobacco dependence and motivation, particularly in affectively vulnerable populations (those with depression or PTSD).
Perhaps her most notable and innovative treatment research has focused on developing treatments for individuals who are unwilling to quit (i.e., motivation-phase treatment). Her research has shown that motivation-phase treatment increases quit attempts and abstinence in those initially unwilling to quit while increasing the reach of tobacco treatment. Dr. Cook has also conducted a series of studies that have been instrumental in establishing anhedonia as a motivationally significant symptom of the tobacco withdrawal syndrome.
"I am so fortunate that I get to work with talented and dedicated UW-CTRI and Madison VA colleagues," Cook said, "to develop treatment approaches that help people stop smoking and live healthier lives. I want to especially thank Mike Fiore and Tim Baker for their unwavering support throughout my 15 years at the UW-CTRI. Their truly ground-breaking research and work has left an indelible mark on the field of tobacco control, and I am so grateful for the opportunity to learn from each of them."
"On behalf of UW-CTRI, we congratulate Jess on this honor," Fiore said, "and thank her for all she has done for the Center, the VA, and her patients."