They Say They Want Reduced Harm – They're Doing the Opposite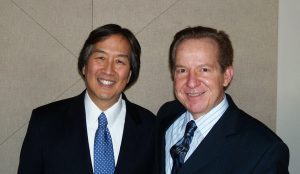 The tobacco industry purports to support an approach to reduce the harm from their products—but their actions are doing the opposite, according to two national public health experts, former US Assistant Secretary for Health Dr. Howard Koh and US Public Health Service Clinical Practice Guideline Chair Dr. Michael Fiore.
While tobacco industry leaders claim to want to improve public health, the companies are mass-marketing vaping products to youth while fighting regulation of combustible tobacco products, write Koh and Fiore in an op-ed in Stat. Koh and Fiore recently published an editorial on the same topic in JAMA.
In the US, four of the top five e-cigarette brands are tied to major tobacco companies. Yet, these companies continue to sell cigarettes and other products that remain the leading preventable cause of disease and death in America.
"This year could be a major step forward for public health if the U.S. Food and Drug Administration follows through on its promise to ban all non-tobacco flavors, including menthol, from all products containing nicotine," Koh said.
"We know flavors make products more addictive to children, and more difficult for all who smoke, vape or chew to quit," Fiore said.
The authors challenge tobacco executives to:
Accept, not oppose, the FDA's proposal to reduce the nicotine in cigarettes below addictive levels.
Withdraw opposition to the FDA's proposal to ban menthol in cigarettes and all flavors in cigars.
Support tobacco excise tax increases that would particularly disincentivize combustible tobacco product use.
Support graphic warning labels on all tobacco products.
Stop marketing, advertising, and using price promotions and discounts for combustible tobacco products.
Set a target date to cease selling all cigarettes.
"The tobacco industry hopes the public will ignore a fundamental hypocrisy: Promoting harm reduction while continuing to market and sell deadly combustible cigarettes that cause harm in the first place," Koh said. "If they truly want to reduce harm, they have the unique power and savvy to do so."
#