Vaccination Lowers Risk – Findings from Second-Largest COVID Study in US
A current cancer diagnosis posed a significant risk for severe outcomes (ICU admission and death) over the first two years of the COVID-19 pandemic, according to the second-largest study of COVID-19 patients in the United States, funded by the National Cancer Institute. Prior COVID-19 vaccination significantly reduced the risk of death amongst cancer patients who develop COVID-19.
The findings, published in Cancer Epidemiology, Biomarkers & Prevention, were led by researchers from the University of Wisconsin and included 104,590 inpatients at 21 health systems across the United States. In this sample of hospitalized patients who were diagnosed with COVID-19 from February 1, 2020 through September 30, 2021, 7,141 (6.8%) had a current diagnosis of cancer while 6,749 (6.5%) had a past history of cancer.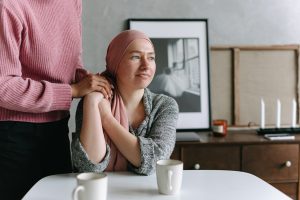 Seven types of cancer were examined (leukemia, multiple myeloma, lymphoma, prostate, breast, lung/bronchus, digestive), and all except cancer of the prostate were associated with a higher likelihood of in-hospital mortality compared with no current or past cancer history. Stronger associations were noted for metastatic and hematologic cancers relative to non-metastatic solid tumor cancers.
"An encouraging finding was that individuals with a past history of most types of cancer who were infected and hospitalized with COVID-19 were not at higher risk for severe outcomes, including death, compared to those with no current or past cancer history," said Dr. Wendy Slutske of the University of Wisconsin, senior author of the paper. "This is an important and hopeful finding because cancer survivors represent an increasingly large segment of our population, due to advances in prevention, early detection and treatment."
"While mortality and ICU admission rates for COVID-19 decreased during the course of the pandemic, the increased risk of current cancer on severe outcomes from COVID-19 remained constant across the first two years of the pandemic (2020 and 2021)," said lead author, Dr. Margaret Nolan of the University of Wisconsin. "This is despite the introduction of vaccinations in 2021 and continued improvements in the treatment of COVID-19."
Moreover, vaccination prior to COVID-19 hospital admission substantially decreased the risk of ICU admission and death, irrespective of cancer status. Both patients with and without cancer appeared to benefit from vaccination.
"The message for current cancer patients is clear—be sure you are fully vaccinated against COVID-19," said co-author Dr. Michael Fiore of the University of Wisconsin. "That is among the most important actions you can take to reduce your heightened risks from COVID."