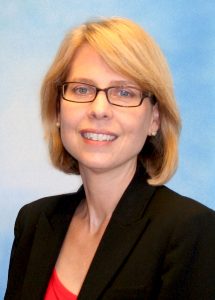 Dr. Jennifer McClure has done extensive work trying to reach more people who smoke and help them stop smoking, no matter their readiness to quit. Much of this work has explored how best to leverage health care systems and their infrastructure to achieve this goal.
"She is an ideal colleague to advise on BREATHE 2 research because it's designed to try to reach more people who smoke to offer help, regardless whether they're actively seeking it," said UW-CTRI Director Dr. Michael Fiore.
McClure said she is happy to help. "It's such an important issue." she said. "It's critical that we better understand how to reach and engage more people in cessation treatment. This is exactly the right research question to explore."
McClure, a Senior Investigator at the Kaiser Permanente Washington Health Research Institute, is currently developing an mHealth tool to help ambivalent people to quit smoking. She recently published formative work in the Journal of Medical Internet Research that found participants liked the concept and were engaged with the app. Most even made a quit attempt. Ongoing and future research will test program enhancements designed to further support people who smoke and connect them with best practice treatment like counseling and medication. She hopes the program can one day be offered through health care systems.
While BREATHE 2 doesn't have an app, it is working with two health systems—Aurora and UW Health—to leverage their electronic medical records to invite all patients in those systems who smoke. The EHR will identify them, and care managers who work for the health systems will offer telephone support, both for those ready to quit and those not yet ready to take that step. Patients will get reminders that barrier-free intensive treatment to quit smoking is available.
"It's a novel and important advancement, not waiting for patients to seek treatment to offer it," McClure said. "It's also important because motivation to quit is so fluid. There's no reason to wait for people to seek treatment. The offer alone can motivate change and increase intervention reach. That's exciting."
The BREATHE 2 Reach project includes a factorial experiment with 1,664 patients from Aurora and UW Health.
"I'm really excited about the whole complement of BREATHE 2 studies," McClure said, "together they address the most pressing questions we need to address to expand reach and deliver more effective cessation treatment. The methodological design is also novel, and to do it on the scale they're doing is ambitious and impressive."
BREATHE 2 will also analyze the cost-effectiveness of the interventions. McClure said she's stoked about the study because, if it works, it will show health systems it's worth the investment.
"We are honored and grateful to have Jennifer advise us on this research," said Fiore.
Separate from BREATHE 2, McClure has also recently conducted research on dual use of tobacco and cannabis. According to the 2019 Youth Risk Behavior Survey, among Wisconsin high schoolers, 32 percent have tried marijuana, 63 percent of those who vape also smoke weed, and 69 percent of people who smoke also use cannabis.
"It's an important question that we're going to have to grapple with in the field: the issue of dual use, and how does that impact people's ability to quit smoking?" McClure said. "We're also interested in understanding if we can leverage electronic medical records to identify dual users or partner with quitlines to intervene on dual cannabis and tobacco use."
When she's not trying to improve public health, McClure loves to hike. "Before the pandemic, you'd find me in the mountains every weekend hiking or snowshoeing." Since then, authorities in Washington state have asked people to stay closer to home to prevent the spread of COVID and reduce the strain on search-and-rescue crews. McClure notes that, while she has gone on fewer hikes this past year, she has caught up on a lot of home-improvement projects and is eagerly looking forward to hitting the trails again soon.