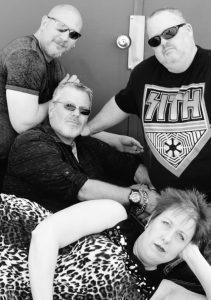 Michele McCall didn't just quit smoking with help from the Quitting Using Intensive Treatment Study (QUITS)—she used the time and money she spent on smoking to start an '80s rock band.
Now, every breath she takes is much easier.
"I'm living my rock star dreams in my 40s," said McCall, who fronts The Decade, a four-member group who have booked venues throughout southern Wisconsin. "My voice has gotten better because I'm not smoking."
Instead of going round and round buying packs of smokes, she's having nothing but a good time spending that cash on "cool equipment—microphones, ear pieces, amps." She's singing everything from Pat Benatar and Joan Jett to AC/DC.
McCall started smoking when she was 16, quit on and off over the years but it never stuck until now. "I finally decided it's time, let's get this done. And the study was going to pay me to quit, so why not do it?"
She said having a QUITS health counselor to talk to really helped. For example, driving a car was a trigger to smoke because she was used to holding a cigarette along with the steering wheel. So QUITS counselors helped her strategize to hold a pen instead. She also took medication. "I think Chantix did help to take the edge off it."
She invited friends to join QUITS.
"It was so much easier than I thought."