U.S. Food and Drug Administration (FDA) Commissioner Dr. Scott Gottlieb announced plans to advance a Notice of Proposed Rulemaking to ban menthol in combustible tobacco products, including cigarettes and cigars, and remove certain flavored vaping products out of stores where young people can access them.
"Youth smokers are more likely to use menthol cigarettes than any other age group," Gottlieb said in a statement. "More than half (54 percent) of youth smokers ages 12-17 use menthol cigarettes, compared to less than one-third of smokers ages 35 and older. Prevalence of menthol use is even higher among African-American youth, with data showing that seven out of 10 African-American youth smokers select menthol cigarettes. Moreover, I believe that menthol products disproportionately and adversely affect underserved communities."
The FDA, in partnership with the U.S. Centers for Disease Control and Prevention (CDC), released new findings from the National Youth Tobacco Survey showing that more than 3.6 million middle and high school students were current (past 30 day) e-cigarette users in 2018, a dramatic increase of more than 1.5 million students since last year. According to the results published in the Morbidity and Mortality Weekly Report, youth who use e-cigarettes also are using them more frequently and using flavored products more often than last year. According to the findings, the number of U.S. high school students who reported being current e-cigarette users increased 78 percent between 2017 and 2018 to 3.05 million (or 20.8 percent). Numbers among middle school students rose 48 percent to 570,000 (or 4.9 percent). The sharp rise in e-cigarette use has resulted in an increase in overall youth tobacco product use, reversing a decline seen in recent years, and is prompting a series of steps by the FDA to curb youth use trends.
"These new data show that America faces an epidemic of youth e-cigarette use, which threatens to engulf a new generation in nicotine addiction," said Health and Human Services Secretary Alex Azar. "By one measure, the rate of youth e-cigarette use almost doubled in the last year, which confirms the need for FDA's ongoing policy proposals and enforcement actions."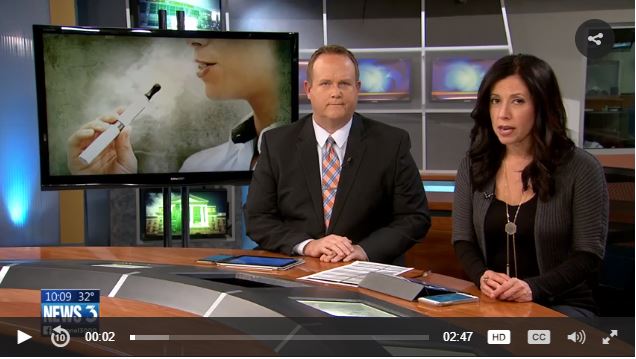 Under the FDA's proposed rule, vaping devices—such as e-cigarettes that look like combustible cigarettes, JUUL devices that resemble flash drives, and larger "tank" devices with refillable liquid cartridges—in flavors except tobacco, mint and menthol, would be restricted to stores that have an adult age requirement to enter. The proposed policy would apply to flavors such as cherry, bubble gum, mango, vanilla, crème, tropical and others. Online sales would be restricted by age with heightened verification security. JUUL and Altria Group have announced plans to comply.
At this time, vaping products with tobacco, mint or menthol flavors, as well as any non-flavored vaping products, sold in any location, would not be included in any policy revisions. Gottlieb said the proposal recognizes that combustible cigarettes are currently available in menthol in retail locations that are not age-restricted, and is informed by the potential public health benefit for adult cigarette smokers who may use these vaping products as part of a transition away from smoking.
Gottlieb said the FDA would continue to monitor use of vaping devices with mint or menthol flavors by youth, and reserves the right to take further action. The FDA also will remain vigilant of any marketing or sales of nicotine products to kids. Gottlieb also reiterated his vision for "a world in which cigarettes lose their addictive potential through reduced nicotine levels."
While Gottlieb said the FDA would "accelerate" these proposals, definitive dates were not announced.
To read more about vaping, JUUL and e-cigarettes, click here.