UW-CTRI staff and collaborators presented research findings at the University of Wisconsin Department of Medicine (DOM) Research Day June 15 at the Health Sciences Learning Center on the UW campus in Madison. This included an oral presentation by UW-CTRI Associate Director of Research Dr. Danielle McCarthy and five posters. Here's a rundown:
Presentation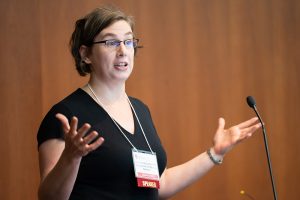 Dr. Danielle McCarthy, An Examination of the Candidate Mediators of Maintenance Counseling and Adherence-Focused Interventions Effects on Abstinence in Adult Daily Smokers. Dr. McCarthy spoke about the public health accomplishment of helping many people quit smoking, but how there is much work left to be done to connect patients with treatments they will use as directed and stay the course to quit smoking. McCarthy presented analyses conducted by UW-CTRI Post-Doctoral Research Associate Nayoung Kim. These analyses suggested that interventions focused on promoting medication use and maintaining abstinence did not significantly affect most of their intended targets, and the targets they did affect (e.g., use of nicotine gum) in the first four weeks of treatment did not significantly predict smoking status eight weeks post-quit. "It turns out, we have a lot of work to do," McCarthy said. "We're not hitting our treatment targets… and the targets we are hitting are not carrying through to higher quit rates." She suggested further research to continue examining whether treatments work in the ways we expect, and to use this information to refine and improve our treatments. McCarthy was one of eight oral presenters in the morning session. She also moderated the presentations for the afternoon session of DOM Research Day.
Posters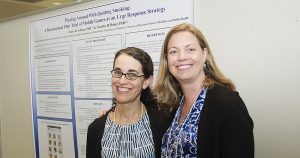 Dr. Megan Piper, Smokers and Dual Users: Dependence, Biomarkers and Cessation Motivation. In this poster sharing results from the Exhale Study, including people who either smoked, or smoked and vaped, researchers found that dual users are likely supplementing their smoking with e-cigarette use and have reduced exposure to at least one carcinogen. Dual users didn't plan to quit smoking or quit using e-cigarettes. Coauthors were Dr. Megan Piper, Dr. Tim Baker, Dr. Michael Fiore, Dr. Stevens Smith, Kate Kobinsky, Dr. Neal Benowitz, and Dr. Doug Jorenby.
Dr. Tanya Schlam, Playing Around With Quitting Smoking: A Randomized Pilot Trial of Mobile Games as an Urge Response Strategy. Researchers examined whether mobile games can help smokers trying to quit decrease their cravings and increase their chances of quitting. Due to the small sample size, no effects were statistically significant. However, participants in the study who played games showed modest pre- to post-game decreases in urges to smoke. Those randomized to games versus no games were modestly more likely to report being continuously abstinent through one month after their target quit day. The results indicate that mobile games may help smokers respond to urges to smoke, and encourage more research on this intervention strategy. Dr. Tanya Schlam and Dr. Tim Baker were coauthors.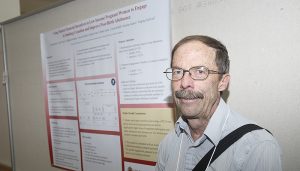 Dave Fraser, Using Modest Financial Incentives to Low-Income Pregnant Women to Engage in Smoking Cessation and Improve Post-Birth Abstinence. This poster featured findings from the Striving to Quit study that helped Medicaid recipients quit smoking. Researchers found that modest participant incentives (an average of $214 was paid to those receiving incentives) can lead to significantly higher rates of treatment participation and higher abstinence rates among very low-income pregnant smokers six months after birth. The incentives correlated with an average of more than two additional treatment contacts (primarily after birth). This greater engagement appeared to be an important factor in the cessation outcome. Dr. Tim Baker was the lead author, and coauthors included Dave Fraser, Kate Kobinsky, Dr. Stevens Smith, Dr. Michael Fiore, Robert Adsit, Lisette Khalil, Kristine Alaniz, and Tingting Sullivan.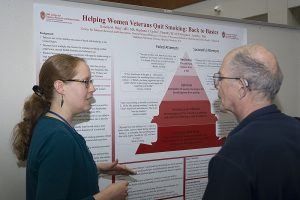 Dr. Kristin Berg, Helping Women Veterans Quit Smoking: Back to Basics. Researchers conducted interviews with 15 women Veterans who were current or former smokers. These women Veterans revealed their requirements for successful quit smoking attempts. Researchers found in these interviews that addressing the women Veterans' overall health and well-being may be an important aspect in successful attempts to quit smoking. A multidisciplinary approach may be most effective, with an individualized approach in targeting the barriers to quitting smoking. Allowing women Veterans to explore how smoking is connected with their stressors, mental health, and physical health can avail opportunities for planning and coping strategies. Discussing failed past attempts and developing effective coping strategies may impact female Veteran's optimism about quitting. Improved optimism can impact their resilience to the anxiety and negative stigmatization of slipping or failing to quit, enabling a faster return to quitting. Coauthors included Dr. Kristin Berg, Dr. Stephanie Gruber and Dr. Douglas Jorenby.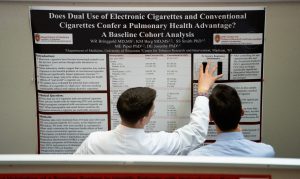 Dr. Will Bringgold, Does Dual Use of Electronic Cigarettes and Conventional Cigarettes Confer a Pulmonary Health Advantage? A Baseline Cohort Analysis. Researchers examined whether the dual use of e-cigarettes and conventional cigarettes is associated with improved pulmonary health compared to using just regular cigarettes. In the sample studied, dual use was associated with fewer cigarettes smoked per day and modestly lower nicotine-dependence scores. However, the results found that dual use did not appear to have any significant pulmonary health benefits. Coauthors included Dr. Will Bringgold, Dr. Kristin Berg, Dr. Megan Piper and Dr. Douglas Jorenby.