The American Lung Association (ALA) has selected UW-CTRI Researcher Dr. Bruce Christiansen as the recipient of the 2017 C. Everett Koop Unsung Hero Award. ALA will formally recognize Christiansen at their annual awards dinner in June.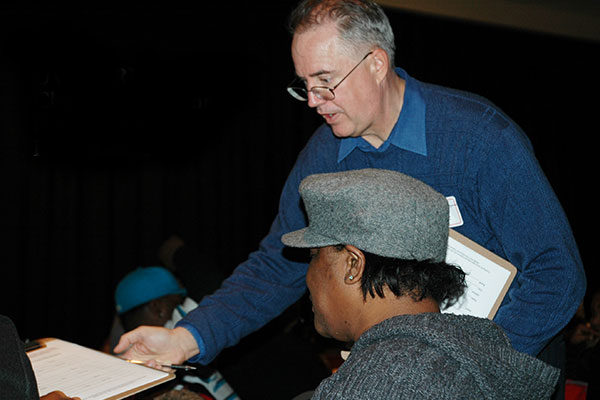 Christiansen has worked tirelessly to serve the most vulnerable of smokers, including those who are homeless, struggle with addiction or mental-health issues, live in an inner-city environment, or are prisoners waiting to be released. Studies show these disparity groups smoke at much higher rates than the overall population. Christiansen has written grants, conducted research, and developed innovative outreach programs.
"Christiansen combines his research, outreach, and psychiatric expertise with a heart of gold," said UW-CTRI Director Dr. Michael Fiore. "He is a passionate advocate for those who have the least resources. I am so pleased the ALA has honored Bruce this way."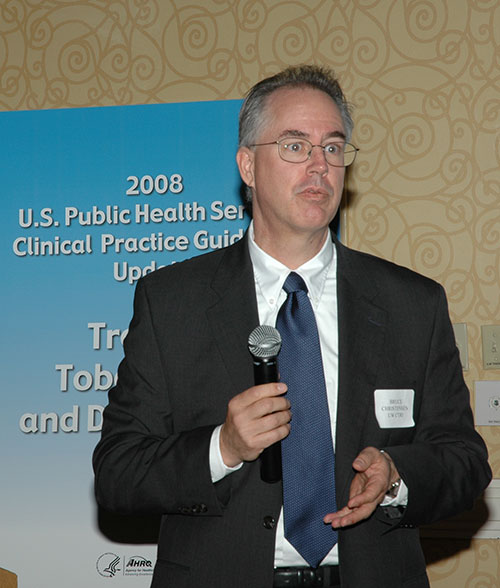 In 2008, Christiansen assisted with updating the US Public Health Service Clinical Practice Guideline: Treating Tobacco Use and Dependence, and spoke about the update at various events.
Christiansen has done extensive work in inner-city Milwaukee via partnerships with local agencies that serve the poor and underserved. For example, he founded the ZIP Code Project, a community-based research program designed to increase the use of evidence-based treatments to quit tobacco use among individuals living in the two most impoverished Milwaukee inner-city ZIP code areas (53208 and 53212). Christiansen sought first to understand, then to act. For example, collaborated with the local Salvation Army and Vincent Family Resource Center to hire surveyors from the community to go door to door, gather residents' ideas about smoking, educate them about smoking and quitting, and offer resources to help them and their loved ones to quit. Christiansen and others held community events with raffles and partnered on health events. He published the results of this work in the Journal of Studies on Alcohol and Drugs so that others may benefit from what he learned. One key finding is that misconceptions regarding evidence-based treatments to quit tobacco use often serve as a barrier to widespread use of these treatments.
Christiansen also has managed the Wisconsin Nicotine Treatment Integration Project (WiNTiP), which works to help behavioral health patients in Wisconsin to quit smoking, and has served as a national model. Behavioral health patients smoke nearly half of the cigarettes sold in America.
"He deserves a lot of credit for helping people from disparity populations to quit, in particular those with behavioral health issues," said Randall Glysch, research scientist at the Wisconsin Tobacco Prevention and Control Program at the Wisconsin Department of Health Services.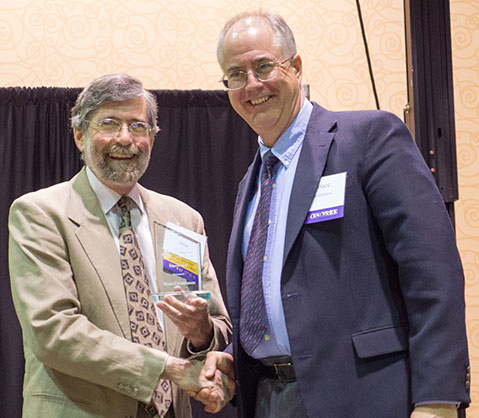 In 2013, Christiansen won an award for his research from the Wisconsin chapter of the National Alliance on Mental Illness.
Christiansen has also partnered with the Wisconsin Department of Corrections (DOC) to help ensure inmates stay smoke-free following their release from prison. The work began with a mini-grant from WiNTiP to the Chippewa Falls Correctional Treatment Facility to help prisoners, who must quit smoking in prison because of the statewide smoking ban, decide to remain smoke-free after release. Staff at the facility used the funds to update their substance-abuse program's curriculum. (To watch a video about this program, including support from the warden, click here.) The partners surveyed prisoners to get their opinions on their smoking, programs to help them quit, and plans for whether they'll smoke upon release. While more than 90% of the inmates initially smoked, after participation in the program, 75% reported that they plan to remain tobacco-free upon release.
"Christiansen has not only helped those with the least advantages to recover from their addiction to smoking, but also has empowered those who want to help them succeed," said Fiore.
As Ronnie, patient assisted by WiNTiP, said, "It feels great to be tobacco free… I'm not a prisoner anymore."
"Dr. Christiansen rises to the special criteria established by Dr. Koop," Fiore said. "He has done so much for so many without seeking reward. He is a true Unsung Hero, and deserves this award."