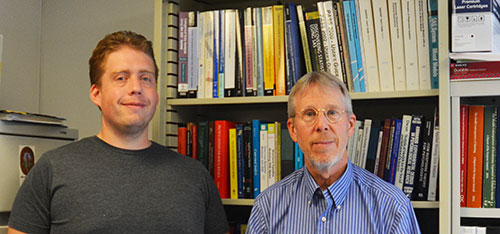 For UW-CTRI Researcher Dr. Stevens Smith, methods of analyzing research data have changed tremendously since he first started working at UW-CTRI 24 years ago.
"I've come full circle during my time here," said Smith, a clinical psychologist and senior investigator who is now the UW-CTRI Director of Biostatistical Operations. "UW-CTRI's research operations have greatly expanded since the 1990s, when we conducted a small number of studies with modest data-management needs. When we received several large grants during the 2000s, we started collecting increasingly large amounts of data, and this presented a number of data management challenges that I think we have mostly solved in recent years."
Smith attributes much of the improvement in statistical management to the work of UW-CTRI Research Data Specialist Todd Hayes-Birchler, who is celebrating four years at the Center.
Hayes-Birchler noted that other UW-CTRI staff, such as Database Developer and Data Systems Coordinator Scott Jennings, Database Employee Paul Kohn, and Administration Employee Katrina Bundy, primarily handle collection of research data. Hayes-Birchler said his job is to clean, process, and manage data for delivery to Smith and other UW-CTRI scientists for statistical analysis.
Hayes-Birchler said that the Center has recently conducted multiple complex studies that garnered massive amounts of statistics. For example, he noted that he is currently managing stats from 15 grants that generated 2,340 datasets and 93,502 variables.
With so much data to work with compared to the early years at UW-CTRI, Hayes-Birchler and Smith noted the growing importance of statistic-sharing with scientists outside of UW-CTRI.
"We sometimes get asked to provide datasets for a public data repository," Smith said, "which makes our data easily available to other scientists. NIH and other funders encourage and support this kind of data-sharing, which expands the potential usefulness of the data."
For example, Hayes-Birchler recently completed a request from the National Cancer Institute (NCI) to send genetic and other data from NCI-funded UW-CTRI studies to a repository.
To improve how UW-CTRI manages statistics, Hayes-Birchler created a sophisticated data management program called "The Datanets," which he programmed in Access. This program has helped the duo easily track everything going on during the research process for various studies, such as Striving to Quit and BREATHE.
"(The Datanets) helps us adhere to the federal and UW policies that require data integrity and accountability," Hayes-Birchler said. "Now, as a data team, we're able to have consistency in our data sets, which helps us do better science."
This also puts UW-CTRI ahead of the curve in research. Having consistent statistical analysis helps solve issues of replicability and transparency, according to Smith, who described his team's work as "serving and protecting science."
Looking ahead, Smith and Hayes-Birchler said the team is in the early planning stages of putting statistics on a website that external investigators can access and download themselves. This future UW-CTRI website would be a repository that would make research statistics more readily accessible to outside scientists.
Smith tipped his cap to UW-CTRI leadership, saying (UW-CTRI Director) Dr. Mike Fiore and (UW-CTRI Research Director) Dr. Tim Baker have recognized the need to keep up with the mountain of data there is to track, manage, and analyze.
Fiore said he appreciates the professionalism and attention to detail employed by Hayes-Birchler and Smith.
"As a research center, it's essential to have confidence in our analyses," Fiore said. "That's what our statistical analytics team provides. Stevens leads with his careful and exacting approach, and Todd expertly assists. As a result, our worldwide reputation is enhanced."