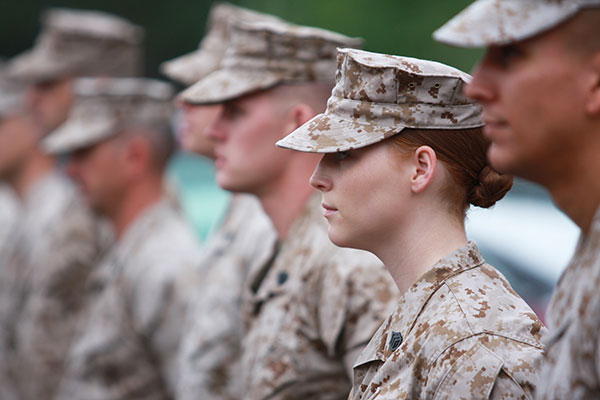 New research shows that women Veterans do poorly with tobacco cessation clinics, according to a paper published in Military Medicine. While 54 percent of women Veterans enrolled in a tobacco-cessation clinic made a quit attempt, only 8 percent were successful to 6 months.
Only 24 percent of women Veteran smokers were referred to the tobacco cessation clinic at the Veterans Hospital, and these smokers tended to be older, heavier smokers who were in need of more services. Of that subset, just 54 percent of referred women actually enrolled in treatment, and again these patients tended to have more medical needs.
Women Veterans have historically had a higher smoking rate than civilian women, but little is known about their attempts to quit smoking.
The paper, entitled "Identifying Opportunities to Improve Smoking Cessation among Women Veterans at a Veterans Hospital," used a chart review to examine quit attempts among 366 women at a Midwestern Veterans Hospital.
UW-CTRI researcher Dr. Kristin Berg—along with fellow researchers Dr. Michael Fiore, Dr. Doug Jorenby, Dr. Jessica Cook and Dr. Stevens Smith—recently authored the paper to identify several opportunities to improve women Veterans' smoking cessation at a Veterans Hospital.
"The women Veterans who were referred were a much different subset than those who were not," Berg said. "It's not entirely clear why there is a discrepancy."
Berg said it is clear that clinicians are recognizing patients at their greatest need of assistance but are not reaching a large portion of other Veterans who have yet to reached.
"One possible reason is that providers may look at the fact that women smoke less in general and treat it more as a behavioral issue or a bad habit as opposed to an addiction," Berg explained. "This may lead providers to not refer as many women Veterans to the clinic because the provider may think that there's a chance the woman would not need it as much."
Berg, who is currently in her second research-based fellowship, is working on a qualitative interview study to learn about the quit attempts of women Veterans. She said this, along with the chart review, will help usher in a third phase where researchers can implement what they learn to help improve the ways tobacco cessation clinics help women Veteran smokers.