Bruce Christiansen (left) of UW-CTRI and Douglas Tipperman of SAMHSA
Experts from governing entities, advocacy groups, and peer networks convened at the Madison Concourse Hotel to launch a grant project lead by the National Alliance on Mental Illness Wisconsin Chapter (NAMI-WI) to help behavioral health patients to help their peers quit smoking. UW-CTRI is the academic partner on the grant.
Douglas Tipperman of the federal Substance Abuse and Mental Health Services Administration (SAMHSA) commended the group for its leadership. "Wisconsin is actually one of the first to address this important issue," Tipperman said, referring to the Wisconsin Nicotine Treatment Integration Project (WiNTiP). "This state is a pioneer."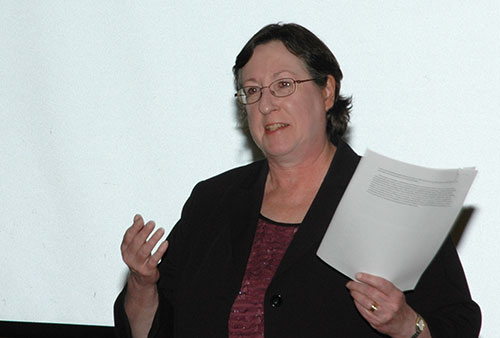 Joyce Allen, director of the Wisconsin Bureau of Prevention, Treatment, and Recovery,
discusses how tobacco addiction has touched the lives of those close to her
Joyce Allen, director of the state Bureau of Prevention, Treatment, and Recovery, part of the Department of Health Services, said the UW has been a wonderful partner through the years. "UW-CTRI has really taken up the charge to help people with mental health and substance abuse disorders to quit smoking." Allen said she has seen people she cares about struggle with behavioral health issues plus tobacco addiction, and the toll that can take. "It's a very important issue to me."
The project's two primary objectives are 1) identify tobacco intervention roles that can be effectively carried out by a peer counselor and 2) develop a plan for sustaining and expanding the use of peer counselors to address tobacco dependence to all Wisconsin CSPs. The new NAMI project began this month, and will run for two years with a budget of $150,000. UW-CTRI's Bruce Christiansen, Erin Terbeek, and Nick Wiley provided support for the kickoff event.