Dr. Brooke Anderson, DNP, RN, is the UW-CTRI Director of Human Resources and Research Administration. She has worked for more than 20 years in healthcare—as a staff nurse, nurse manager, and eventually as a clinical nurse specialist for health systems such as Ministry Health Care, Aspirus, and UW Health, and in healthcare policy development and benefits management for the Wisconsin Medicaid program.
After graduating from the University of Wisconsin as a registered nurse, Anderson worked for a year at the VA and then joined the Air Force, where she served as a nurse during the war with Iraq for three months in both Jordan and southern Iraq. She treated severe injuries from fire, explosions, and gun shots.
"There were definitely a lot of challenges," Anderson said. "Our job was to stabilize and transport."
She assimilated to learning on the job, asking questions, admitting when she didn't know the answer and then finding solutions. This was a challenge during the war, in part because they didn't have internet access. She was relatively inexperienced compared to her current extensive knowledge. She said it has given her tremendous perspective on what constitutes a real "problem," and how to remain calm to find solutions.
"I definitely don't regret it," she said. "I remember one patient who was gripping an American flag, and we said, you're bleeding, please give us the flag so we can help you. It turned out a fellow soldier had given him the flag to bring home if he died. So the patient didn't want to let go. If our troops were hurt, I wanted to do everything I could so they could make it back home."
While her current job isn't as harrowing, she said she's excited about it because it taps into many of her skills. "It's a challenge to prioritize my time and to continually learn," she said.
She helps to coordinate logistics for the center's active research studies, as well as plan for future grants. She taps into her skills in program management, quality improvement, policy development, and leadership to work with UW-CTRI employees and collaborators at other health systems.
Before joining UW-CTRI, she managed a team overseeing the development, implementation, evaluation, and administration of Medicaid policy and programs in Wisconsin.
"As a nurse, I was focused on individual patients, in Medicaid I was focused on the state, and now I'm hoping to help people quit smoking not only across the state, but around the world," Anderson said.
After earning her doctorate in nursing practice at Edgewood College, she became an adjunct professor there for nearly three years.
"I realized the importance of mentorship," she said. "Nursing is not about the money or working three days a week. You have to have a passion for it, or you will burn out. It's a career that requires dedication and commitment. So, when mentoring I would start with the individual, recognizing that each person is different."
She believes the same applies to relating to each individual person she encounters, by beginning with empathy.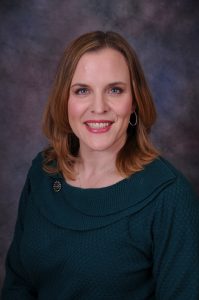 Dr. Brooke Anderson,
DNP, RN