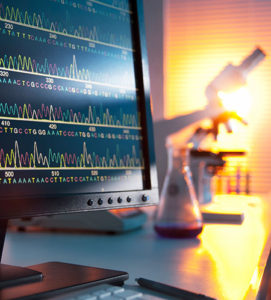 Healthcare providers are now one step closer to crafting more individualized treatment plans to help their patients quit smoking, thanks to research published in today's American Journal of Psychiatry. According to this new study, a person's genetic background can help determine whether someone is likely to be able to quit smoking with coaching or whether they will need coaching plus medication to improve their chances of success.
"This study builds on our knowledge of genetic vulnerability to nicotine dependence and will help in tailoring smoking cessation strategies accordingly," said NIDA Director Nora D. Volkow, M.D. "It also highlights the potential value of genetic screening in helping to identify individuals early on and reduce their risk for tobacco addiction and its adverse health consequences."
In this study, researchers focused on specific variations in a cluster of nicotinic receptor genes, CHRNA5-CHRNA3-CHRNB4, which prior studies have shown contribute to nicotine dependence and heavy smoking. Using data obtained from two studies — a survey and a clinical trial on smoking cessation conducted at the University of Wisconsin Center for Tobacco Research and Intervention (UW-CTRI)  — smokers with the high-risk genetic variants are more likely to relapse back to smoking if they are not given cessation medications.  But, they are also three times more likely to benefit from quit-smoking medications, compared to smokers with the low-risk genetic variants. The high-risk variants increase the risk of cessation failure, but this increased risk can be reversed by cessation pharmacotherapy. By identifying a high-risk genetic group with heightened responsiveness to quit-smoking medications, this work may support the development of personalized cessation treatments.
"In this large trial, we found that the effects of smoking cessation medications depend in part on a person's genes," said first author Li-Shiun Chen, M.D., of the Washington University School of Medicine. "If you have the risk genes, you don't quit as easily on your own and will benefit greatly from the medications."
"The genetic factors that the paper addresses are ones that affect a particular configuration of a nicotine receptor," said co-author Timothy Baker, Ph.D., UW-CTRI Research Director. "The current results suggest that the particular genetic risk we are talking about may make people more vulnerable to nicotine's addictive effects, but also more responsive to cessation medications." Baker said the data suggest that medications are less likely to help low-risk smokers to quit, and this may help explain why about 70 percent of current smokers struggle to quit even with evidence-based treatments. "This suggests that we might try more intensive behavioral treatment with such individuals, but we would need more research to know this for sure." Baker added, "It's exciting to identify this potentially new way to help smokers. And, these findings may contribute to the identification of other genes that help individualize treatments, resulting in more breakthroughs to help smokers quit."
According to the Centers for Disease Control and Prevention, tobacco use is the single most preventable cause of disease, disability, and death in the United States. Smoking or exposure to secondhand smoke results in more than 440,000 preventable deaths each year — about 1 in 5 U.S. deaths overall — and another 8.6 million live with a serious illness caused by smoking. Despite these well-documented health costs, over 46 million U.S. adults continue to smoke cigarettes.
For more information on tools and resources to help quit smoking, call 1-800-QUIT NOW or go to: www.smokefree.gov/.
The study was supported by the National Institute on Drug Abuse (NIDA), the National Human Genome Research Institute, the National Center for Research Resources, and the National Heart Lung and Blood Institute, all components of the National Institutes of Health. This work was partially funded by NIDA under grant numbers DA19706, DA026911, DA021237 and DA030398.